By Rear Admiral Sushil Ramsay (Retd)


Senior Editorial Advisor, SP's Naval Forces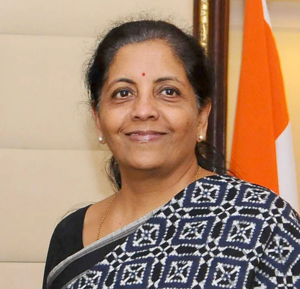 Nirmala Sitharaman
Appointment of Smt. Nirmala Sitharaman on Sunday, September 03, 2017 as the Defence Minister of India was welcomed as a refreshing news.
The 58-year old Smt. Nirmala Sitharaman a graduate in Economics from Seethalakshmi Ramaswamy College in Tiruchirapalli, did her Masters in Economics from Jawaharlal Nehru University is a scholar in her own right, having served as an Assistant to Economist in the Agriculral Engineers Association, UK in London and subsequently as Senior Manager (Research and Analysis) with Price Waterhouse, London and also worked briefly with BBC World Service.
Her political career began when she became a member of the National Commission for Women from 2003-2005 and was instrumental in voicing various issues of women empowerment. Soon thereafter she joined Bhartiya Janta Party in 2006. A stern articulator, she emerged as one of the spokespersons of BJP under Ravi Shankar Prasad. In 2010, during the tenure of Nitin Gadkari, as President BJP, she was appointed as the spokesperson of BJP. This experience provided cutting edge to her persona as an eminent articulator.
Known for her cordial approach, she played a major role during the Lok Sabha elections of 2014. She projected Narendra Modi as a future Prime Minister of India. By now she had transformed into a seasoned and well established political figure in the country. In recognition of her capabilities and leadership potential she was rewarded with a ministerial berth in the Narendra Modi dispensation by appointing her as Minister of State and assigning to her independent charge of Ministry of Commerce and Industry on May 26, 2014. The fact that she has continued to discharge her responsibilities, has remained in confidence with the Prime Minister for over three years stand testimony of her capability, credibility, dedication, clean image and proficiency.
Elevation of Smt. Nirmala Sitharaman as Raksha Mantri and ipso facto a member of Cabinet Committee on Security is indeed a major milestone of her political career. While Ministry of Defence is likely to serve numerous ticklish issues, complex matters, intricate challenges, she is expected to tackle them all with great competence and finesse. She is definitely endowed with qualities, virtues and self-confidence to faces the daunting tasks that lie ahead.