By Lt. General P.C. Katoch (Retd)


Former Director General of Information Systems, Indian Army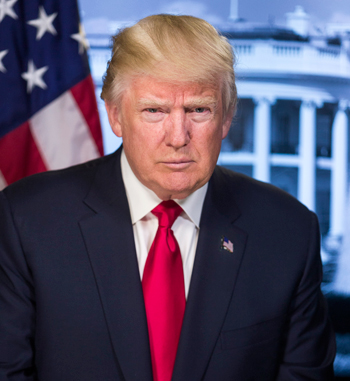 President Donald J. Trump
Pakistan's has been playing the double game successfully all these years despite US and NATO military commanders in Afghanistan pointing out what the ground situation was; implying terrorist sanctuaries inside Pakistan must be destroyed. Numerous scholars, journalists and counter terrorist experts in the US and Afghanistan periodically reported the intimate links between the Haqqani network (major concern of US) and the Pakistani military and that the real problem lay inside Pakistan, from where Pakistan continued to export terrorism across its borders. Michael Hughes wrote in Huffington Post on July 6, 2010, "Nine years, nearly $300 billion dollars and 1900 dead coalition soldiers later, the US has officially verified that the entire war effort has been focused on the wrong side of the mountains". Despite this "officially verified" bit and Pakistan sheltering Osama bin Laden and Mullah Omar, US support to Pakistan continued unabated – military, financial, coalition funding, you name it. A constituency in Capitol Hill continued to nurture Pakistan despite ISI's elaborate links some 15 international-regional terrorist organization, and Najam Sethi warning in the Friday Times of March 16-22, 2012, "The ISI has walked into GHQ and seized command and control of the armed forces". No US President has ever been as direct as President Donald Trump in publicly showing the mirror to Pakistan while unveiling his new Af-Pak policy. Significantly, the July 2016 UNAMA report had stated that majority of these casualties (in Afghanistan) were caused by the Taliban and groups like Lashkar-e-Taiba (LeT), Jaish-i-Mohammed (JeM), Haqqani Network, Hezb-e-Islami, IMU, Islamic Jihad Union, ISIS etc. The horrendous human tragedy continues in Afghanistan with the UNAMA report of April 2017 citing 2,181 civilian deaths alone in first quarter of this year.
As of October 18, 2016, total US military casualties in Afghanistan were 2,386 killed and 20,049 wounded, in addition to 1,173 civilian contractor fatalities. Pakistan has never found so much mention in any speech by a US President, as it did when President Donald Trump unveiled his new Af-Pak policy in a televised speech. Trump was very direct in saying: Pakistan often gives safe haven to agents of chaos, violence, and terror; we can no longer be silent about Pakistan's safe havens for terrorist organizations, the Taliban, and other groups that pose a threat to the region and beyond; Pakistani people have suffered greatly from terrorism and extremism but Pakistan has also sheltered the same organizations that try every single day to kill our people; we have been paying Pakistan billions and billions of dollars at the same time they are housing the very terrorists that we are fighting. But that will have to change, and that will change immediately.
No partnership can survive a country's harboring of militants and terrorists who target US service members and officials; it is time for Pakistan to demonstrate its commitment to civilization, order, and to peace. Most significantly, Trump stated that US forces have been fighting for 16 years in Afghanistan, the longest war fought by US forces, are not going to withdraw from Afghanistan and it would be made sure that the mistake of premature withdrawal from Iraq is not repeated in Afghanistan. Trumps left future operations open ended saying it is counterproductive to announce dates intended to begin or end military options, numbers of troops or our plans for further military activities. His references to India redefined the erstwhile US Af-Pak policy to include India and de-hyphenated the India-Pakistan gaffe. Trump praised the military and the fact that he closed his address with "May God bless our military" before adding "And may God bless the United States of America" meant he truly recognizes the sacrifices made by the military.
Earlier on August 16, 2017, the US designated Hizbul Mujahideen (HM) as a "foreign terrorist organization", some two months after declaring the Syed Salahuddin, HM chief as a global terrorist. Though the designation slaps US sanctions on the outfit, it may make little difference to Pakistan since the Pakistani establishment has intimately nurturing terrorist organization including HM – both army chief Qamar Javed Bajwa and ousted PM Nawaz Sharif have repeatedly glorified HM terrorist Burhan Wani killed last year in J&K. However, what mattered is that the US decision gives a severe blow to Pakistan which has been projecting the militant group as a voice of Kashmiri people. It certainly bolsters India's position on terrorism and security in Indo-Pacific region. The US clamping down on terrorist outfits and their leaders inimical to India and elevating the bilateral relationship by adding a strong defence and strategic component to the already existing operational and strategic underpinnings good indicators. Besides, the US action against Pakistan-backed terrorist outfits operating on Indian soil is also a moral indictment of China's position which has repeatedly vetoed all Indian attempts to blacklist these terrorists at the UN. Trump's new Af-Pak policy opens a whole new chapter in the region. The renewed US commitment to Afghanistan does not mean Pakistan will change course now that it is sitting in China's lap. However, Pakistan's terror organizations and sanctuaries will certainly come into sharper focus. India should see greater role in the economic development of Afghanistan, essential to latter's stability.