By Lt. General P.C. Katoch (Retd)


Former Director General of Information Systems, Indian Army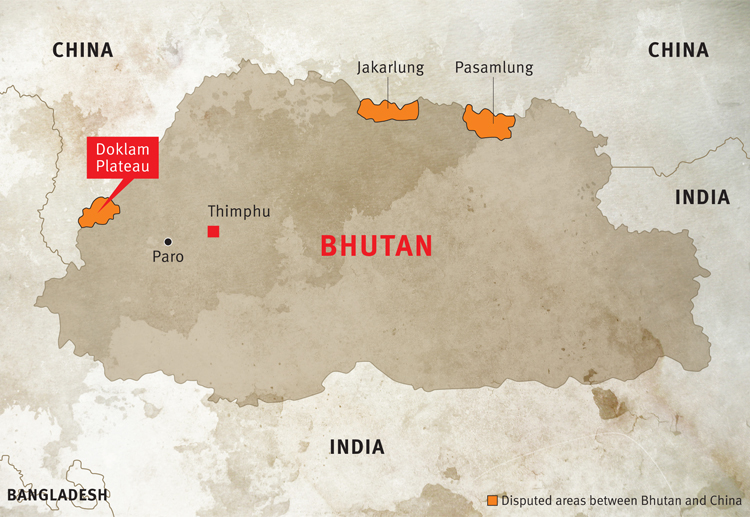 Doklam stand-off is a manifestation of the larger geopolitical contest between India and China
There is no doubt that the simultaneous pullback from the Doklam standoff by the Indian Military and the PLA is advantage Prime Minister Narendra Modi. Asia Times aptly summed up what India resolutely conveyed to China, "What's certainly clear is that India has no appetite for being pushed around by its increasingly hegemonic neighbor (China)". The direct impish bullying by Yang Jeichi, China's state counselor to NSA Ajit Doval on July 27 by saying "Is this (Doklam) your territory" was met by the latter's response, "Does every disputed territory become China's by default?" Psyched in an aura of false superiority, Yang must have been stunned albeit his permanently bland expression managed to hide the shock. It is well known that the "disputed" part of course is forced on Bhutan by China, the Doklam Plateau being private property of the Royal family of Bhutan.
Doval reportedly asserted that the territory was part of Bhutan, and India was obliged to look after Bhutan's security under an Indo-Bhutanese treaty. China had timed the Doklam intrusion with PM Modi's visit to the US, hoping for a smooth walkover. However, it received shock of its life when Indian troops physically blocked the PLA advance and Bhutan issued demarche to China. To say that China went berserk and mad would be putting it mildly; threats of attacking for teaching India a lesson, threats and string of lies by Chinese officials and diplomats including the Chinese ambassador and his deputy in New Delhi, large scale military and firepower display in COT (China Occupied Tibet) close to the India-Tibet border, daily virulent tirade by China's state-controlled media; intrusions on foot and by air in Chamoli district of Uttrakhand, Chinese troops stone-pelting and attacking Indian patrol with rods on August 15 close to Pangong Tso – indicating Chinese troops being trained as terrorists, vulgar video to show India in poor light, you name it. Despite all this, diplomatic parleys were continuing.
Eventually, on August 28, the MEA and China's Foreign Ministry issued a simultaneous statement announcing the "expeditious disengagement" by troops on the Doklam plateau that India is treaty-bound to protect. But the Chinese spokeswoman puckishly added that Chinese troops would continue to patrol the Doklam region, China will continue to exercise sovereignty rights to protect territorial sovereignty in accordance with the rules of the historical boundary, and China hopes India respects the historical boundary and works with China to protect peace along the border on the basis of mutual respect of each other's sovereignty. While this may be laughed off as a face saver (poonch cut gayee par akkad nahin gayee - tail has been cut but ego remains), the Chinese rhetoric has a deeper aim when read in conjunction earlier Chinese announcement that India had withdrawn from Doklam, conveying the PLA stayed put. It is obvious that the July 27 joint statement was agreed upon much earlier by both sides, which was simultaneous withdrawal and had been suggested by India at the very beginning of the standoff as the only respectable way out for China. The Chinese reference now to "historical boundary" and that China will keep patrolling the area is mischievous because she has been wrongly referring to the 1890 Treat and the Tri-junction to justify her aggression.
India could have repudiated these Chinese assertions and made public the agreement for simultaneous withdrawal but chose to remain silent. After all the sabre rattlng, China's meek surrender for agreeing to simultaneous pull-back was not only because she was physically cornered at Doklam. The Chinese intrusion also was a diplomatic fiasco at the global level. Not even Pakistan, China's closest ally, supported the Chinese action. On the contrary veteran Pakistani Generals were openly critical on Pakistan TV that India has stymied the Chinese at Doklam, China has threatened to attack India, India has said it is ready for all eventualities, and China has not done anything. Then there is also the BRICS meet that China is hosting September 3-5, attendance of PM Modi to which had not been confirmed by India.
India had already boycotted the conference on One Belt One Road Initiative chaired by China, rightfully because China went ahead on the China-Pakistan Economic Corridor (CPEC) through Indian Territory of POK without reference to India. If the Doklam Standoff continued, PM Modi may not have attended the BRICS summit in China. This would have shown President Xi Jinping in poor light especially with China having clobbered together BRICS as a sequel to the US and the West. Besides, Xi is battling serious internal dissent within the Communist Party of China (CPC) and Modi's absence at BRICS would have lowered Xi's ratings in the forthcoming 19th Congress of the CPC. Besides, China enjoys an overall $60 billion trade surplus with India and trade with India is expected to rise to $300 billion in next five years.
In addition china has $60 billion worth of projects underway in India, with more on the horizon. Conflict would have hit the massively slowing down Chinese economy; Chinese reaction to India imposing anti-dumping duty on 93 products of import is indicative of this. Geopolitically also, China was unlikely to find support in case of conflict – not even from Russia, ASEAN or Nepal. On the contrary, a possible bigger maritime alliance with India included may have been feared in event of growing Chinese militarism. Conflict would also have adversely affected the OBOR and Maritime Silk Route (MSR) of China – on which China's future sustenance depends. Despite the military and economic might of China, there is no way she can defend against disruption of these gigantic tentacles stretched across the globe.
Militarily too, China realizes that attack in the mountains requires 5:1 or greater numerical superiority, well-trained Indian Army is better placed strategically and capable of attacking as quid-pro-quo basis, the IAF has adequate weaponry to punish the PLA, and China will face consequence in the Indian Ocean. But the bottom-line is that the Doklam pullback does not signify any change in China's policies. The viper becomes more deadly after it is struck. That is why General Bipin Rawat has warned that there could be many more Doklams. And, India is ready for another Doklam at Doklam too. The approaching 19th Congress of the CPC may excite Xi Jinping to run amok again.