By Lt. General P.C. Katoch (Retd)


Former Director General of Information Systems, Indian Army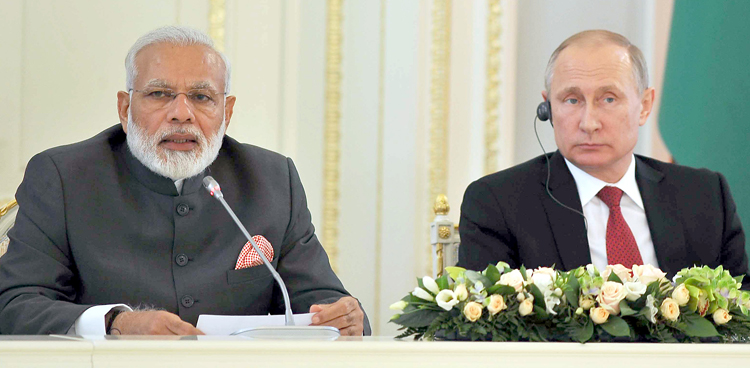 Prime Minister Narendra Modi and the President of Russian Federation, Vladimir Putin, at India-Russia CEO's meeting, at Konstantin Palace in St. Petersburg, Russia on June 01, 2017
Even as the armies of India and US are engaged in joint military two-week exercise 'Yudh Abhyas 2017' to hone their skills in counter insurgency and counter terror operations under a joint brigade headquarters at a military base in Washington, the Indian Military is looking forward to a first ever tri-service joint military exercise with Russia scheduled during October 2017. This will be the first time India will deploy troops, weapon platforms and equipment from the Army, Navy and Air Force with any country - 'Indra' India-Russia joint combat exercise to be held at Vladivostok, Russia from October 19 to 29. Some 350 troops, multi-role stealth frigate, anti-submarine corvette and aircrafts will participate from the Indian side. For some time, there has been debate whether India-Russian relations are waning, more so because of sale of Russian defence equipment to Pakistan including attack helicopters. However, this needs to be seen in the backdrop of increasing US sanctions on Russia, defence exports contributing to Russian economy, and India diversifying defence procurement.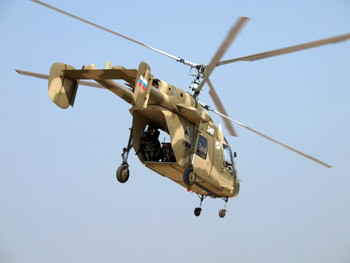 Ka-226T
Many may be unaware that India has invested US$ 5.5 billion in the oil sector in Russia and the largest Russian investment in India stands at US$ 12.9 billion. The rebooting of bilateral ties is evident from: role played by Russia in the pullback from Doklam; Russia opening resource-rich Far East to India for trade and investment post recent meet of the Eastern Economic Forum (EEF) at Vladivostok, attended by EAM Sushma Swaraj; Indo-Russian joint vision of achieving bilateral trade of $30 billion by 2025; Zamir Kabulov, President Putin's special envoy to Afghanistan visiting India next month to address Indian concerns including about Russia's role in Afghanistan. Interestingly, a viewpoint in Pakistani media is that Pakistan must be cautious in facilitating Russia's association with the China-Pakistan Economic Corridor (CPEC) because Pakistan cannot afford to let go 'any' benefits of CPEC, besides Moscow's support to Pakistan may estrange Beijing and Turkey. Coming to defence relations, Arun Jaitley, then Defence Minister had attended the 17th meeting of the India-Russia Inter-governmental Commission on Military-technical Cooperation on June 21-23 in Moscow, jointly chaired with Russian Defence Minister General Sergey Shoigu.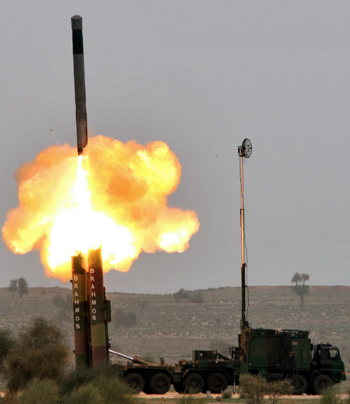 Brahmos missile
India is moving ahead with its plan to lease a third nuclear attack submarine from Russia for an estimated $ 2.5 billion. This will include the refit of the vessel at a Russian shipyard followed by 10 year deployment with the Indian Navy. India is to acquire arms and equipment worth $10.5 billion from Russia including "five S-400 Triumf advanced air defence missile systems, four Grigorivich-class frigates and 200 Kamov-226T light helicopters according to news reports. An inter-governmental agreement for four frigates through a partnership between Russian and Indian shipyards was signed during Russian president Vladimir Putin's visit to India in October last year. While two frigates will come from Russia, two others will be constructed at an Indian shipyard with Russian cooperation. The class's original gas turbines were made by Ukrainian state-owned enterprise Zorya-Mashproekt. With tension continuing between the two nations, Ukraine has refused to supply any more engines to Russia. In August this year, the DAC approved the 490 crore purchase of Zorya gas-turbine engine sets from Ukraine for two of the Grigorivich-class frigates being built in Russia. During the Modi-Putin summit in Goa last year, India had agreed to purchase four 4,000-tonne Grigorivich-class guided-missile stealth frigates at cost of $4 billion from Russia; two of these frigates are half-constructed in Russia due to bilateral Russia-Ukraine problems, the other two will be built in the Goa Shipyard in India. India will now acquire the Zorya gas-turbine engines from Ukraine and then ship them to Russia for the first two frigates. The Russians offered India the S-300/S- 300V BMD system as far back as the mid-1990s.
During the December 2014 summit meeting between Prime Minister Narendra Modi and President Vladimir Putin, Russia had agreed to supply 12 nuclear power reactors over the next 20 years. Russia has been a long-standing defence partner of India and both the countries are now eyeing to further deepen the ties. During Prime Minister Narendra Modis visit to Russia in June, both countries had decided to "upgrade and intensify" defence cooperation through joint manufacture, co-production and co-development of key military hardware and equipment. A vision document, issued then had said that both the countries also decided to work towards a qualitatively higher level of military-to-military cooperation. India has already decided to significantly ramp up its defence capability and has lined up billions of dollars of procurement proposals as part of military modernization. The co-production of the BrahMos supersonic cruise missile is a shining example of Indo-Russian defence cooperation albeit without transfer of technology (ToT) because of which sale of BrahMos to Vietnam hasn't yet come through. ToT remained the bedbug in military-technical cooperation even as aircraft and tanks were manufactured under license in India. But that as per recent media reports is going to be the form with US firms joining the 'Make in India' projects. Russian help to India during the 1971 Indo-Pak War cannot be forgotten; Indo-Russian friendship has stood the tests of history - both supporting each other in times of duress including at international forums. It is in the interest of both countries to keep the relationship strong because in the geostrategic and geopolitical flatboard of the world, their destinies will remain entwined.