By Lt. General P.C. Katoch (Retd)


Former Director General of Information Systems, Indian Army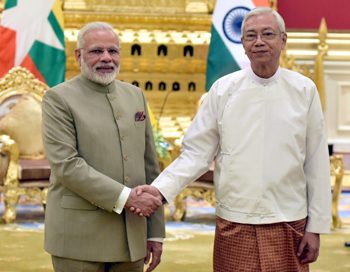 Prime Minister Narendra Modi meeting the President of Myanmar, U. Htin Kyaw, at Presidential Palace, in Nay Pyi Taw, Myanmar on September 5, 2017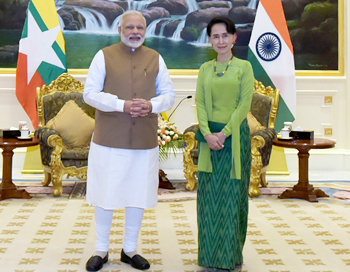 Prime Minister Narendra Modi with the State Counsellor of Myanmar, Aung San Suu Kyi, on his arrival, at Presidential Palace, in Nay Pyi Taw, Myanmar on September 6, 2017
Prime Minister Narendra Modi arrived in Myanmar on September 5 for a two-day visit on his way back from the 9th BRICS Summit at Xiamen in China. This was Modi's first bilateral visit albeit he had visited the country in 2014 to attend the ASEAN-India Summit. Myanmar State Counselor Aung San Suu Kyi and Myanmar President Hitin Kyaw had visited India during 2016. It may be recalled that it was during the 2014 ASEAN-India Summit that Modi had announced the 'Act East Policy'. PM Modi's bilateral visit came amidst the Rohingya crisis was snowballing. Modi had extensive discussions in Myanmar. Both countries signed 11 MoUs in a range of sectors, including on: maritime security cooperation; strengthening multifaceted partnership; sharing white shipping information; between Election Commission and Union Election of Myanmar; cultural exchange program for period 2017-2020; cooperation between Myanmar Press Council and Press Council of India; extension of agreement on the establishment of India-Myanmar Centre for Enhancement of IT skill; extension of agreement on establishment of MIIT; cooperation in medical products regulation; cooperation in the field of health and medicine; and, enhancing cooperation of the upgradation of women's police training center at Yamethin, Myanmar.
PM Modi said, "India's democratic experience is relevant to Myanmar. As neighbours, our interests are similar in the area of security. It's necessary for us to work together towards the security of our land and maritime border. Myanmar and India, being neighbours, our outlook and focus on security are similar. It is necessary that India and Myanmar cooperate to ensure that the land and coastal borders we share remain calm". State Councillor Suu Kyi responded by saying, "There are many areas in which we can cooperate. I would like to talk about the role India has played in capacity building because that is what our country is more in need of - to build up the capacity of our people that we may be able to construct truly safe and lasting federal democratic unions. India has always been eager to join us in our efforts, to strengthen our democratic institutions of our country and for this also... the respective fathers of our Independence movement were close to each other and I think this closeness has been maintained throughout the seven decades and we truly believe that this will continue to be maintained in the years to come."
As per media, Suu Kyi is agreeable to return of those Rohingya illegal immigrants in India who have valid documents. Myanmar shares 1,643-km land boundary with India's four northeastern states. Several insurgent groups have set up bases and training camps in Myanmar. Concurrent to Modi announcing the 'Act East Policy, Chinese intelligence set up the ULFWSEA (United Liberation Front of West, South and East Asia) combining nine insurgent groups of India's northeast, including NSCN (K) and ULFA. Myanmar is strategically important being India's gateway to the East and regional connectivity plans like the India-Myanmar-Thailand (IMT) Highway. Chinaese designs on the Indian Ocean make the India-Myanmar partnership more important. India and Myanmar are members of regional groupings like the Bay of Bengal Initiative for Multi-Sectoral Technical and Economic Cooperation (BIMSTEC) and ASEAN. Significantly, having armed the UWSA (United Wa State Army) straddling the Shan State of Myanmar and Pakistani support to Rohingyas, China has acquired a pivotal role in the internal dynamics of Myanmar. During a bilateral meet between Chinese President Xi Jinping and Suu Kyi on the sidelines of the China organized Belt and Road Forum in May 2017, Jinping said, "China is willing to continue to provide necessary assistance for Myanmar's internal peace process." Myanmar will find it difficult to get away from the tightening grip of China. Exodus of Rohingya Muslims from Myanmar poses a problem to both Bangladesh and India. The Rakhine state in Myanmar's northwest is important to India being start point for the $484-million Kaladan multi-modal transport projects, India having completed work on Sittwe port, at the estuary of Kaladan river, in Rakhine.
India and Myanmar have been working together on insurgent camps in Myanmar ant the Rohingya issue, but more needs to be done to address India's security concerns. Our Home Ministry has submitted an affidavit in the Supreme Court on the deportation of Rohingya immigrants to Myanmar calling them a "security threat to India". But India is known to be sans strategic sense, reinforcing which counter petitions have been filed to retain these illegal immigrants on "humanitarian grounds' - nothing can be more idiotic. The basic question remains why should 'illegal immigrants' be accommodated when India itself is bursting with overpopulation and unemployment. But here it is also a case of Rohingyas having links to AQIS and LeT. Pakistani national Asim Umar was appointed chief of AQIS because HUJI (his mother organization) had cells operating in Kashmir, Bangladesh and Myanmar.
Similarly, Ata Ullah, head of the ARSA (Arakan Rohingya Salvation Army) raised in October 2016 is a Pakistani national. ARSA calls for an Independent Islamic Rohingya State and since its formation have been attacking police stations and government offices in Myanmar, aside from several attacks on Buddhists and Hindus. ARSA claimed responsibility for the August 25 killing of 12 security personnel in Rakhine State that kicked off fresh round of violence. ARSA is actively supported by Pakistan and funded by Suadi Arabia. The official website of ARSA is operated from Saudi Arabia. According to the International Crisis Group (ICG), the entire Rohingya Movement is controlled by some 20 wealthy Rohingya businessmen settled in Mecca, Saudi Arabia.
The UN is pressuring Myanmar on the Rohingya issue but the UNHCR panel that appoints independent experts is headed by a Saudi National Faisal Bin Hassan Trad; same country harbouring Rohingya businessmen orchestrating riots in Myanmar and funding terrorists groups like ARSA. The larger picture of the Rohingya crisis therefore cannot be ignored. In a televised address on September 19, Suu Kyi said, "It is not the intention of the Myanmar government to apportion blame or to abdicate responsibility. We condemn all human rights violation and unlawful violence. We are committed to the restoration of peace, stability and rule of law throughout the state. There are allegations and counter allegations and we have to listen to all of them. And we have to make sure these allegations are based on solid evidence before we take action." It goes without saying that India and Myanmar have a shared destiny and there is no other option than closest cooperation.