By Lt. General P.C. Katoch (Retd)


Former Director General of Information Systems, Indian Army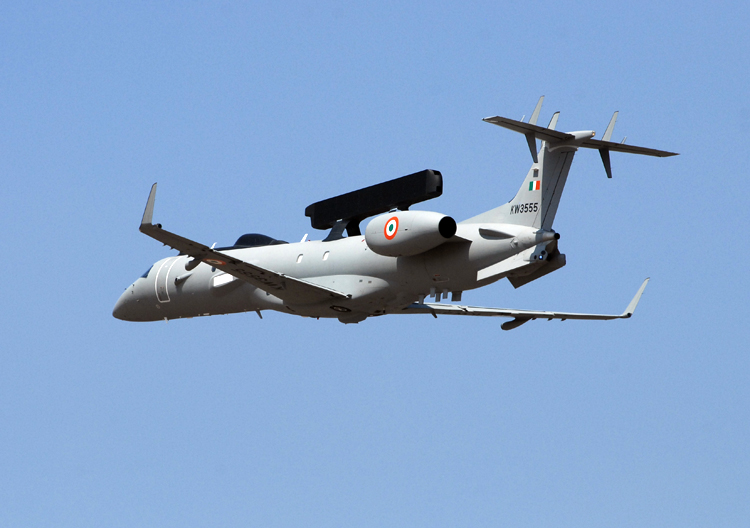 Embraer EMB-145 AEW&C Aircraft
The news about the IAF facing grave shortage of airborne warning and control systems (AWACS) surveillance planes is not good, and should make authorities sit up. The IAF inducted three Israeli-made Phalcon AWACS mounted on Russian IL-76 aircraft between 2009 and 2011 as part of a $1.1 billion deal. However, the follow-on order for two more aircraft remains stuck after Russia increased the price for the IL-76 sharply, as per media reports. It is not clear whether at the time of the original order, the delivery schedule of the two follow on IL-76 were also negotiated. This should have been the case but perhaps was not. That is why while India is ready to pay $800 million for the two AWACS, while $1.3 billion is being demanded by the concerned Russian manufacturers. The deal is apparently in limbo with end of 2017 approaching even though the Cabinet Committee on Security (CCS) had cleared the proposal to acquire two more Phalcon AWACS at a cost of 7,500 cr in March 2016. This gives the impression that while we may be calling the two additional IL-76 'follow on', they were not part of the original deal and therefore hardly 'follow on' as far as the Russians are concerned.
So the question is did we fault in negotiating the original deal? Similarly, it is not known whether the additional two Israeli-made Phalcon (called ELW-2090) that are to be mounted on the 'follow-on- IL-76' have already been procured or are yet to be purchased, and in case of latter, will their price also go up given the routine yearly inflation in defence systems. The Phalcon AWACS give a 360 degree coverage and India has just these three systems presently mounted on IL-76 while China already has 20 AWACS. The requirement of 360 degree eyes in the skies at all times need to be viewed in the backdrop that India has land borders totaling, 15,072 km, coastline of 7,863 km, off shore assets covering 17000 sq km and an exclusive economic zone (EEZ) of 1,02 million sq km. Our surveillance requirements must cater for not only the ongoing hybrid war that we are contending, but also the conjoint China-Pakistan war and the enemy within – remember the ease with which the Purulia arms drop was executed.
Phalcon AWACS mounted on Russian IL-76 aircraft
In February 2017, the IAF inducted the DRDO's 'Netra'; first of the three indigenous airborne early-warning and control system (AEW&C) was inducted into the IAF. However, compared to the Phalcon which has a 360-degree coverage and 400km range, the Netra has 240-degree coverage and a 250km range. The Netra (AEW&C) project, conceived in 2003, aimed to deliver three radar-equipped surveillance aircraft to the IAF. For the aircraft platform, three Embraer ERJ 145 aircraft were procured from Brazil's Embraer at a cost of $300 million including contract modifications of the airframe. The project aimed to deploy all three Netra (AEW&C) by year 2013. Why the Netra AEW&C went in for a 240-degree coverage radar instead of 360-degree coverage is unclear but the Netra were to supplement the Phalcon AWC.
The other two Netra AEW&C aircraft are yet to be delivered to the IAF but the purchase of the Embraer ERJ 145 aircraft has been mired in a scandal of kickbacks. India is also working on indigenous production of advanced AWACS ubder a 5,113 cr project. This envisages 360 degree active electronically scanned array (AESA) radars being mounted on Airbus A-330 aircraft. However, as per media reports, it is expected to "at least" tale 80 months to operationalize the first two of six AWACS once the contract for the Airbus A-330 aircraft is signed. So the earliest that the first two such AWACs are ready is estimated to be around 2024-2025, which itself may be conservative considering past history. The predecessor of DRDO's Netra was the 'Airavat'; airborne surveillance platform (ASP) conceived in 1985 by the DRDO. It was based on a Hawker Siddley HS 748 aircraft with the aim of developing an airborne early warning system (AEW). Two prototypes were developed and flight tested for three years, but the project was cancelled in 1999 after the prototype aircraft crashed killing eight scientists and the aircrew. Pakistan had acquired its first AWACS aircraft SAB 2000 from Sweden in December 2009. In February 2015 the Pakistan Air Force (PAF) introduced the Chinese-made "Karakoram Eagle AWACS; a variant developed to Pakistani requirements and designated ZDK-03 equipped with Chinese AESA radar mounted on the Shaanxi Y-8F600 four turboprop transport aircraft – according to Pakistani media this had greater range than PAF's Saab 2000 Erieye.
The ZDK-03 is also reportedly equipped with a sophisticated ESM system that can intercept and analyze signals from airborne and surface emitters. Pakistan presently has three Swedish Saab-2000 AEW&C aircraft and four Chinese-origin ZDK-03 (KJ-200) AWACS. In May 2017, Sohail Aman. PAF chief announced that PAF would receive three more Saab 2000 Erieye from Sweden - one by end 2017 and balance two during 2018. This would total up to six Saab 2000 Erieye and four Chinese and ZDK-03 (KJ-200) AWACS by next year compared to IAF's abovementioned holdings. But this needs to be viewed not just by numbers but the size of the nation's airspace that both India and Pakistan need to secure individually. India has historically been viewed as lacking strategic sense by its own strategists, scholars and diplomats; even late K Subrahmanyan and former ambassador Kanwal Sibal wrote repeatedly about this negative trait. Unfortunately, nothing has been done to induct military professionals into the MoD and define a national security strategy. While that may remain unaddressed with no move made by the government in this context, haphazard planning by the MoD in securing the defence of the country can cost us dearly in the 21st century. The new Defence Minister needs to undertake serious introspection of such-like matters military.