By Lt. General P.C. Katoch (Retd)


Former Director General of Information Systems, Indian Army
China went wild with accusations when an Indian drone recently crashed in China occupied Tibet in first week December 2017, days before the visit to India by Chinese Foreign Minister Wang Yi. The Heron drone, made by Israel Aerospace Industries (IAI), had taken off from a base in the Siliguri Corridor on a training mission over India when it developed technical problems and crashed in Chumbi Valley near the Doklam Plateau where there is a concentration of Chinese troops. According to the India Army (IA), the drone was on a regular training mission inside Indian Territory but lost contact with ground control due to a technical problem and crashed in Tibet. The IA immediately alerted its Chinese counterparts to find the drone and said, "The exact cause of the incident is under investigation. The matter is being dealt with in accordance with the established protocols through institutional mechanisms to deal with situations along the India-Tibet border."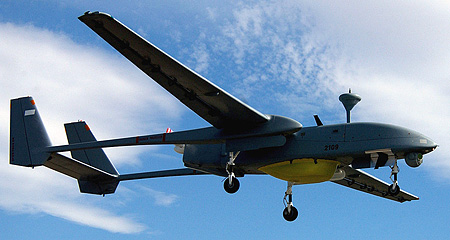 A file photograh of Heron MALE UAV
A training mission involves a drone flying about 25 km away from the LAC and is conducted to check if the system is working properly. It is different from an operational mission wherein the drone would fly close to the LAC, providing in-depth surveillance of the Tibetan territory occupied by China. An Indian government official has clarified the incident saying, "The drone's communication link broke with the ground control station, it was regained and then lost again, preventing it from being controlled, before crashing in the Chumbi Valley." India has sent the drone's Digital Analytical System (DAS) based at the control station to Israel for checking what went wrong and the results are expected in few weeks time. However, Geng Shuang, Chinese foreign ministry spokesman stated, "The action of the Indian side violated China's territory and is not conducive to peace and tranquility in the border area. China is dissatisfied with this and has lodged solemn representations with the Indian side".
Xinhua quoted Zhang Shuili, deputy head of the China's Western Theatre Command saying that India had infringed on China's territorial sovereignty, adding, "We strongly express our opposition. China's border forces acted professionally and responsibly." The last bit about "acted professionally and responsibly" is tad queer because certainly a drone crash doesn't evoke a violent response. Why would India fly a drone across the LAC when satellite imagery picks up Chinese dug in close to Doklam with tanks and other combat paraphernalia? On the other hand China orchestrating the "technical snag" cannot be ruled out considering China's habit of creating an incident just before the visit of a political bigwig from either side. Zhou Chenming, Beijing-based military commentator was more pragmatic saying drone flyovers by both sides on the border were normal and flying at that altitude close to the Indian drone's ceiling "increased the chance of mechanical or electronic failure. It's not surprising the drone crashed" since the area sees extremely low temperatures, strong winds and heavy snow at this time of year. Zhou's reference to ceiling and capability of drones held by India perhaps prompted our side to put in print a cutting-edge drone made by Noida-based start-up, NewSpace Research and Technologies, which is capable of flying 65,000 feet above Tawang in Arunachal Pradesh and remain in the air for three weeks at a time. In near-earth orbit, the drone, which doesn't have a name as yet, will be able to monitor Chinese military movements in the city of Shigatse in Tibet, more than 200 km away round the clock. In the category of High Altitude Pseudo Satellite (HAPS), this private sector indigenous satellite is under validation by Boeing and its first flight is scheduled for 2019.
It may be recalled that in December 2011, Iran had electroncally commandeered Lockheed Martin RQ-170 Sentinal UAV through cyber warfare, landed it in Iran and replicated it to produce an Iranian UAV within a year. China has highly advanced cyberwarfare program and it is quite possible that China was trying to commandeer the Heron albeit it crashed instead of landing. Or did it crash – because this is China's version! It could have been safely landed electronically, with the Chinese busy examining and reverse engineering. That is perhaps the reason why negotiations for return of the drone are being prolonged, and China is quite capable of damaging the drone before returning it to prove it had crash landed, in case the drone is returned at all. Significantly, on November 26, 2017 the Chinese military successfully test fired a counter-drone laser; photos showed a truck-mounted laser downing a quadcopter drone, the invisible laser scorching the drone with a finger-width hole in its airframe.
India must also take note of the concept of 'swarm drones' catching favour in China coupled with the China's massive drone production capacity. On January 15, 2017 China created a Guinness record by simultaneously operating 1000 quadcopters together during the lantern festival in Guangzhou marking the end of the Chinese New Year. The 1,000 Ehang Ghost Drones 2.0 display was 120m high, 280m long and 180m wide with each drone maintaining distance of 1.5m from its neighbor. The sight was enthralling to see the least but visualize these as military drones attacking a target and you can appreciate the combat implications. Effective use of drones by terrorist organizations like Islamic State has been covered in these columns earlier. With China-Pakistan using irregular forces to destabilize India, we have a situation where drones, swarms included, are expanding threats at our borders and the hinterland even without regular conflict. Our policy makers need to address this asymmetry and put counter measures in place.