By Lt. General P.C. Katoch (Retd)


Former Director General of Information Systems, Indian Army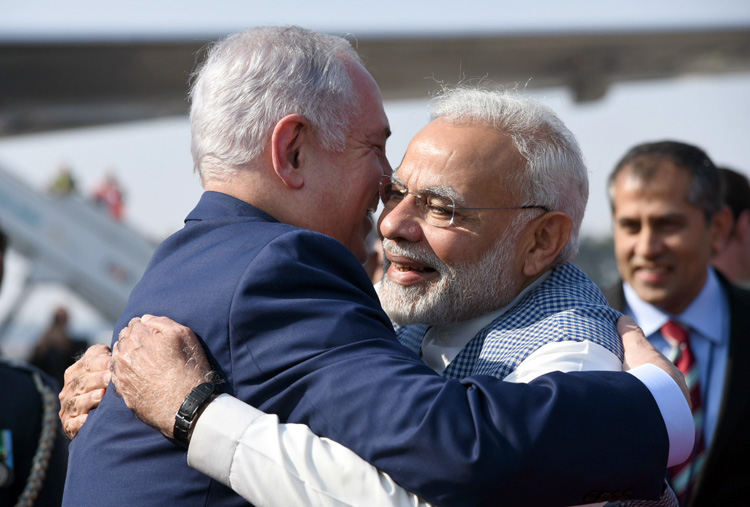 The Prime Minister, Shri Narendra Modi welcomes the Prime Minister of Israel, Mr. Benjamin Netanyahu, on his arrival, at Air Force Station, Palam, in New Delhi on January 14, 2018.
Israeli Prime Minister Benjamin Netanyahu's six-day visit to India has very smoothly taken India-Israel relations to the next level. Ahead of his departure from Israel, Netanyahu had stated, "We are strengthening ties between Israel and this important global power (India). ....This serves our security, economic, trade and tourism interests, as well as many other areas. This is a great blessing fot the state of Israel."
On arrival in India, Prime Minister Narendra Modi received him at the airport disregarding protocol, after which both drove to Teen Murti Chowk, to rename it the Teen Murti-Haifa Chowk. PM Netanyahu called on the President, had extensive talks with PM Modi, besides meeting various difnatories. He also did the honour to inaugurate the third edition of the geo-political conference, 'Raisina Dialogue', in New Delhi and laid stress on the need to develop economic, military and political power to emerge as a strong nation. Delivering his inaugural address, the Israeli premier appreciated the efforts being made by the Narendra Modi government to cut bureaucratic red tape and improve ease of doing business. Referring to economic growth, he said, "The weak don't survive, the strong survive...you make alliance with the strong." He said that to defend a nation, one needs a strong military which in turn requires a lot of money. The money, he said, comes from a strong economy. Netanyahu stressed that alliance between democracies was important. India and Israel have signed nine MoU's in the field of co-operation on cyber security, petroleum, air transport, research in homeopathy, film co-production, space science, business investment, metal air batteries and solar thermal technology. Besides the MoU's a letter of intent between IOCL and Phinergy Ltd, IOCL and Yeda Research and Development Co Ltd have also been signed. During Modi's visit to Israel last year, both nations had vowed to increase the bilateral trade to 20 billion by 2020. Bilateral trade with Israel currently stands at 5.04 billion except co-operation in the Defence sector. And it is increasing at a rate of 2.3 percent. Along with these collaborations, the two governments are also launching an R&D fund of $ 40 million to support business.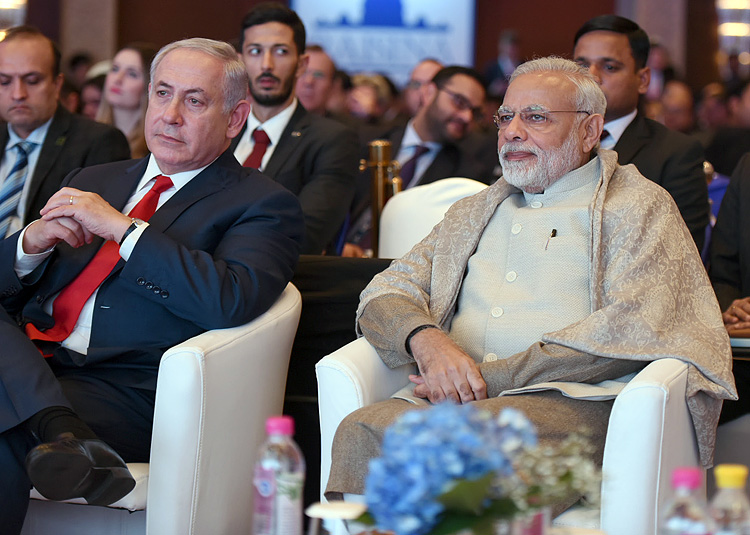 Israeli Prime Minister Benjamin Netanyahu and Prime Minister, Narendra Modi at the Raisina Dialogue, in New Delhi on January 16, 2018
Further Israel is now also looking to join hands with bodies like ASSOCHAM, CII, FICCI, and NASSCOM to nurture business in both the countries. PM Netanyahu was accompanied with a 130-strong delegation, which consisted of 100 companies, 20 start-ups and 30 government officials from the economic arena, aims to collaborate with Indian companies. Defence cooperation was also discussed between the two Prime Ministers though details were not made public. However, PM Netanyahu gave the good news to the Indian Army by disclosing that the deal for Spike Anti-Tank Guided Missile (ATGM) with Israel that India had scrapped in November 2017 has been revived. This was reported in Israel media quoting PM Netanyahu after he had met PM Modi. It may be recalled that the Spike deal for 8,000 missiles, 300 plus launchers and requisite technology transfer had been cleared by the Defence Acquisition Council (DAC) in 2014 after extensive trials by the Indian Army. Price negotiations with Rafael Advanced Defence Systems were completed in 2016 and deliveries were expected to be completed 48-60 months thereafter. Rafael had even entered into a joint venture with Kalyani group to produce missiles in India and with the first facility opened in Hyderabad and would have been able to deliver 200 missiles in a month. With this development, it is possible that the Indian Army, which is planning to induct a third-generation missiles system for its Russian make T-90 tank, may look at Israeli missile systems as well.
The Prime Minister, Shri Narendra Modi receives the Prime Minister of Israel, Mr. Benjamin Netanyahu, in New Delhi on January 14, 2018.
Addressing the India-Israel Business Summit here, Netanyahu mentioned the "deep personal friendship" he shares with his Indian counterpart Narendra Modi, adding that the warmth goes deeper, right up to the common man. He termed Israel's partnership with India as one "made in heaven", which rests on shared values of love for humanity, democracy and freedom. Highlights of the India-Israel Joint Statement during PM Netanyahu's visit included: shared common vision for the relationship over next 25 years to raise bilateral cooperation in diverse sectors of Strategic Partnership; Five Year Joint Work Plan for strategic cooperation in Agriculture and Water; deepen cooperation in innovation, business and trade, space, homeland security and cyber, higher education and research, science and technology, tourism and culture; satisfaction over India-Israel development cooperation program in Agriculture (2018-2020); progress on 28 Centres of Excellence being jointly established in India; completion of all formalities for launch of India-Israel Industrial R&D and Technological Innovation Fund (I4F); role of youth in enhancing future collaboration in innovation; decision to commence nine joint R&D projects in big data analytics, healthcare, security and cyber space; India-Israel Women in STEM (Science, Technology, Engineering and Mathematics) Symposium to be organized in October, 2018 in India; initiation of bilateral cooperation in Oil and Gas sector; companies of both nations to begin collaboration in the areas of metal air batteries for stationary energy storage systems and in solar thermal technologies, and urge industry on both sides to explore business collaboration in new energy technologies; Israeli willingness to become Partner Country in India's initiative in establishing International Solar Alliance to promote renewable energy; renewed efforts to realize the full potential for bilateral trade and investment; private sector to actively explore investment opportunities in both countries; India-Israel CEO Forum, established in July 2017 during Prime Minister Modi's visit to Israel facilitating business especially for IT and new technology sectors; expediting Agreement on Maritime Transport; Protocol Amending Air Transport Agreement to expand cooperation in the civil aviation sector; Indian Cultural Centre to open in Israel in 2018; holding Festivals of India and Israel in respective countries in 2019; Defence Ministries to hold discussions in 2018 with active involvement of the public and private sectors to create long-term cooperation in the defence industry; recognizing grave threat of terrorism, reiterating no justification for acts of terror on any grounds and advocated strong measures against terrorists, terror organizations, those who sponsor, encourage or finance terrorism or provide sanctuary to terrorists and terror group; next meeting of the Joint Working Groups on Homeland and Public Security to be held in February 2018; importance of building comprehensive cooperation in counter-terrorism, including cyber-space; support for early resumption of peace talks between Israelis and Palestinians for arriving at a comprehensive negotiated solution on all outstanding issues; mutual agreement to continue high level exchanges and to maintain dialogue in all areas, and to work in practical ways for the benefit of their peoples.
PM Netanyahu had raised the issue of Islamic radicalization and stated that India has every right to hit trans-border terrorist sanctuaries. Netanyahu said in an interview to the media that his country and India "have some understanding" should India decide to unilaterally carry out combative action across the Line of Control against UN-designated terrorists, a statement that is indicative of an endorsement of India's right to defend itself. But Pakistan Foreign Minister Khawaja Asif criticized Israeli Prime Minister Benjamin Netanyahu's visit to India, saying both India and Israel have anti-Islam nexus. This, despite Netanyahu saying, "We (Israel) are not enemies of Pakistan and Pakistan should not be our enemy either." Pakistan has obviously lost all sense of propriety having been generating terror past several decades. But the India-Israel Strategic Partnership is one of the most important to both countries and is destined to grow.