By Lt. General P.C. Katoch (Retd)


Former Director General of Information Systems, Indian Army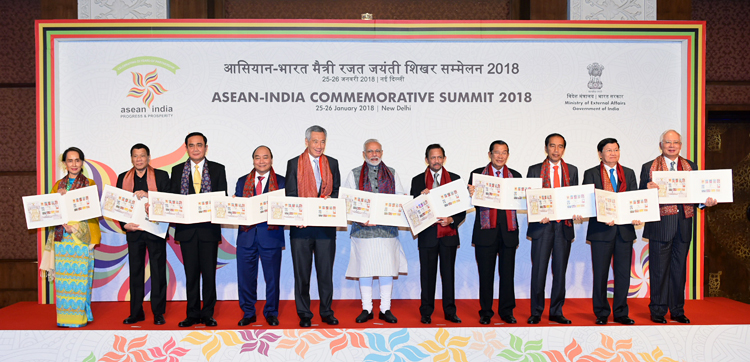 The Prime Minister, Narendra Modi with the ASEAN Heads of State/Governments and ASEAN Secretary General on the occasion of the release of postal stamps to commemorate silver jubilee of India and ASEAN partnership, at the ASEAN India Commemorative Summit, in New Delhi on January 25, 2018
Republic Day 2018 was unique and very special with 10 leaders of ASEAN nations gracing the occasion with ASEAN completing 50 years of its formation and India completing 25 years of India-ASEAN partnership that commenced in 1992. That all 10 ASEAN of Brunei, Cambodia, Indonesia, Laos, Malaysia, Myanmar, Philippines, Singapore, Thailand and Vietnam accepted India's invitation and came indicated the importance ASEAN gives to India despite the uncomfortably overbearing military and economic clout of China. It not only boosted India's 'Act East Policy' (AEP) but was a double feather in Prime Minister Narendra Modi's cap after his recent success at the World Economic Forum 2018. Realization among ASEAN countries that China can will steamroll all norms and relationships in her mad rush to become a 'Great Power' would have certainly helped. India's strategic central position in the Indian Ocean, economic rise and adherence to international norms being viewed as an alternative power node to China not only by the US but other nations as well. India had never invited 10 heads of state/government to be chief guests at Republic Day celebrations. ASEAN evidently, views India as a friend and partner that can also provide security and free up the policy options for all of them.
At the same time, India by itself cannot sustainably balance its interests in the region when it comes to trade, sea-routes, development of neighboring countries to invigorate India's economy, and border disputes in the face of China's aggressive tactics and the China-Pakistan nexus to keep India confined to South Asia and limit India's growth. India needs strong alliances and partnerships through which it can comprehensibly convey its point, be that through diplomatic, economic or military means. Upgrading of the India-ASEAN relationship to 'Strategic Partnership' indicated the desire to promote economic activity, address mutual concerns, ensure regional stability and issues like freedom on high seas. The need for this has been growing more with China's aggressive moves in the South China Sea (SCS) and arbitrary extension of its exclusive economic zone (EEZ). Addressing the 15th ASEAN-India Summit last year, PM Modi had focused on India-ASEAN relationship, mainly: relationship with ASEAN is key pillar of India's foreign policy; AEP underlines is the centrality in the regional security architecture of the Indo-Pacific region; time to jointly address the crucial threat of terrorism; and, India's steady support to ASEAN for achieving rules-based regional security architecture for region's interests and its peaceful development.
The Republic Day Parade with the ASEAN flag, individual flags of the 10 ASEAN nations and tableaus depicting the cultural mix of indo-ASEAN nations had visible effect on the visiting dignitaries. While PM Modi had bilateral meetings with the ASEAN nations leaders, The Delhi Declaration of the ASEAN-India Commemorative Summit to mark the 25th Anniversary of ASEAN-India Dialogue Relations included focus on: appreciating deepen ASEAN-India Strategic Partnership for mutual benefit, across the whole spectrum of political-security, economic, socio-cultural and development cooperation; maintaining and promoting peace, stability, maritime safety and security, freedom of navigation and over-flight in the region, and other lawful uses of the seas and unimpeded lawful maritime commerce and to promote peaceful resolutions of disputes, in accordance with universally recognized principles of international law; deepen cooperation in combating terrorism in all its forms and manifestations, violent extremism and radicalization through information sharing, law enforcement cooperation and capacity building; comprehensive approach to combat terrorism through close cooperation by disrupting and countering terrorists, terrorist groups and networks, including by countering cross border movement of terrorists and foreign terrorist fighters and misuse of Internet including social media by terror entities; work towards compliance of UNSC resolutions regarding counter-terrorism; strengthen ASEAN-India economic relations, including full utilisation of the ASEAN-India FTA, and intensify efforts for swift conclusion of mutually beneficial Regional Comprehensive Economic Partnership (RCEP); and, commitment to enhance physical and digital connectivity and early completion of the India-Myanmar-Thailand Trilateral (IMT) Highway Project and extend this Trilateral Highway to Cambodia, Lao PDR and Viet Nam.
The first time mention of terrorism in the India-ASEAN joint declaration was an excellent inclusion that would put pressure on Pakistan. PM Modi stressed that humanitarian and disaster relief, security cooperation and freedom of navigation will be one of key focus area of our maritime cooperation. At the same time ASEAN nations prodded India to stop stalling negotiations on a pan-Asian trade pact that could potentially create the largest free-trade zone in the world. PM Modi also offered to set up digital villages in Cambodia, Laos, Myanmar and Vietnam, by utilizing the $1 billion line of credit for connectivity. India will also host an ASEAN-India start up festival this year and 1000 scholarships in IITs for doctoral students from ASEAN countries will be allocated. Besides, 2019 will be marked as the year of India-ASEAN tourism by both the sides. The challenge for India is to scale up trade and investment. Ease of doing Business, making FDI more attractive, and IMF projections are positive but we are long way off in tackling corruption, energizing bureaucracy and cutting through multiple regulations that continue to deter business and trade. The MEA will need to be far more proactive in completing the (IMT) Highway in conjunction Myanmar and Thailand, ant its extension to Cambodia, Lao PDR and Viet Nam. There is definite scope of exporting defence items to ASEAN countries with President of Philippines showing positive interest. Similarly, there is scope for reciprocal arrangements for using port facilities with ASEAN nations, akin to the India-Singapore arrangement.
But here were two issues that marred the occasion. First, was the violence related to the release of 'Padmavat', which was clearly unleashed with backing from multiple political parties.
The second and more important was denying the visiting Vietnam PM Xuan Phuc and his wife Tran This Nguyet Thu to the Mahabodhi Temple in Bodh Gaya when 50,000 disciples of Dalai Lama and from across the world were in Bodh Gaya to attend Dalai Lama's teaching sessions. Sure two bombs fitted with suspected improvised explosive devices (IED) were found near the Mahabodhi on January 19, but the Vietnam PM and his wife were scheduled to land in Patna for the visit only on January 27. With the amount of police and central armed police forces at our disposal, where was the problem of sanitizing the area over one week to facilitate the visit. By denying the same including the Vietnam dignitaries to meet the Dalai Lama, the message conveyed was that we could not secure such visit in our own country. Do we realize the impact of these two events when we are asking for foreign investments in India? Finally, it is not the West alone that wants to right-size China but ASEAN too wants to see India to up-size itself to help them, while they continuing to fraternize China of necessity. On balance, notwithstanding the euphoria of Republic day 2018, India needs to cash on it proactively to follow up on this diplomatically well conceived and executed event.