By Lt. General P.C. Katoch (Retd)


Former Director General of Information Systems, Indian Army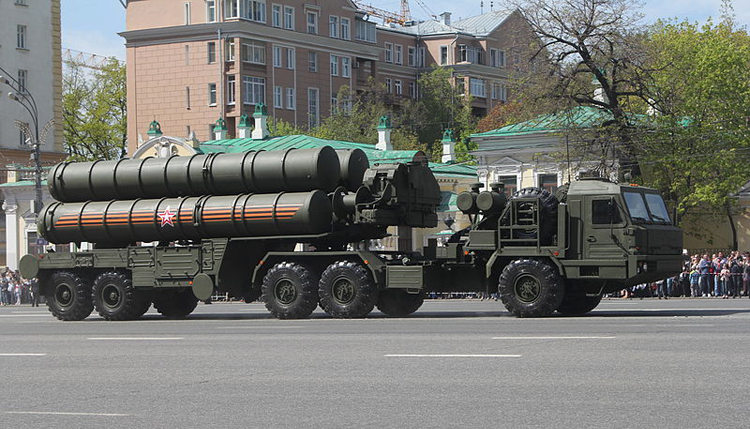 S-400 Triumf launch vehicle
Russia's S-400 (nicknamed Triumf) is an upgraded version of the S-300 system, manufactured by Almaz-Antey and is in Russian military service since 2007. The Triumf surface-to-air missile system comprises associated battle management system of command post and launchers, acquisition and engagement radars besides all terrain transporter-erector-launcher vehicles. It can fire three types of missiles and can also detect and destroy incoming medium range ballistic missiles. Equipped with long range radars to track 100 to 300 targets simultaneously, the S-400 has various kinds of supersonic and hypersonic missiles to intercept the hostile missiles or aircraft or drones at different ranges; the air defence missile systems can detect and destroy hostile targets, including aircraft, missiles and drones at a range of more than 400 km and flying at an altitude of more than 35 km. China was the first foreign country to opt for this advanced air defence system and signed a Government-to-Government deal for six S-400 missile systems worth over $3 billion with Russian in 2014. China has reportedly already started the process of induction of this Russian-built system. Turkey has also shown interest in the S-400 Triumf missile system. Russia claims that S-400 Triumf is effective against stealth multi-role fighter jets. Triumf has also been deployed by Russia in Syria.
The Defence Acquisition Council (DAC) had given the approval for procurement of the S-400 Triumf air defence system in 2015. India had signed an agreement 'in principle' agreement with Russia for procurement of the S-400 Triumf in 2016, and the Putin-Modi summit in Goa in October 2016 gave the nod for a Government-to-Government deal for it. Since then, negotiations were on between the official delegations of two defence ministries. Earlier, there were reports that the deal was likely to be sealed during the visit of Defence Minister Nirmala Sitharaman's visit to Moscow in first week April 2018, however, the issue was reportedly only discussed by her with her Russian counterpart General Sergei Shoigu. The reason apparently was the CAATS (Countering America's Adversaries Through Sanctions) Act signed by US President Donald Trump this year, since it threatens sanctions against those nations which deal with countries considered enemies of the US, namely Russia, Iran and North Korea. The Act will impact India, which has extensive defence and energy dealings with Russia. Foreign secretary Vijay Gokhale had met his American counterparts in February this year asking for an exception be made for India. Incidentally, the CAATSA bill was introduced in US Congress by Congressman Ed Royce, who apparently is quite miffed after the foreign funding of a US-aided NGO 'Compassion International' in Tamil Nadu was questioned by India, and the NGO was placed on black list, forcing it to shut shop eventually. Obviously Royce and his compatriots were either funding or had interests in this NGO.
It is well known that numerous foreign funded NGO's are serving interests of their foreign nationals. Not without reason Hillary Clinton admitted in her book 'Hard Choices' that she prefers to influence countries-regions through NGOs. The Modi government is presently in talks with the US for seeking exemption from CAATSA, allowing India to procure S-400 Triumf from Russia; conveying to the US that India cannot abruptly scale down its reliance on military hardware from Russia given the decades-old history of defence cooperation between the two countries. US Defence Secretary Jim Mattis recently appealed to the Congress to urgently provide India the waiver, saying imposing sanctions under CAATS for the S-400 air defence missile deal would only hit the US. Sections of US defence establishment and strategic community too appreciate Indian concerns and feel sanctions could adversely impact Indo-US partnership. Deputy Assistant Secretary of Defence for South and Southeast Asia, Joe Felter stated, "We also are very concerned because we very much hope to maintain the momentum and the trajectory of this relationship. We want to deepen our cooperation and not to reduce it." Cara Abercrombie, Carnegie's South Asia Program wrote. "While the US has become its second largest defence supplier – mainly of aircraft and artillery – India still relies heavily on Russian equipment, such as submarines and missiles, that the US has been unwilling to provide.
India has good reason to want high-end weapons systems: It is the only country in the world that has contested borders with two nuclear neighbours – Pakistan and China – and has fought wars with both. Forcing India to abruptly cut off Russian supplies would create unacceptable risk to India's self-defence. If forced to choose between a robust, well-equipped military and US goodwill, India would likely choose the former." Logically, the waiver should be provided by the US but the Trump Administration can be expected to drive a hard bargain – offering the waiver in exchange to deal of fighter jets for the IAF or other such exchange deals. India will need to focus on its own national interests including the emerging threats, time-window available, and finances to beef up own defence. As and when the waiver comes through, and the Indo-Russian deal is signed, delivery of the systems will begin within 54 months from the date of signing, according to sources. The proposed deal for five S-400 Triumf systems is estimated to be worth about $5.5 billion ( 39,000 cr). Russian Ambassador Nikolay Kudashev recently said that the negotiation on the S-400 contract might be concluded 'before' India hosts Russian President Vladimir Putin for the annual bilateral summit in October 2018. However, this would depend on when the CAATS waiver is received. Hopefully, the Trump Administer will not put spokes in the waiver. If not, Cara Abercrombie has indicated above what India should logically do. The bottom line is that India urgently needs to beef up its defence, which includes the S-400 Triumf systems.