| | |
| --- | --- |
| | The Author is Former Director General of Information Systems and A Special Forces Veteran, Indian Army |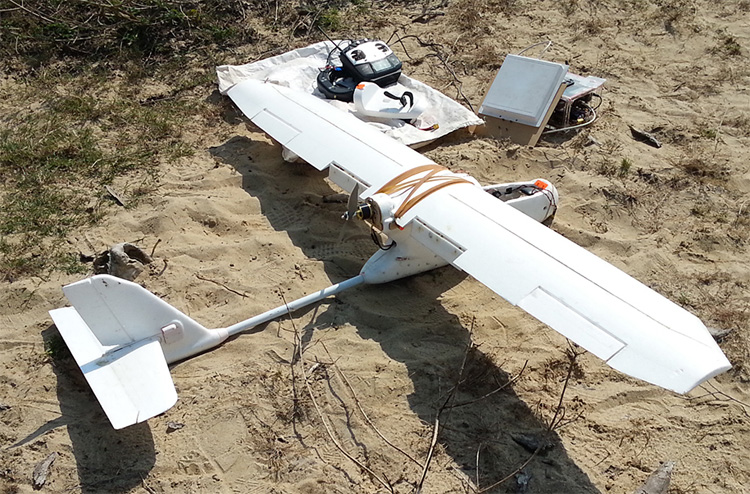 Albatross from Vortex UAS
As per news reports, a private Gurgaon-based company, 'Vortex UAS', has been working on providing military drones, including weaponised versions, for the Indian Army, the Navy and the National Security Guard (NSG). The company was earlier working with Army's Northern Command, as part of their R&D effort with drones (both rotary and fixed), a specialised Hexa drone as per Army specifications underwent successful trials at altitude of 20,000 feet in temperatures of minus 20 degree centigrade, and was thereafter delivered to the Army, the concept being surveillance combined with action (like dropping grenades) as part of Counter Insurgency (CI) / Counter Terrorist (CT) operations.
Vortex UAS has been interacting with NSG since recent months for manufacturing smaller sized drone capable of carrying high explosive payload, with a provision to trigger the explosive remotely. It has developed a weaponised drone with self-destruct capability (christened 'Kamikaze') for CI/CT operations. The Head (International) of Vortex UAS has stated, "The 'Kamikaze' drones can be upscaled as per explosive carrying requirements. All the drones are manufactured locally in India with programmable electronics procured from overseas". He added that the company sees its competition with US and Israel, since other countries are still working on this technology. Such drones will be a game changer in CI/CT operations since these drones have the capability of going through windows and enter the building/bunker to hunt down terrorists.
Vortex UAS is now planning to work on various new proposals, like use of weaponised drones for the Indian Navy's anti-piracy operations, and support for MARCOS units. Vortex UAS is a certified MSME with focus on foundational research in key technology areas to enable effective use of drones. It has strategic tie-up with IIT Delhi to jointly develop technologies and software to enhance their IP. The private sector should be the route for the Armed Forces to fill up its requirements of drones speedily rather than waiting for years for the DRDO to do so, which also provide products three times the price and probably inferior compared to what is commercially available off the shelf (COTS) or what indigenous private companies can provide to fit military's requirements. The need to bridge the capability gap in this sphere is also vital considering the drone potential of China, advancements of its R&D and the technology it is passing on to Pakistan. The overall drone market in China is expected to reach 75 billion Yuan by 2025, of which consumer drones will contribute 30 billion Yuan.
The military applications of swarm drones attacks fits beautifully in the Chinese concept of 'Unrestricted Warfare' that propagates the dirtiest forms of warfare including terrorism. India needs to take due note of the swarm drone threat. Pakistan's continued proxy war and Chinese backing to Pakistani terror groups and insurgents in India make the issue more serious. Swarm drone attacks by terrorists in public and religious gathering can create havoc. China offered its CH-3 UCAV, which can carry two laser-guided missiles or bombs, to Pakistan in 2016. During 2017, China's CH-5 UCAV was photographed at an airbase in Pakistan. Whether the CH-5 has been gifted or sold to Pakistan is not known but as China having subsumed Pakistan, deployment of PLA weaponry on Pakistan soil should not be any surprise. We need to undertake holistic appreciation of the drone swarm threat through terrorists, as well as conflict situations big and small, on borders, as also in hinterland, putting countermeasures in place.
Introspection is also required why China exports 1000 drones every day and India does not even produce 1000 annually, as pointed out by a news report last year. In terms of use of swarm drones, China also plans to use these to detect and target undersea submarines. While we are looking at optimising drones in CI/CT operations, it is a matter of time when terrorists start using them for surveillance, monitoring, jamming communications and dropping bombs/grenades. There have been many instances of the Islamic State or ISIS using commercial drones for 'attacking' regular forces in Iraq and Syria. In January 2018, the Russia's Khmeimim air base and Tartus naval facility in Syria came under coordinated attack by "swarms" of 13 home-made drones carrying bomblets / improvised explosive devices (IEDs); it was the first time swarm attack by drones was launched at a range of more than 50 km using a modern GPS guidance system and coordinated air navigation system. The threat of terrorists using drones is real for us with drones available commercially that can be armed with small-sized bombs, grenades and IEDs and fly up to a range of 25-50 km. There is need to acquire capabilities to neutralize these drones (big and small) and keep potential areas of launch under surveillance; not an easy task since small drones are difficult to detect and neutralize. The government and the security forces need to address this issue on priority.