| | |
| --- | --- |
| | The Author is Former Director General of Information Systems and A Special Forces Veteran, Indian Army |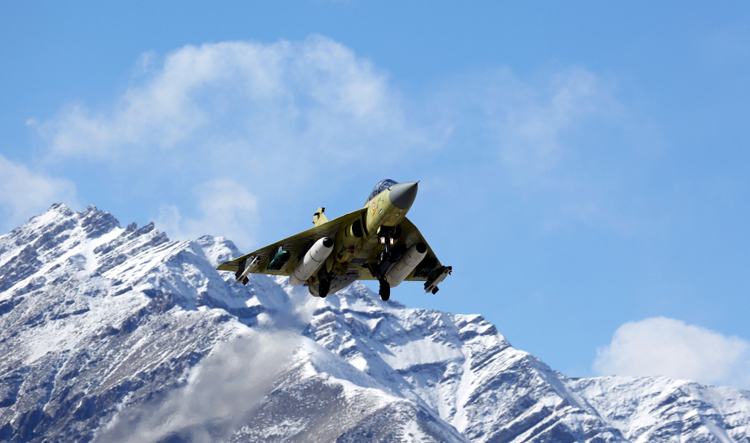 LCA Tejas
Media reports of May 2019 indicated India had relaxed procedures to speed up arms sales to foreign countries. The Ministry of Defence (MoD) had said the new standard operating procedure (SOP) will substantially enhance the pace of utilisation of the defence Lines of Credit (LoCs) extended to friendly countries, which will prevent third parties like China from undercutting India in countries like Bangladesh, Sri Lanka, Myanmar, Afghanistan and Vietnam in terms of weapon supplies. The new system through defence LoC is akin to the foreign military sales (FMS) program of the US. India considers the FMS route much swifter and cleaner than the cumbersome global tender process, which takes several years and is often derailed by allegations of corruption. MoD finalised the new SOP in consultation with the Ministry of External Affairs (MEA). A MoD official said, "The SOP is being operationalised for defence PSUs and the Ordnance Factory Board (OFB) at present. After its working stabilises, the SOP will be extended to private sector companies producing defence equipment." A major hurdle in the implementation of defence LOCs was long and complex process of 'price discovery' of the defence products identified by the friendly countries. As a result actual execution of India's extended defence LoCs worth $500 million each to Vietnam and Bangladesh remained very patchy. The new SOP will apply to both fresh as well as unutilised defence LoCs; under which Indian defence companies will now 'directly quote' prices of the identified products at the rate they were sold to the Indian Armed Forces, with built-in escalation and exchange costs.
ALH Dhruv
This will shorten the negotiations and price discovery process. Now Jane's 360 has reported on August 5, 2019, the India's OFB has received its largest-ever defence export contract; deal worth $45.75 million to sell munitions to the United Arab Emirates (UAE), as disclosed by the MoD. The export contract features the sale of 50,000 units of 155mm high-explosive projectiles and accessories. This deal reportedly follows an earlier deal in 2017 through which the OFB supplied the UAE with 40,000 artillery shells. In September 2018 former chairman of P. K.Shrivastava, former chairman OFB had stated that the defence enterprise was aiming to achieve exports worth about INR10 billion ($141 million) within the ensuing two years. India's defence exports increased to 10,745 crore in 2018-19 from 4,682 crore in 2017-18, and is expected to move up with MoD instituting the new SOP through defence LoCs and access to the US market, given a large amount of offsets being executed by domestic companies. The largest contributor to Indian defence exports is the US, accounting for nearly 5000 crore; followed by arms partners Israel and the EU.
MoD is looking to encourage private and public sectors to go beyond export of components to platforms enabling large scale value additions. India has a fledgling indigenous defence industrial base, which cannot hope to catch up with China in next few decades. However, India does have some weapons systems like the BrahMos supersonic cruise missiles, produced in collaboration with Russia, and indigenous ones like the Akash surface-to-air missile systems, Tejas light combat aircraft and Dhruv advanced light helicopters, which can be successfully exported to other countries.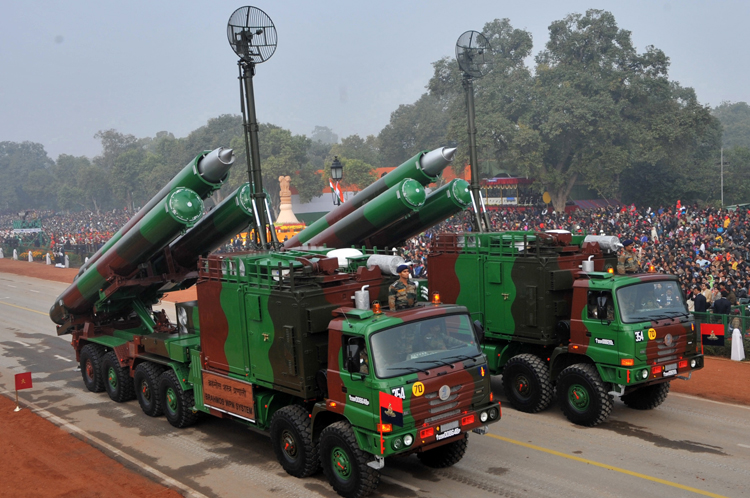 BrahMos WPN System
As per recent reports, Thailand is in talks with India for the purchase of BrahMos supersonic missiles. Thailand had shown interest in the BrahMos sometime back but discussions picked pace after visit of Royal Thai Navy Chief Admiral Ruddit to India in December 2018. Thailand has also requested for repair and refurbishing their Dornier maritime patrol aircraft and a joint tam of Indian Navy, BEL and HAL visited Thailand in mid-June to discuss the modalities. During the period 2014-2018, the largest exporterswere the US, Russia, France, Germany and China in that order; China being the fifth largest arms exporter. In year 2018, China was the seventh largest arms exporter after the US, Russia, France Germany, Spain and South Korea. China's defence exports in 2018 stood at $1.04 billion compared to America's $10.5 billion. China's biggest arms clients are Pakistan, Bangladesh and Algeria, with Beijing even supplying submarines and corvettes to Dhaka. But it is significant to note the focus China has on robotic warfare. According to the Swedish think tank SIPRI, overall China has expanded its customer base to 53 countries and is the world leader in sales of armed and unarmed combat aerial vehicles – supplying 153 of them to 13 countries in the past five years. By contrast, the US – the world's biggest arms exporter – only sold five armed drones, to Britain, over the 10 years from 2009. Indian Armed Forces still await indigenous combat aerial vehicles both armed and unarmed because of total dependence on governmental defence-industrial complex which can hardly be controlled akin to how a communist country like China does.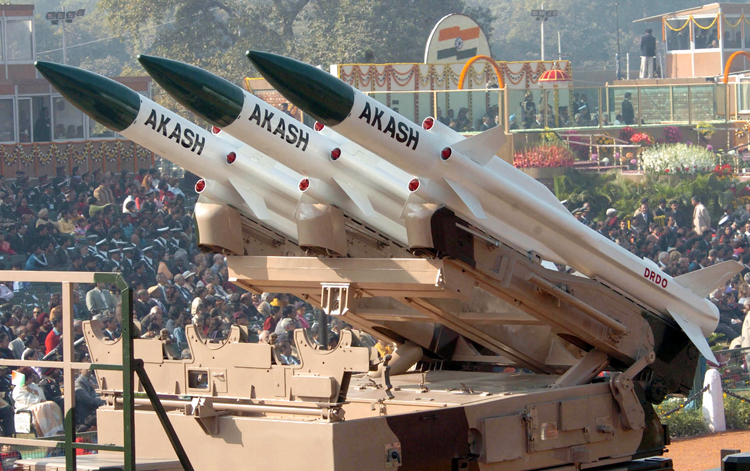 'Akash' supersonic cruise missile
India too has the advantage of low cost of production. However, privatisation needs to be given a boost, which is the norm in countries like the US, France, UK, Germany, South Korea and even Russia. The defence sector in India must have much more investments in R&D from what it is presently. Production facilities and quality standards must be compatible with global standards, if not better. In addition is the need to have a focused defence export programme, coupled with strong export compliance programmes and intellectual property rights (IPR) protection measures. India can do it if we remain focused.