| | |
| --- | --- |
| | The Author is Former Director General of Information Systems and A Special Forces Veteran, Indian Army |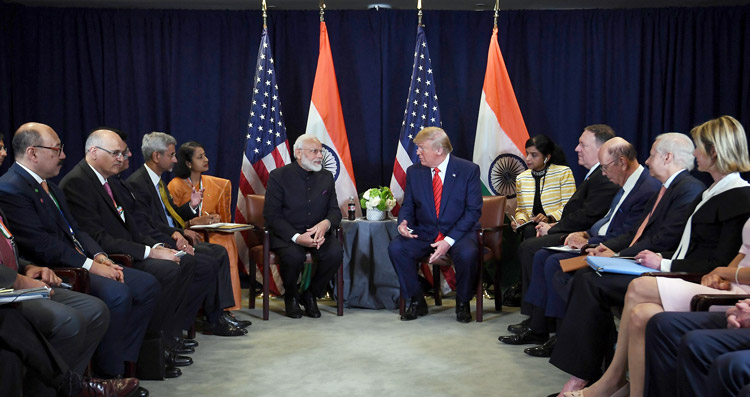 Prime Minister Narendra Modi meeting the President of United States of America (USA) Donald Trump on the sidelines of the United Nations (UN) session in New York USA on September 24, 2019.
Prime Minister Narendra Modi and US President Donald Trump held a bilateral meeting on September 24 on the sidelines of the 74th UN General Assembly session. This was the fourth meeting between the two leaders since the return of Modi as the Prime Minister for a second term in May 2019. It was also two days after the Howdy Modi event in Houston on September 22, which Trump attended giving him a chance to address 50,000 Indian-Americans whose support would boost his chances to win the next US presidential election slated for November 3, 2020. Trump could not have asked for better support when Modi introduced him to the audience at NRG stadium and massive applause when Modi even went to the extent of announcing: "Abki Baar Trump Sarkar". With this backdrop, outcome of the Modi-Trump bilateral was expected to be good.
Focus of the 40-minute bilateral meet was on bilateral trade and issues related to terrorism emanating from Pakistan. Before the bilateral, Trump had expressed hope to the media that both sides will "very soon" conclude a limited trade pact while a comprehensive free trade agreement will be signed later. But not even a limited trade deal could be agreed upon. After the bilateral Foreign Secretary Vijay Gokhle said the issues are complex as the package involves industries and jobs on both sides, saying. "We are looking for a fair and reasonable trade deal in which our request for market access is secured while also addressing the trade deficit issue raised by the US." Gokhale did add that significant progress has been made between the two sides, which perhaps is more of diplomatic talk. India-US bilateral relationship deteriorated under Trump administration after Washington withdrew zero duty benefits to Indian exports of aluminum and steel worth $5.6 billion last year on grounds of national security.
India imposed retaliatory tariffs on 29 products imported from the US in April this year but these tariffs are well within the parameters of WTO. However, Trump adopted a rigid stance, which he refuses to budge from. In July, Trump had tweeted, "India has long had a field day putting tariffs on American products. No longer acceptable." At the bilateral, Trump reaffirmed the importance of greatly increasing trade between the US and India and highlighted the need for "resolving barriers to free, fair, and reciprocal trade, which includes improving US companies' market access in India. According to a White House statement, India and the US were hoping to conclude and announce a limited trade package (as opposed to a comprehensive agreement). However gaps in several sectors, especially ICT products, could not be bridged. The statement read, "The President reaffirmed the importance of greatly increasing trade between the United States and India, and highlighted the need for resolving barriers to free, fair, and reciprocal trade, which includes improving United States companies market access to India. The President noted good progress on defence and security cooperation." It is significant to note that many countries were exempt by the US from withdrawing zero duty tax on aluminum and steel products in March 2018. However, despite the warming up of US-India bilateral relations over the past year, Trump has refused to grant that exemption to India. He even has no consideration of India having dumped Iran for importing oil and is taking it from US and other sources at greater transportation costs. As for Pakistan, the statement from White House said that US President Donald Trump "encouraged" Prime Minister Narendra Modi to improve relations with Pakistan and fulfill his promise to better the lives of the Kashmiri people, and Trump also noted the good progress on defence and security cooperation. According to Vijay Gokhale, Modi explained in detail to Trump challenges faced by India due to terrorism, especially in J&K. He put forward India's perspective on the issue of terrorism as President Trump had vowed to protect innocent civilians from the threat of "radical Islamic terrorism" during the 'Howdy, Modi' event in Houston. But significantly, the White House release made no mention whatsoever about terrorism; this shows Trump's pusillanimous approach towards Pakistan, perhaps due to his utopian hope Pakistan will help reduce American casualties in Afghanistan. Strangely while Vijay Gokhale mentioned that Afghanistan was discussed during the bilateral, the White House statement made no mention of Afghanistan. On September 26, spokesperson for US South and Central Asia, told media that Washington wants India to quickly ease restrictions imposed in J&K, by saying, "We hope to see rapid action -- the lifting of the restrictions and the release of those who have been detained." And that Trump "was willing to mediate if asked by both parties," although acknowledging that PM Modi has rejected any outside involvement in the decades-long dispute. Trump's repeated offers to mediate on Kashmir, indicates he is hell bent to hyphenate India with Pakistan, in contrast to his predecessor. Amusingly, Trump is loath to French President Macron's offer to mediate between US and Iran. Trump needs to stop sermonizing India on Kashmir and look himself in the mirror.