| | |
| --- | --- |
| | The Author is Former Director General of Information Systems and A Special Forces Veteran, Indian Army |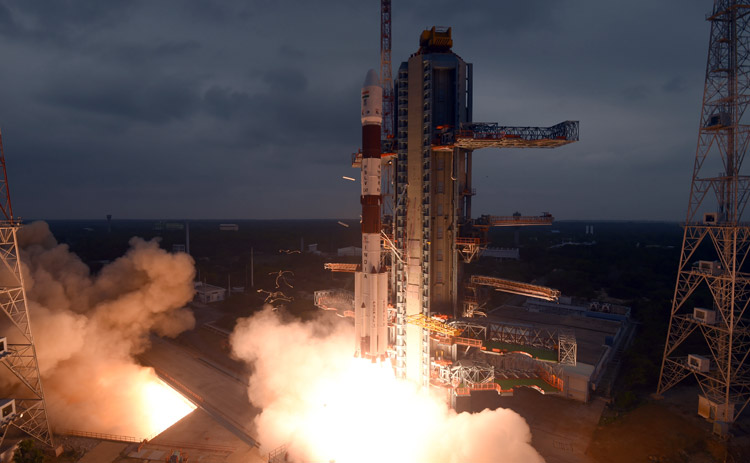 PSLV-C47 Cartosat-3 Lift off
ISRO's Polar Satellite Launch Vehicle, PSLV-C47 successfully launched Earth observation satellite Cartosat-3 and 13 commercial nano-satellites into Sun Synchronous orbit from Satish Dhawan Space Centre (SDSC) SHAR, Sriharikota on November 27. The launch marked ISRO's milestone of launching more than 300 satellites from 3 countries in two decade. The 1,625 kg Cartostat-3 is first in the third generation Earth observation satellite with a high-resolution imaging capability. This was also the 74th launch vehicle mission from SDSC SHAR, Sriharkota and 21st flight of PSLV in 'XL' configuration with 6 solid strap-on motors. CARTOSAT-3, India's most complex and advanced earth imaging satellite built so far, was placed into orbit 17 minutes and 46 seconds after lift-off. ISRO chief K. Sivan said, "I am happy that PSLV-C47 injected precisely in the orbit with 13 other satellites. CARTOSAT-3 is the highest resolution civilian satellite; We have 13 missions up to March- 6 large vehicle missions and 7 satellite missions."
The satellite will replace the IRS series. Having a mission life of five years, CARTOSAT-3 has a panchromatic resolution of 0.25 metre, making it the imaging satellite with highest resolution and Mx of 1 metre with a high quality resolution. This is a huge leap from the previous payloads in the CARTOSAT series. CARTOSAT-3 will address the increased user demand for large-scale urban planning, rural resource, infrastructure development, coastal land use, land cover, weather and cartography. Most significantly CARTOSAT-3 will be of great use to Armed Forces since it offers a ground resolution of 25 cm, picking up objects of minimum that size from a height of some 500 km. Previous best view from CARTOSAT satellites was 65 cm. Even America's WorldView-3 satellite provides resolution of 31 cm. CARTOSAT-3 cameras can look back and forth in any angle, generating continuous spot images that help detect geographical changes including man-made features.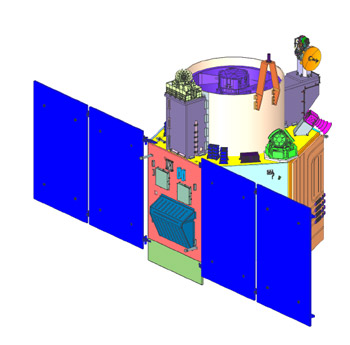 Cartosat-3 Satellite
India's indigenous NavIC (Navigation with Indian Constellation) has been approved by the international organisation 3GPP (3rd Generation Partnership Project). Also referred to as the Indian Regional Navigation Satellite System (IRNSS) this indigenous and fully autonomous regional satellite navigation system was given the name NavIC by Prime Minister Narendra Modi last year. While others Global Positioning System (GPS) have a position accuracy of 20-30 meters, the position accuracy of the NavIC is 5 meters, making it technically better than all others GPS. The NavIC will look exactly like the American GPS, but its quality will be better than the US GPS. The US GPS is dependent only on 'L' band and when low frequency signal travels through atmosphere, its velocity changes due to atmospheric disturbances, causing error. Therefore, US banks on atmospheric model to assess frequency error and it has to update this model from time to time to assess the exact error. But NavIC measures the difference in delay of dual frequency (S and L bands) and can assess the actual delay.
Therefore NavIC is not dependent on any model to find the frequency error and is more accurate than GPS, However, in the present configuration, NavIC only covers India and its surroundings within 1,500 km from the border, which is its primary service area. An Extended Service Area lies between primary service area and area enclosed by the rectangle from Latitude 30 deg South to 50 deg North, Longitude 30 deg East to 130 deg East. Approval by 3GPP implies that the manufacturers can now mass-produce the Navigation device compatible with India's own GPS NavIC. This in turn opens possibilities of citizens using Indian GPS in their mobiles soon, as also inclusion of a NavIC app in mobiles with GPS. It will also cover car navigation systems etc while security forces have access to more accurate and unhindered navigation, timing, mapping and geodetic data capture services available to them. NavIC caters for two types of services: one, Standard Positioning Service (SPS) for all users, and; two, Restricted Service (RS) using encryption, only for authorised users. ISRO operates one of the largest fleets of satellites equipped with various types of cameras and microwave radars that help gather crucial data in various resolutions and wavelengths, be it day, night or cloudy. Its satellite data repository of over three decades holds a wealth of insights for policymakers and other potential users, especially because it gives an unprecedented time series comparison where one can visualise the changes over an area of interest. However, there is a viewpoint that despite the availability of this wealth of data, policy solutions proposed and implemented in India still do not utilise it to full potential. This is what the government needs to synchronise.