| | |
| --- | --- |
| | The Author is Former Director General of Information Systems and A Special Forces Veteran, Indian Army |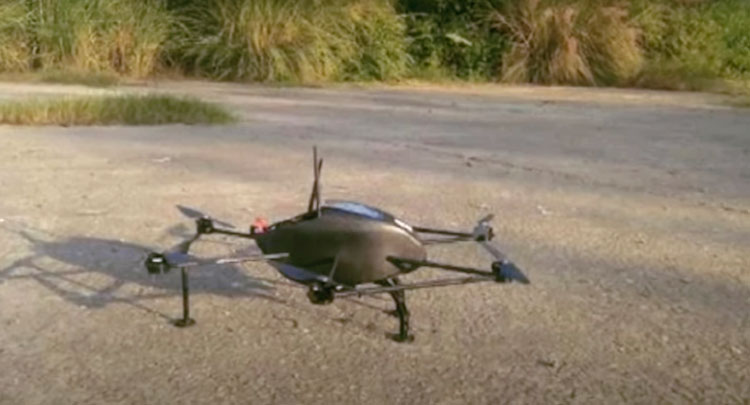 BHARAT DRONE BY DRDO
News reports of July 22 have revealed that the Defence Research and Development Organisation (DRDO) has provided indigenously-developed drones called 'Bharat' to the Indian Army amid the ongoing boundary tensions at LAC between India and China. It is good that DRDO has finally delivered these indigenous drones which should have actually happened more than a decade back. Compare this to China producing 1,000 drones every day which also enables PLA to undertake drone surveillance all along the 4,057 km Line of Actual Control (LAC) in addition to 24x7 satellite cover.
China's aggression in Eastern Ladakh perhaps made the government put pressure on DRDO to hasten the development of Bharat drones. Bharat is reportedly among the world's most agile and lightest surveillance drone. According to DRDO sources this small yet powerful drone works autonomously at any location with great accuracy and "the unibody biomimetic design with advance release technology is a lethal combination for surveillance missions". The drone is equipped with Artificial Intelligence (AI) to differentiate between friends and foes and then respond accordingly. Capable of surviving in extreme cold, the surveillance equipment has been developed keeping in mind extreme weather conditions along the LAC. Bharat has been developed by DRDO's Chandigarh-based Terminal Ballistics Research Laboratory (TBRL) which is involved in development, production, processing and characterisation of different high-explosive compositions, fragmentation studies of warheads, captive flight testing of bombs, missiles and airborne systems and ballistics evaluation of protective systems like body armour, vehicle armour and helmets.
CHINESE AR500C
In backdrop of the Chinese aggression in Eastern Ladakh, Bharat provides real-time video transmission during the mission and can detect persons hidden under forest cover. Equipped with advanced night vision, its stealthy design ensures that its signature remains undetected by enemy radars. Importantly, it is also capable of operating in swarms. With PLA mobilisation along the entire length of LAC, China claiming entire Galwan Valley, continued intrusions in Pangong Tso and Depsang in Ladakh, hectic road development opposite Kinnaur District of Himachal Pradesh, PLA battalion moved opposite Lipulekh Pass in Uttarakhand and new illegal claims in Bhutan, the India-China standoff is in for a very long haul in which drones will play a significant role. In May 2020, China developed an unmanned helicopter AR500C that can support missions in high altitude border areas and is capable of keeping watch in the skies for extended periods and patrol locations that are harsh for infantry troops to cover on foot. The AR500C unmanned helicopter made its maiden flight in Poyang in East China's Jiangxi Province on May 20 and is slated to be deployed along the LAC. Designed to fly in plateau areas of Tibet the AR500C can take off at an elevation of 5,000 meters and has a ceiling of 6,700 meters. It has an endurance of five hours, a maximum speed of 170 kilometers an hour, and a maximum takeoff weight of 500 kilograms. The main missions of AR500C include reconnaissance and communication relay. But when equipped with additional devices, it can also run electronic disruption, undertake target indication, fire strike, cargo delivery and nuclear radiation and chemical contamination reconnaissance.
This demonstrates that India has long way to go beyond mass production of surveillance drones providing accurate surveillance in high altitude areas and mountainous terrain along the LAC with China and Line of Control (LOC) with Pakistan especially with China equipping Pakistan with advanced drones. DRDO's ongoing drone programmes over the past several years must be accelerated forthwith. Media reports of February 20 state that the improved version of DRDO's Rustom-II (Tapas), a Medium-Altitude Long-Endurance Unmanned Aerial Vehicle (UAV) being developed by the Aeronautical Development Establishment (ADE) was ready to take off to the skies. Surprisingly it doesn't appear to have been test flown despite five months having elapsed, which is no way to match up with China. The new platform for its first flight (AF-6A) will be the seventh from the Rustom-2 flight line. The sixth prototype (AF-6) of Rustom 2 crashed near the Aeronautical Test Range (ATR) at Chalakere (Chitradurga District, Karnataka) on September 17, 2019. The accident was reportedly caused by transient and simultaneous link loss to the UAV during returning phase and the platform also confronted with a rough patch of turbulence beyond the capacity of the control. The behavior was reportedly on the expected lines and design parameters? Sensor data was available to the ground station almost until its touchdown crash. Aeronautical Development (ADE), DRDO, Bangalore, Karnataka designed the UAV, Hindustan Aeronautics Limited (HAL) was the lead integrator, Bharat Electronics Limited (BEL) developed the ground control station for the UAV, fuselage was built by Taneja Aerospace & Aviation and the wind tunnel test for Rustom-2 was done by Aarav Unmanned System.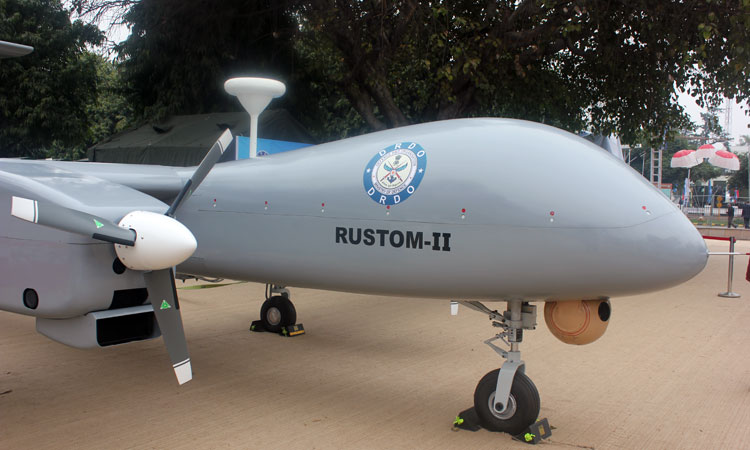 RUSTOM II
Rustom-II MALE drone is based on the Rustom-H unmanned combat air vehicle and features light airframes. It has a length of 9.5 meters and an empty weight of 1,800 kg. It is equipped with mid-set, high aspect ratio wings spanning 20.6 meters. The tail section is configured with a high-mounted horizontal tail plane with a traditional T-type vertical stabilizer. It can fly in autonomous or manual mode. The onboard flight control system allows UAVs to execute missions autonomously using waypoint navigation. The manual mode of operation is performed by an operator of the ground control station. It can fly at a maximum speed of 225 km/h and can bear up to 24 hours. It has the capability to operate on the line of sight range of 250 km. The drone has a maximum flight of 35,000 feet above sea level. All said and done the readers can glean that our drones programme is lagging because the Ministry of Defence is fixated with the DRDO, which also allows continued imports that benefits vested interests individually and collectively. There is more than enough technical expertise in the private sector to not only compete with China but overtake it. Whether we can shift our focus to achieve this remains an open question.