| | |
| --- | --- |
| | The Author is Former Director General of Information Systems and A Special Forces Veteran, Indian Army |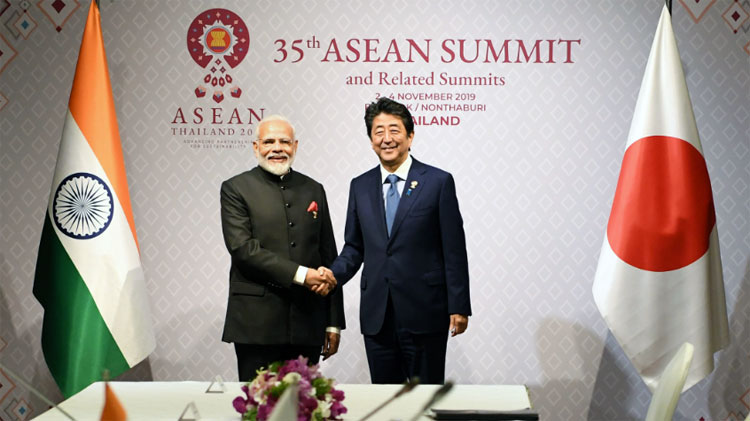 PRIME MINISTER NARENDRA MODI AND PRIME MINISTER OF JAPAN SHINZO ABE IN A BILATERAL MEETING, ON THE SIDELINES OF 16TH INDIA-ASEAN SUMMIT, IN BANGKOK, THAILAND ON NOVEMBER 4, 2019.
The India-Japan summit between Prime Minister Narendra Modi and Prime Minister Shinzo Abe which got postponed last year is scheduled for early next month, the tentative date for which according to sources is September 10. The summit initially proposed to be held in Guwahati in Assam on December 15-17, 2019 was postponed due to protests against the anti-Citizenship Amendment Act (CAA) in Assam. The meeting comes at a time when China has gone overtly aggressive in the South China Sea (SCS) and against India. China has made multiple intrusions in Eastern Ladakh where PLA is consolidating, defying India's calls to withdraw. A Chinese submarine was detected submerged close to Japanese waters last month and in the past Chinese militia has been creating nuisance near Japan's Senkaku Island chain.
In the upcoming Modi-Abe Summit, both leaders are expected to ink the logistics pact of Acquisition and Cross Servicing Agreement (ACSA). India has already signed ACSA with the US and post a virtual summit between PM Modi and Australian Prime Minister Scot Morrison in June 2020, India and Australia signed the Mutual Logistics Support Arrangement (MLSA) opening their bases to each other. Signing of ACSA during the Modi-Abe Summit will set up a framework for the militaries of India and Japan to share logistics and help each other by providing food, water, billet, transport, petroleum, oils, lubricants, clothing, communications and medical services to each other's personnel. ACSA also allows sharing of military bases, storage and other facilities, training services, spare parts and components as well as providing repair and maintenance and the services at the airports and seaports to each other's militaries.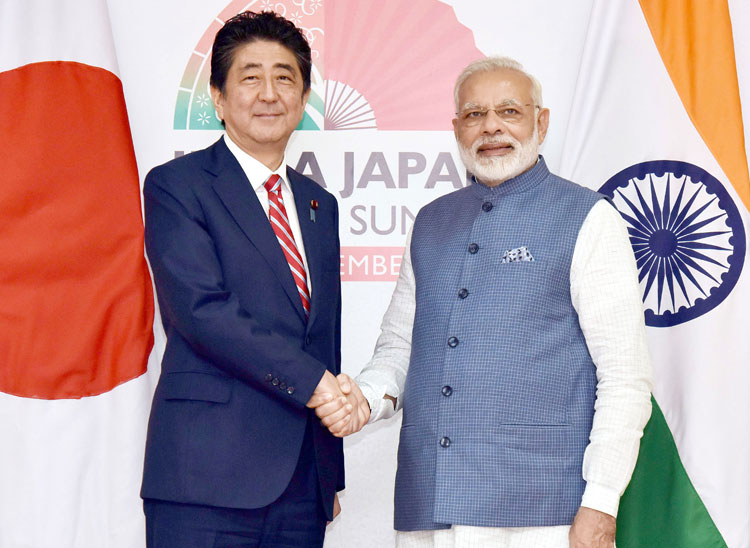 THE PRIME MINISTER NARENDRA MODI WITH THE PRIME MINISTER OF JAPAN, SHINZO ABE, AT MAHATMA MANDIR, IN GANDHINAGAR, GUJARAT ON SEPTEMBER 14, 2017
In the upcoming Modi-Abe summit, both leaders are likely to discuss enhancing bilateral economic cooperation and trade, possibility of some Japanese manufacturing units shifting to India, possible Japanese involvement in ramping up port infrastructure in Andaman and Nicobar Islands including in the proposed trans-shipment hub in Great Nicobar, and cooperation in some other fields. The issue of India procuring Japanese amphibious aircraft has been coming up in the past though it is not known whether it will be on the agenda in the upcoming summit. However, both leaders will definitely discuss China's aggressive posture in the Indo-Pacific especially in Ladakh and in the SCS. The Japanese people are not only in favour of Chinese President Xi Jinping's visit to Tokyo being cancelled but also want the Abe government to be more critical of Beijing on the new Hong Kong security law. Prime Minister Shinzo Abe is also reportedly under pressure from his own Cabinet members to adopt a tough line with China. Both leaders are expected to discuss at length the Indo-Pacific region and the challenges it faces from China gone rogue. They will also discuss further cementing the concept of the 'Quad' - the quadrilateral coalition of four countries - India, Japan, Australia and the US with increased focus on countering China's so called wolf-warrior diplomacy and keeping the sea lanes of communication (SLOCS) open for freedom of navigation.
The forthcoming Malabar exercise later this year will witness all Quad members (India, Japan, Australia and the US) engaged in military drills together. India, Japan, Australia and America are vibrant democracies with shared interests in ensuring freedom of navigation and over-flights in the Indo-Pacific region and maintaining open, safe and efficient sea lanes for transportation and communication. All four have common concerns regarding the strategic, security and environmental challenges in the Indo-Pacific maritime domain and have called for adherence by all nations to international law including the United Nations Convention on the Law of the Sea (UNCLOS) and peaceful resolution of disputes rather than through unilateral or coercive actions. In this context, the Quad has the sacred responsibility to uphold and protect the values of global welfare, such as democracy, rule of law, freedom, mutual respect, respect for international institutions and transparency – establishing this shared heritage for the future. There is dire need to strengthen mutual relations when these cherished values are being challenged in different ways. In fact, China has dropped all pretenses of its so-called 'peaceful rise' having biologically attacked the world through the Wuhan Virus and plans to realise all its illegal territorial claims. President Xi Jinping having accumulated total power is ruthlessly killing dissent at home and is in a hurry to realise his 'China Dream' of world domination. Some Taiwanese political leaders and military experts feel that heightened military activity around the Taiwan Strait may be a precursor to military invasion by the People's Liberation Army to reunify China while the world is still in disarray. There is also a viewpoint that Xi could go overtly offensive in run up to or coinciding with the 100th anniversary of the founding of the Chinese Communist Party in 2021.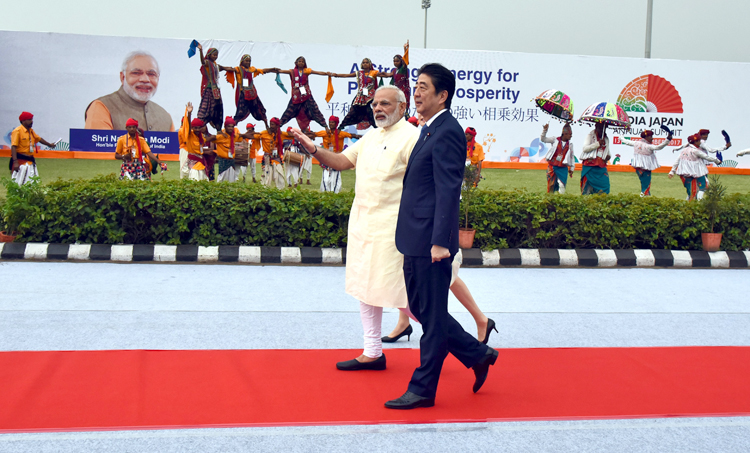 PRIME MINISTER NARENDRA MODI WITH THE PRIME MINISTER OF JAPAN, SHINZO ABE, IN AHMEDABAD, GUJARAT ON SEPTEMBER 13, 2017
The world needs to seriously debate two issues: one, illegal expansion of Chinese strategic influence and reach is like slow spreading cancer in the pancreas that is not realised till it is in the terminal stage, and; two, leaving the initiative perpetually with China can be suicidal given for example China's considerable capabilities in super-EMP weapons where a pre-emptive strike can affect the opponents combat potential drastically. The Quad is not a military alliance but Quad members along with their strategic alliances need to somberly look at war-game likely scenarios that Xi Jinping would have already visualised and planned. The crux lies in pre-empting Chinese moves and not depend on reacting once hit which may be too late. Time has shown Beijing has scant regard for mere posturing and routine exercises. With WHO in its pocket, China is not worried about the probe for release of Coronavirus either. India and Japan as well as the Quad have major responsibilities in this regard. The relationship between India and Japan has traditionally been strong. Since centuries, the people of both the countries have exchanged cultural values, primarily as a result of Buddhism, which spread indirectly from India to Japan via China. Both countries are peace loving but peace cannot be at the cost of sovereignty and territorial integrity. That is why one of the Buddha statues outside the inner sanctum of Senso Ji Temple in Tokyo holds a sword in one hand. Finally, the forthcoming Modi-Abe summit is expected to take India-Japan relations to the next higher level.