| | |
| --- | --- |
| | The Author is Former Director General of Information Systems and A Special Forces Veteran, Indian Army |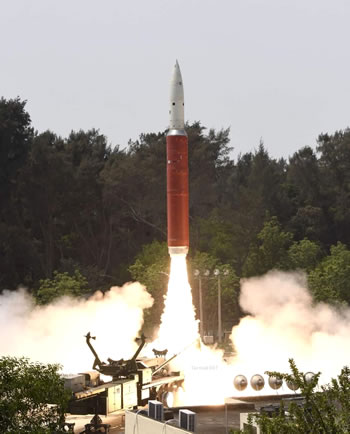 The Defence Research and Development Organisation (DRDO) successfully launched the Ballistic Missile Defence (BMD) Interceptor missile, in an Anti-Satellite (A-SAT) missile test 'Mission Shakti' engaging an Indian orbiting target satellite in Low Earth Orbit (LEO) in a 'Hit to Kill' mode from the Dr. A.P.J. Abdul Kalam Island, in Odisha on March 27, 2019.
Mission 'Shakti' executed on March 27, 2019, successfully shooting down a low-earth satellite, demonstrated India's anti-satellite (ASAT) capabilities. This enabled India to join the elite club of countries having similar capabilities; the US, Russia and China. India's draft 'Spacecom Policy 2020' is expected to bring a transformational change, making the entire space ecosystem accessible including satellite communications capacity and private launch vehicle companies using ISRO's launch facilities. This will surely help probe space more. India's Defence Space Agency (DSA) headquartered at Bengaluru is a tri-service agency that is in formative stage. It is tasked with operating the space-warfare and satellite intelligence assets of the Armed Forces. But the government and the military need to speedily build its Space Power, ASAT capability being only one part of Space Power.
General David H. Berger, Director of the US Marine Corps has recently directed activation of Marine Corps Forces Space Command (MARFORSPACE) subordinate to the US Space Command effective October 1, 2020. Major General Matthew G. Glavy of Marine Corps will command MARFORSPACE, while he also commands the Marine Corps Forces Cyberspace Command (MARFORCYBER). MARFORSPACE will focus on providing space operational support to the Fleet Marine Force while building a convergence capability to increase war fighter lethality. Glavy said, "We have an incredible opportunity to create a synergy across the information environment based on our unique position within the naval and joint force. Space and cyber are critical capabilities in the information environment that, when brought together, can provide a competitive advantage. Convergence requires flexible and interconnected teams focused on solving hard problems with speed. We cannot be successful in these technology-heavy domains without prioritising people, ideas and things... in that order." Glavy will command both MARFORSPACE reporting to USSPACECOM and MARFORCYBER reporting to US Cyber Command.
The new Chief of Space Operations (CSO) Planning Guidance document issued in the US, states, "While we will extend and defend America's competitive advantage in peacetime, the ultimate measure of our readiness is the ability to prevail should war initiate in, or extend to space." It covers all aspects of the US Space Force, talks of "Orbital Warfare" and aims at rapidly building the space force capability to handle "shift from space as a benign domain to a war fighting domain" in line with the National Defence Strategy. The document acknowledges that military space capabilities legacy systems are not consistent with war that initiates in or extends to space. Because of speed and scale of space warfare, requirement is of default command style of 'command by negation' where subordinate echelons are expected to default to action except where a higher echelon has specifically reserved authority. India has still not defined a national security strategy and a concept like the US Space Force 'command by negation' may be considered anathema given the highly centralised national set up in India. But we need to modify with times.

Communication Satellites
India must acknowledge realities of the new age and the changes and developments happening around the world including in our immediate neighborhood, especially China, and draw lessons from it. In the deliberate and well thought out modernisation of the PLA, China has created the Strategic Support Force, which combines the functions of intelligence, technical reconnaissance, electronic warfare, cyber warfare and space warfare. It can be seen from the above that the US Marine Corps too is focusing on synergising space warfare with cyber warfare. Why then are we going along with the archaic thinking of establishing separate tri-service commands in these domains, moreover, when we are burdened with handicaps like: the Chief of Defence Staff (CDS) has only administrative functions – no operational role; even if CDS is given operational control of tri-service commands, the ground reality is that the Defence Secretary (a bureaucrat) has more powers than the CDS being responsible for defence policy in peace and war; India will never have a NSA with military background given the subservience of politicians to bureaucracy and distrust of military, and; India keeps the military away from security and strategic policy formulation.
When the Armed Forces Special Operations Division (AFSOD) was to be raised, the US offered help in its establishment. In fact, a senior US Marine Corps officer visited India for the purpose. But our bureaucracy, political hierarchy dependent on them and the national security advisor-cum-national security set up declined the offer. The result was that the AFSOD was raised in a slip shod manner and not an organisation which is not inclusive and not commensurate to the increasing threats to India at the sub-conventional level. This does not really matter to the national hierarchy because we have never acknowledged that the primary task of Special Forces is on enemy soil at the strategic level including employment on politico-military missions. Resultantly, India remains at adverse disadvantage in the sub-conventional level vis-à-vis China and Pakistan is increasing.
Notwithstanding the above, we should use the expertise of our strategic partners, especially from the US in expanding our Defence Space Agency into a full-fledged effective organisation, as also establishment of India's Space Force that is fully geared for 'orbital warfare'. There should be no inhibitions on this count since we have already signed all foundational agreements with the US. Joe Biden as the 46th POTUS may go soft on China for economic and other reasons. There is also speculation that Biden may dilute the US-led Indo-Pacific concept but China will remain the common threat. India's 'deep state' would endeavor that rise of India's space power to combat future conflicts advances at slow pace. But doing so will not be in our national interests.