| | |
| --- | --- |
| | The Author is Former Director General of Information Systems and A Special Forces Veteran, Indian Army |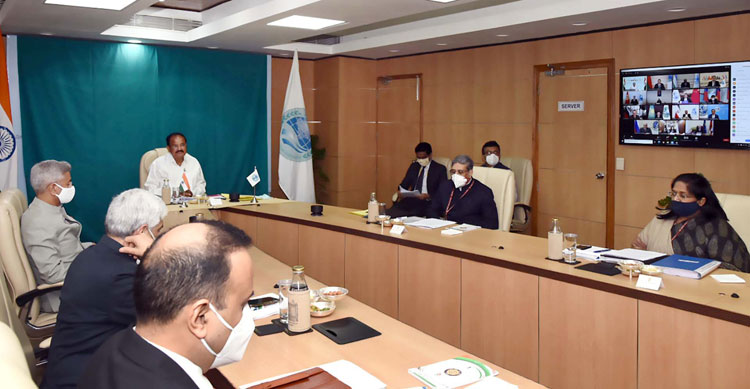 Vice President M. Venkaiah Naidu chairing the 19th meeting of the SCO Council of Heads of Government hosted by India in the virtual format in New Delhi on November 30, 2020.
Vice President Venkaiah Naidu on November 30 chaired the 19th Session of Shanghai Cooperation Organisation (SCO) Council of Heads of Government held in virtual mode. The SCO member states include China, Russia, Kazakhstan, Kyrgyzstan, Tajikistan, Uzbekistan, India and Pakistan. On June 9, 2017, India and Pakistan had officially joined SCO as full members. India's chairmanship of the meeting of the SCO Heads of Government in 2020 was decided in September 2019. SCO Secretary General Vladimir Norov had then stated, "It was proposed at the Tashkent meeting by member states to India to take the initiative to hold the 2020 meetings of the Heads of the Government and India has agreed," In 2019, the SCO Heads of Government meetings was hosted by Tajikistan and the previous one in 2018 by Uzbekistan.
The SCO Council of Heads of Government Meeting is held annually at the Prime Minister level where the SCO's programme of Multilateral Economic and Trade Cooperation as per the established practice and procedure within SCO are discussed. For the meeting on November 30, Prime Ministers of Russia, China, Kazakhstan, Kyrgyzstan, Tajikistan and Uzbekistan attended while Pakistan was represented by its parliamentary secretary for foreign affairs. In addition, representatives of observer states (Afghanistan, Belarus, Iran and Mongolia) attended and India invited Turkmenistan as special guest. The SCO Secretary General and the Executive Director of the SCO Regional Anti Terrorist Structure (RATS) were also scheduled to participate.
With respect to the meeting on November 30, spokesperson of the Ministry of External Affairs (MEA) said that India is privileged to be chairing the 19th Session SCO Council of Heads of Government in the virtual mode today and has proposed several new initiatives to give a momentum to the trade, economic and cultural agenda of the organisation. While chairing the virtual meet Naidu said, "India has bravely fought global pandemic and has shown remarkable resilience in fighting the virus as well as ensuring economic stability. India has kept its COVID-19 death rate at the lowest level in world. India's efforts have found global recognition."

Vice President M. Venkaiah Naidu chairing the 19th meeting of the SCO Council of Heads of Government hosted by India in the virtual format in New Delhi on November 30, 2020.
Talking about terrorism, Naidu said, "The most important challenge faced by us is terrorism; particularly cross-border terrorism... India condemns terrorism in all its manifestations. We are particularly concerned about states that leverage terrorism as an instrument of their state policy." He further said, "Relations between India and SCO region have flourished uninterrupted for thousands of years. By 2025, India's GDP is expected to reach 5 trillion. It will be youngest nation with an average age of 29 years. During the Chairmanship of our tenure, we've proposed to create a special working group on start-ups and innovations. India has created robust dynamic environment for start-ups. India made an offer to annually host special working group for start-ups."
Pakistani Prime Minister Imran Khan was not expected to attend for obvious reasons but since India was chairing the meet and the annual SCO Council of Heads of Government Meeting is held at the Prime Minister level, the event should have been chaired by Prime Minister Narendra Modi in all fairness but he chose to visit his constituency Varanasi for six hours on that day – probably to convey a signal of some sort.
Earlier during the Regional SCO meet on November 11, 2020 attended by Chinese President Xi Jinping and Pakistan's Imran Khan, Prime Minister Modi had said, "There is an effort to bring in bilateral issues into the SCO agenda... That is against the spirit of the charter of the SCO. India has always been resolute in working in sync with principles laid out in the SCO charter. India believes that to enhance connectivity it is important that we move forward while respecting one another's sovereignty and territorial integrity… In this difficult time of unprecedented epidemic, India's pharma industry sent essential medicines to over 150 nations." The Regional SCO meet on November 11 was the first one after the Chinese aggression in Ladakh.
There has been discussion over the relevance of SCO considering its two members, namely China and Pakistan, blatantly continue violate territorial integrity of other nations and promote terrorism. Is this the reason Modi decided to skip the 19th Session of SCO Council of Heads of Government on November 30 – sense of disgust? Prohibiting bilateral issues in the SCO charter obviously is to avoid argument and save time but then sponsoring cross-border terrorism and violating territorial integrity of another country are 'not bilateral' any more in the real sense. Pakistan's cross-border terrorism affects both India and Afghanistan. China has illegal territorial claims over multiple countries including India, Nepal, Bhutan and even Tajikistan, and has been indulging in cartographic aggression and 'salami slicing'.
We certainly should not get into arguments at SCO but not naming the rogue states only results in China and Pakistan laughing all the way home. Besides, other attendees at these meets view us as a 'soft' state. We can continue in the same vein till eternity without any perceptible improvement other than perhaps in trade and commerce.
View the above in contrast to the address by Bangladesh Prime Minister Sheikh Hasina to the United Nations General Assembly on September 21, 2017 wherein she said, "In the 1971 war of liberation, we endured an extreme form of genocide. In the 9-month-long war of liberation against Pakistan 3 million innocent people were killed and more than 2,00,000 women were violated. The Pakistan military launched the heinous 'Operation Searchlight' on 25th March which was the beginning of the 1971 genocide. The 1971 genocide included targeted elimination of individuals on the ground of religion, race and political belief. The intellectuals were killed brutally." Hasina added that the Bangladesh Parliament had declared March 25 as 'Genocide Day' to pay homage to the victims.