With an aim to increase the current defence exports to $5 billion by 2025, Indian government has drawn an export list covering 85 kinds of equipment encompassing 125 items and 47 sub-systems to boost the defence exports
| | |
| --- | --- |
| | The Author is Former Director General of Information Systems and A Special Forces Veteran, Indian Army |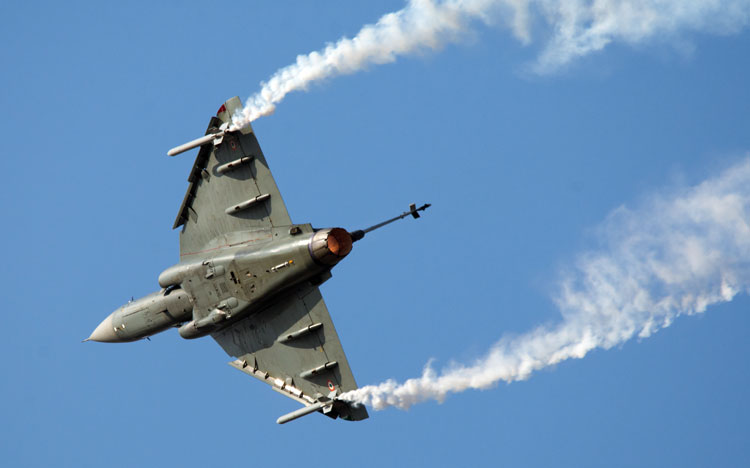 LCA Tejas - leading India's defence export efforts
For a country the size of India, and its mammoth governmental defence industrial sector, comprising the Defence Research and Development Organisation (DRDO), 41 Ordnance Factories (OF) and eight Defence Public Sector Undertakings (DPSUs), India's record of defence exports has been rather dismal. Our defence exports were 4,682 crore ($0.66 billion) in 2017–2018 and10,500 crore ($1.47 billion) in 2018–2019. Notably, the DRDO-OF-DPSUs contributed only 800 crore in defence exports in 2018–2019, which was a mere 7.6 per cent of the total defence exports in that financial year. Compare these figures to a small country like Pakistan whose defence exports reached $212.6 million (equivalent to Indian 1,548.6 crore) in 2018-2019, the notable part being that Pakistan's entire defence industry is governmental under the Ministry of Defence – and none private. During 2019-2020, India's defence exports stood at 8,620.59 crore, which went down to 632.05 crore in 2020-2021 till last known figures obviously because of the Covid-19 pandemic. It is significant to note that defence exports of Turkey, which is 23.84 per cent the size of India, were $2.3 billion during calendar year 2020.
Indian defence exports would have been far higher if the governmental defence - industrial complex was slashed and privatised but that has not happened due to vested interests within the Government and India's 'deep state'. Besides, participation of the private industry in defence is minimal save few corporate houses who a cross-section feels are favoured because they can contribute substantially towards funding elections. Even the "corporatisation" of the Ordnance Factories has not happened despite multiple government-instituted studies recommending the same over past decade plus because of different worker unions aligned with the Congress, BJP and the Left and incumbent governments worried about losing vote banks. Of late there is plenty talk of privatisation especially in wake of the ongoing farmers protests, including the recent pitch for privatisation by Prime Minster Narendra Modi in Parliament. Civil Aviation, Telecommunications and Power are all being privatised. On March 18, 2013, Prime Minister Narendra Modi had tweeted, in our nation, PSUs are born to die. However, how much of the governmental defence -industrial complex will be privatised only time will show because perceptions change and the 'deep state' is very strong.
Meanwhile, government has made plans to boost the defence exports. An export list has been drawn covering 85 kinds of equipment encompassing 125 items and 47 sub-systems for export to what has been described as "Indian Ocean Region (IOR) and African countries". The aim is to increase the current defence base of $11 billion to $ 25 billion by 2025 with a $5 billion export component. But why mention exports to only IOR and African countries remains a mystery – doesn't this preclude many friendly countries? Indian defence attaches in foreign missions would be promoting these defence exports, which anyway is part of their assignment. Private industry will continue to promote their items, as being done earlier. India is looking at various financing options as well like Line of Credit to help countries buy Indian defence products.


Weapons and Systems for Exports - (Top Left to right): BrahMos Missile System; AKASH-MK-1S missile; (Middle left to right): ATAGS guns; K-9 Vajra; (Above Left to right): HAL LCH; KAVARATTI - ANTI SUBMARINE WARFARE CORVETTE
The defence export list was released by the Department of Defence Production (DDP) under the Ministry of Defence (MoD) during the recent Aero India 2021 show held recently at Bengaluru, some of the main items being the BrahMos supersonic cruise missiles, the Advanced Towed Artillery Gun System (ATAGS), Pinaka multi-barrel rocket launchers, and the Combat Management System (CMS). The DRDO put out a separate list that included items like the Arjun tank and Astra air-to-air missiles. The list also included products from the private industry.
The defence export list includes 30 land systems of which the major ones are the: BrahMos cruise missile with a 290 km-range; Akash Area Defence System with an effective range of 3-25 km and operable at altitude of 30 m to 18 km; the ATAGS; the in-service K-9 Vajra howitzer, the 155mm/52 Calibre towed gun, and; the Garuda 105 lightweight field gun. Ashok Leyland military vehicles, mine protected vehicles, combat helmets and vests, multi-mode hand grenades and various kinds of ballistic protection are also included in the list. Under naval systems, the defence export list includes: anti-submarine warfare corvettes made by the state-run Garden Reach Shipbuilders & Engineers (GRSE); various kinds of patrol and interceptor boats and Landing Craft Utility to transport troops and materiel from ship to shore and vice-versa; lightweight and heavyweight torpedoes; 30mm naval guns; rocket launchers; coastal surveillance systems, and; communication and combat management systems for ships. As part of air systems, the indigenous TEJAS fighter had already been announced available for export. Now the defence export list also includes the Light Combat Helicopter (LCH) which is yet to be introduced in the Army and the IAF.
There is no doubt that India's defence exports are set to rise. They can even grow faster by tackling issues as mentioned in Paragraph 2 above. In addition, two more aspects need attention: one, instead of making the private industry do their own export promotion, total private industry defence products (not selective only) must also be taken on by the union government as an integrated export promotion effort, and; two, the need to boost defence exports must not take precedence over making up the deficiency and requirements of our military. We cannot afford to take lightly the fact that we are facing realistic and potential threat from China and Pakistan and there is shortage of jet fighters, naval platforms, drones, armament, artillery pieces, ammunition, electronic warfare equipment and the like, which have been topped with a poor defence budget for financial year 2021-2022. Wars simply cannot be won on rhetoric and media management.