The US has accused China of violating its airspace while Beijing has accused America of violating international norms by shooting down the balloon
| | |
| --- | --- |
| | The Author is Former Director General of Information Systems and A Special Forces Veteran, Indian Army |
A CHINESE SURVEILLANCE BALLOON THAT WAS EVENTUALLY SHOT DOWN OVER THE ATLANTIC OCEAN ON FEBRUARY 4 AFTER TRAVERSING MUCH OF THE CONTINENTAL U.S.
America's theatrics in the recent shooting down of a Chinese "spy" balloon (claimed by China as a civil weather monitoring craft blown off course) has caused amusement around the world, given reports that not only a F-22 Raptor was used to shoot it downbut the US also deployed a KC-135 Stratotanker, 8 Poseidon, one destroyer and a landing ship, in addition to shutting down some airfields. The question being asked is if this is the response to just one Chinese spy/weather balloon, what would happen in war?
This was not the first time Chinese balloons have flown over American airspace. According to the media, many Chinese balloons were also spotted on several occasions over the US during the Donald Trump era, including on three occasions over military facilities –near Texas, Florida and Hawaii, and the US base in Guam. Balloons were also observed near Norfolk, Virginia, and Colorado, California ports. This time the POTUS Joe Biden timed shooting down the balloon just before his State of the Union Address to the US Congress for obvious reasons.
The US has accused China of violating its airspace while Beijing has accused America of violating international norms by shooting down the balloon. China may have deliberately timed the balloon with the US Secretary of Antony Blinken about to proceed on a visit to China. After all, the US is trying its level best to undermine Chinese influence, its chip industry and using sanctions against China although concurrently German and EU delegations have visited Beijing to boost trade, for which Australia also appears keen.
According to US intelligence, China has been collecting information about military installations in Asian countries for several years using reconnaissance balloons
According to US intelligence, China has been collecting information about military installations in Asian countries for several years using reconnaissance balloons. This is reinforced by US media stating that China's Peoples' Liberation Army (PLA) used balloons on five continents as part of an extensive surveillance programme, collecting information on military infrastructure in Japan, India, Vietnam, the Philippines and Taiwan.
The above would be very true given China's space, air, surface and underwater spying activities including in the Indian Ocean region. Chinese balloons overflying India were either not spotted or not reported. Also, in the late 1990s, strange bright lights were observed by night over the Saltoro Range in Siachen area which remained stationary for prolonged periods and then moved away. Team of the Defence Research and Development Organisation (DRDO) visiting the glacier to observe the phenomenon were unable to conclude whether these were Chinese low earth satellites or something else.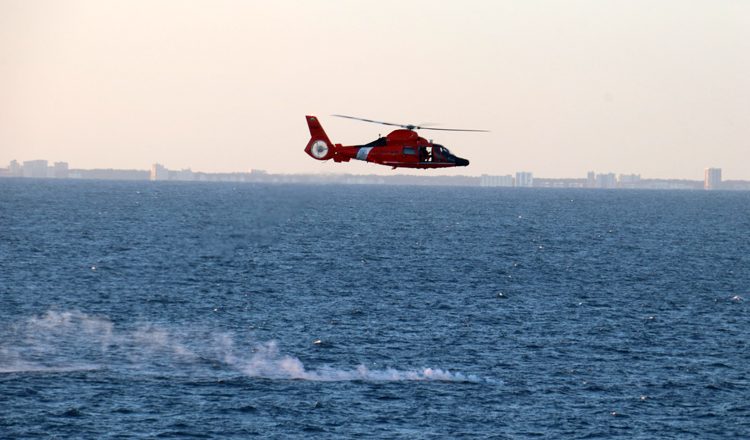 A US Coast Guard helicopter flies over a debris field during recovery efforts of a high-altitude surveillance balloon.
It is well known that China has been monitoring the Line of Control (LAC) on a 24x7 basis using satellites, balloons, drones and multiple sensors. This is what enabled China to observe in 2020 the thinly held LAC in Eastern Ladakh and absence of reserve Indian Army formations exercising in depth areas because of the nation-wide lockdown; enabling the PLA to effect intrusions by occupying areas not held and shifting the LAC westwards even beyond China's 1959 claim line which India never recognised.
It is well known that China has been monitoring the Line of Control (LAC) on a 24x7 basis using satellites, balloons, drones and multiple sensors
China uses every avenue for spying including its civilian vessels at sea which are also armed with lasers. So, every balloon would be equipped with spying equipment whether exclusively or in addition to monitoring weather. It would also be prudent to acknowledge that China is using increasingly sophisticated technology for spying, which is also an adjunct to the Chinese programme of weaponising space. In addition, all civilian resources (balloons, drones, electronics, mobiles, iPods, CCTVs and the like) are used by the autocratic regime of China. Therefore, China's excuse that the balloon was "civilian" is a load of crap.
It may be recalled that in 2020, a Shenzhen-based technology firm was found harvesting data of more than 10,000 individuals in India. Cyber attacks on India emanating from China are periodic anyway and government has had to issue special instructions to guard against these. Just last year in November 2022, the All India Institute of Medical Sciences (AIIMS) was cyber attacked and data of crores of individuals was stolen – data of patients included political leaders, bureaucrats and judges, with some 38 lakh patients treated annually at AIIMS.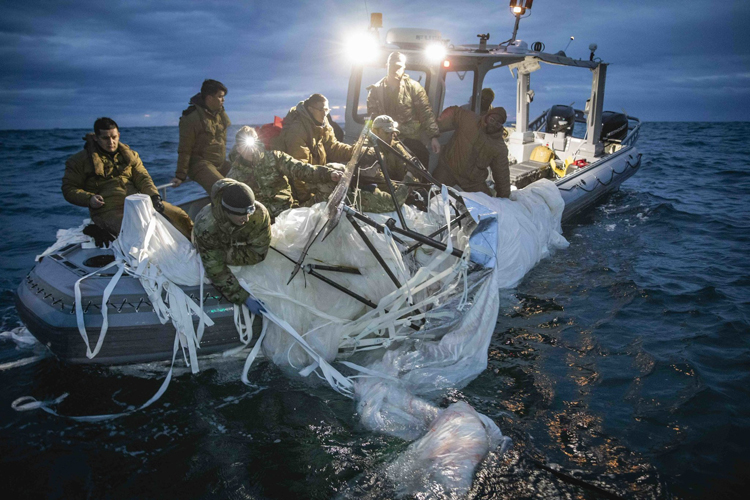 US Navy Sailors assigned to Explosive Ordnance Disposal Group 2 recover a high-altitude surveillance balloon off the coast of Myrtle Beach, South Carolina, February 5, 2023.
Spy balloons have certain advantages even over spy satellites. Satellites move along an orbit and perhaps can be stationery for some time but that too along the same orbit. Alternative does exist of moving satellites away from the designated orbit but this involves using up scarce fuel and such move would invariably be monitored by adversaries.
In contrast, spy balloons/craft are less conspicuous especially if they are using 'stealth' technology like radar absorbing material. Moreover, they can fly at very high altitudes – out of range from surface-to-air missiles or air-to-air missiles fired by most fighter aircraft. Balloons flying at extremely high altitudes give better area coverage for spying or monitoring. Another big advantage is the 'hovering' ability of the balloon over extended periods of time which gives excellent coverage to monitor enemy activity. Balloons can overfly "global commons" like the high seas, using their flying height to spy on target areas or divert for a mission and get back over the high seas. Finally, balloons are cheaper and expendable compared to satellites.
India must develop balloons for continuous surveillance astride our borders and coastal areas
High-altitude balloons or 'stratostats' are crewed or unscrewed, which are usually filled with helium or hydrogen. They usually attain altitudes between 18 and 37 km (59,000 and 121,000 ft) above sea level. In 2002, an American balloon named BU60-1 reached a record altitude of 53.0 km (173,900 ft).The most common type of high-altitude balloons are weather balloons that are launched in "near space". Other purpose balloons include a platform for experiments in the upper atmosphere. Modern balloons generally contain electronic equipment like radio transmitters, cameras, satellite navigation systems, GPS etc. The speculation in the US is that China could also use space balloon for an EMP attack that could "kill" 90 percent of America.
India must take a cue from the incident of the US shooting down the Chinese balloon. We must develop balloons not only for weather and disaster monitoring but for continuous surveillance astride our borders, coastal areas, over 500 plus islands of the Andaman and Nicobar Group of islands, our EEZ and for monitoring enemy movements in the Indian Ocean area.