The G20 Summit 2023 in Delhi sets a global precedent by charting a unified course for a shared future
| | |
| --- | --- |
| | The Author is Former Director General of Information Systems and A Special Forces Veteran, Indian Army |
Prime Minister Narendra Modi's opening remarks at G20 Summit at Bharat Mandapam, in New Delhi on September 9, 2023.
The 18th Heads of State and Government Summit of the G20 took place on September 9-10, 2023 in New Delhi with India's Presidency under Prime Minister Narendra Modi. The theme for the summit was 'One Earth, One Family, One Future'.
On India's initiative, the 55-nation African Union (AU) became a permanent member of the G20 with Prime Minister Modi announcing this in his opening remarks saying, "It was in the spirit of 'Sabka Sath' that India proposed permanent membership for AU. I believe we all agree on this," Modi said, as he invited AU Chair and Comoros President Azali Assoumani. India had also invited Mauritius, Netherlands, Nigeria, Singapore, Spain, the UAE, Bangladesh, Egypt and Oman as guest members.
India's G20 Presidency grants permanent membership to the 55-nation African Union, elevating global South's voice
The G20's primary role being a forum for international economic cooperation and in shaping and strengthening global architecture and governance on all major international economic issues, India conducted over 200 events across the country ranging from tourism to climate change apart from core issues of economy, finance and trade.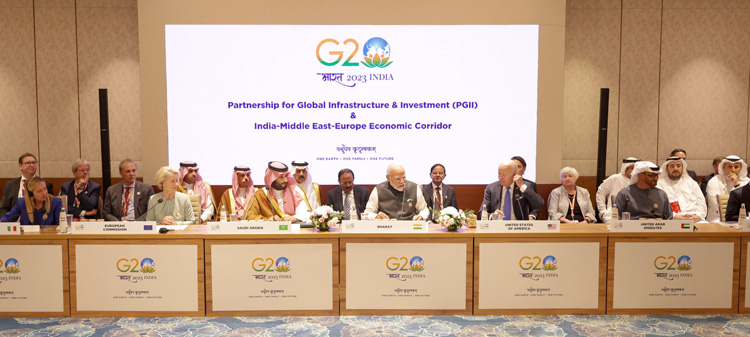 Prime Minister Narendra Modi addressing the gathering at the Partnership for Global Infrastructure and Investment & India-Middle East-Europe Economics Corridor event during G20 Summit on September 9, 2023.
The New Delhi Declaration was adopted with 100 per cent consensus on all developmental and geo-political issues. This indicated great acumen in forging a common ground by all delegates in spite of significantly different stances on issues like the war in Ukraine and climate change. Pressure from the US-led West must have been to somehow condemn Russia although it is a war forced by US-NATO on Russia using Ukraine as proxy.
Highlights of declaration included the following:
Called on all states to refrain from the use of force to seize territory, abide by the principles of the UN Charter and condemned use or threat of nuclear weapons 'inadmissible'.
Called on Russia and Ukraine to ensure immediate and unhindered delivery of grains, fertilisers and other goods in order to "meet demands of developing and least developed countries, particularly in Africa.
Called for cessation of military destruction or attacking food and energy infrastructure; flagging concerns about high volatility in food and energy markets.
Committed to phasedown of coal in line with national circumstances and pledged to triple renewable energy sources by 2030.
Acknowledged developing countries need $5.8 to $ 5.9 trillion pre-2030 for climate goals and the world another $4 trillion yearly investment by 2030 to reach net-zero carbon emission goal by 2050.
Called for reforming international financial institutions, managing debt vulnerabilities of low and middle-income countries and commence tax-relevant information on crypto assets by 2027.
Central Banks should remain strongly committed to achieve price stability in line with respective mandates. Need for calibrated monetary, fiscal, financial, and structural policies to promote growth, reduce inequalities, and maintain macroeconomics; since tightening in global financial conditions can worsen debt vulnerabilities, persistent inflation and geo-economic tensions.
Appreciation of steps taken by the Financial Stability Board, Standard Setting Bodies and certain jurisdictions to examine lessons from recent banking turbulence; recognising importance of supply-side policies, especially policies that increase labour supply and enhance productivity to boost growth and alleviate price pressures.
Speaking in the third session of the G20 Summit, Prime Minister Modi emphasised the need to look beyond the global village idea towards a global family. He later posted on X, "Shared my thoughts during Session 3 of the G20 Summit. This Session focused on the theme of 'One Future.' Emphasised the need of the hour is to look beyond the idea of a Global Village and make the vision of Global Family a reality."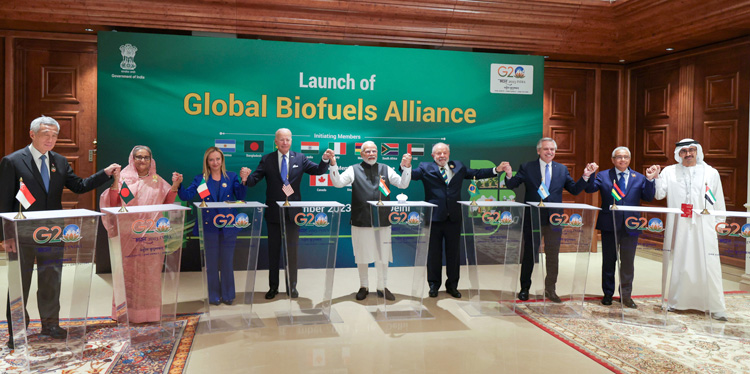 Prime Minister Narendra Modi at the launch of 'Global Biofuels Alliance' with world leaders during G20 Summit on September 9, 2023.

(Left) Prime Minister Narendra Modi welcoming the Africa Union into the G20 at the Summit on September 9, 2023; (Right) Prime Minister Narendra Modi hands over the G20 Presidency to the President of Brazil, Luiz Inacio Lula da Silva on September 10, 2023.
The New Delhi Declaration achieves 100 per cent agreement on Key Developmental and Geo-political issues, signaling unprecedented unity
The G20 Delhi Summit was unique on the following counts:
India displayed newfound confidence in forging unity on global issues despite a deeply divided world on account of the war in Ukraine.
There was no condemnation of Russia and no video address by Volodymyr Zelensky, President of Ukraine, as the US has been thrusting upon international forums in the past.
India corrected the imbalance in a global representative body like the G20 by proposing and forging consensus for granting permanent G20 membership to the 55-nation AU; bringing it to the high table of the world's top economies.
Permanent G20 membership to the AU has elevated the prominence of the Global South and India's leadership.
In calling for phasing down the use of coal, the declaration mentioned "in line with national circumstance" since coal-dependent nations like India and South Africa were part of the summit.
India, the US, EU, Saudi Arabia agreed to set up the India-Middle East-Europe Economic Corridor (IMEE EC) that will provide faster and cheaper sea and rail transit option to West Asia and Europe.
While handing over the G20 gavel to Brazil, Prime Minister Modi assured President Lula da Silva of cooperation during their G20 Presidency, which Brazil assumes on December 1, 2023. "India assures all possible cooperation to Brazil during their upcoming G20 Presidency," PM Modi said on X.
India propels the India-Middle East-Europe Economic Corridor, paving the way for faster and more efficient transit options
Post-adoption of the declaration, a press conference was chaired by Finance Minister Nirmala Sitharaman highlighted the following:
Indian Presidency has crafted solutions that offer a shared path forward for all including comprehensive strategies for developing nations and the need for better, bigger, and more effective Multilateral Development banks (MDBs);
collective boosting of the World Bank's financing capacity;
MDBs will potentially yield additional lending headroom of $200 billion over the next decade;
global push for clearer policies and crypto regulation;
financial inclusion and productivity gains through digital infrastructure formulated;
financing of the sustainable, resilient cities of tomorrow can be used by MDBs.
Overall, the G20 Delhi Summit was a spectacular event with the G20 members collectively representing around 85 per cent of the global GDP, over 75 per cent of the global trade, and about two-thirds of the world population. Forging a consensus of all delegates was not easy but the declaration achieved 100 per cent consensus, without footnotes and Chair's summary. The primary focus for the G20 is on macro-economic and global policy issues but global geopolitical developments led India to project itself as a major and credible voice on the global stage; speaking for the Global South when the divide between the rich nations and the less prosperous is growing.

(Left) Prime Minister Narendra Modi in a bilateral meeting with the President of the United States, Joe Biden, in New Delhi on September 8, 2023; (Right) Prime Minister Narendra Modi meeting with the President of European Commission, Ursula von der Leyen and the President of the European Council, Charles Michel, in New Delhi on September 10, 2023.
A day before the G20 Delhi Summit, Darren Walker, President of the Ford Foundation wrote the following among other things: the G20 is well positioned to promote change across borders and global decision-making bodies but if it wants to solve age-old problems, it needs to embrace new ideas and more inclusive leadership in New Delhi and beyond;India, world's fifth-largest economy, uses its G20 Presidency to focus on issues impacting global majority issues particularly those related to economic justice; earlier in its Presidency, India co-convened both debtors and creditors in a potentially promising, first-of-its-kind Global Sovereign Debt Roundtable co-chaired by India, World Bank and IMF; pressure from G20 can accelerate debt relief to distressed countries; G21 (AU included) may be messier than G20, but it would be more credible capturing interests of both the Western-dominated G7 and the emerging and expanding BRICS.
India's stellar leadership at the G20 Summit attracts global acclaim, fuels calls for a permanent seat at the UNSC and an expanded role in G7
India's stellar presidency of the G20 Summit has attracted global accolades as the summit has given India a larger than before image on the global stage. There are calls for India to be given a permanent seat at the UNSC. Salvatore Babones wrote on September 10, 2023 that with India already looming much larger in global affairs than either Italy or Canada, the G7 must ultimately incorporate India to remain relevant to global economic governance.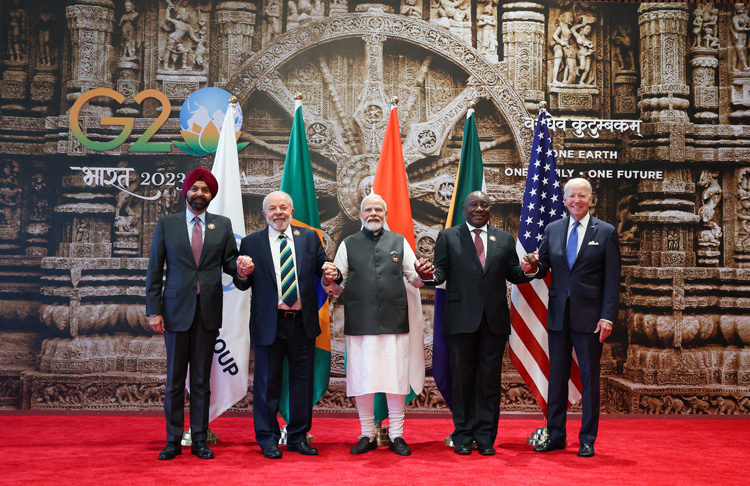 Prime Minister Narendra Modi in a group photograph with world leaders during G20 Summit at Pragati Maidan, in New Delhi on September 9, 2023.
However, all international forums and events have their share of cynicism, few samples of which in the instant case include:
The G20 agreed that "today's era must not be of war" – same as Prime Minister Modi has been saying on earlier occasions that "this is not the era of War." But neither the US-led West nor China believe and follow this.
No matter how strong India's case for permanent UNSC seat and G7, it will always be vetoed by China.
While Modi held 18 bilateral meetings with world leaders, POTUS Joe Biden had a bilateral with Chinese Prime Minister Li Qiang telling him America is not trying to contain China –China "cannot" contain China but is trying desperately to do so.
The China Institute of Contemporary International Relations, affiliated with Chinese intelligence, has criticised India for pushing its own agenda and causing disagreement by holding previous G20 sessions in disputed territories.
Amid all the noise about China's floundering economy and BRI, China still is a $19.37 trillion economy and 155 nations, including 52 from Africa are part of the BRI. The Italian PM has recently said Italy is undecided about quitting the BRI.
Finally, this cannot be Asia's Century unless India and China come together. But there is little chance of this given China's aggressive stance. However, a rising India will have to navigate through global contradictions. The G20 Delhi Summit has shown it has the ability to do so.