| | |
| --- | --- |
| | The Author is Former Director General of Information Systems and A Special Forces Veteran, Indian Army |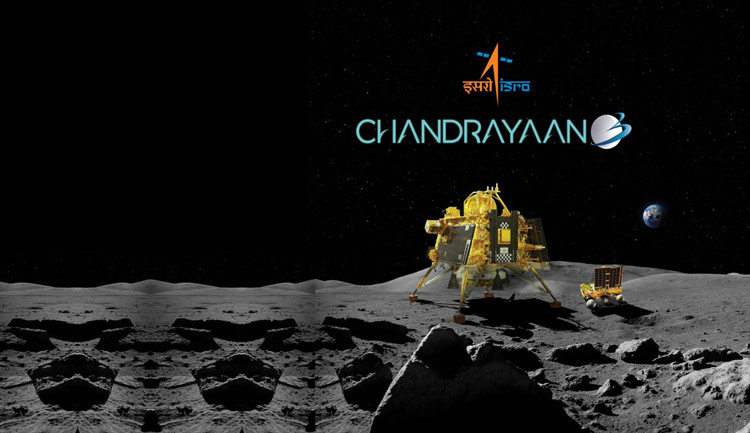 Chandrayaan-3 Mission
The Indian Space Research Organisation (ISRO) scripted history with the landing on Moon's South Pole on August 23, 2023, making India the first nation in the world to achieve this. It made India and all Indians proud with accolades pouring in from all corners of the globe. The Chandrayaan-3 mission will help the world in getting crucial data about the glacial ice sheets and possibility of life existing beneath its surface.
The Vikram lander did a perfect soft landing on the surface of the moon with its sensors helping it search for a perfect landing site to make that landing. The landing was at the precise time forecasted by ISRO and its execution just before sunrise enables full 14 days to study and photograph the entire surface of the moon, before the sun sets and the darkness engulfs. The rover Pragyan is already moving around the surface, collecting crucial information on the atmosphere, soil composition and various other parameters, analysing and sending the data to the command center at ISRO. After 14 days when night falls on the moon, Pragyan and Vikram will cease to exist. However, the propeller released from Vikram five days before the landing, will keep orbiting for some more years, sending information about the moon.
ISRO achieved a groundbreaking feat by successfully landing the Vikram lander on the Moon's South Pole, making India the world's first nation to achieve this remarkable milestone
Chandrayaan-3 mission was backed by a network of public and private vendors:
launch vehicle booster segments and subsystems by Larsen & Toubro;
batteries by Bharat Heavy Electricals Ltd;
electronic power modules plus test and evaluation system by Kerala State Electronics Development Corporation;
mission components by Walchand Industries;
liquid propulsion engines, satellite thrusters and control module components by Godrej & Boyce, and;
critical components to National Aerospace Laboratories for testing launch vehicle by Hindustan Aeronautics Ltd (HAL).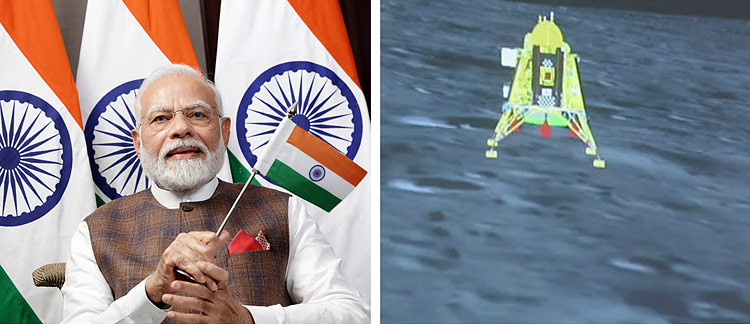 Prime Minister Narendra Modi witnessing successful landing of Chandrayaan-3 via video conferencing on August 23, 2023.
Small and niche players also contributed to the project:
modules for launch vehicle and avionics packages by Ananth Technologies;
200 plus mission-critical modules by Centum Electronics;
parts for lander's propulsion and rover's navigation systems by MTAR Technologies;
components to sustain extreme temperatures by Himson Industrial Ceramic;
legs and chassis of the rover by Sri Venkateswara Aerospace;
alloys for the lander's heat shield and the rover's wheels by Midhani, and;
Paras Defence and Space Technologies contributed to the navigation system.
The success of Chandrayaan-3 signals a giant leap for the Indian enterprise; spotlighting the industry bedrock that underpins a profound synergy between public institutions and private industries. It has catalysed the growth of India's 'space economy, which had grown to an estimated 36,794 crore by last March. With the space sector market projected to grow to $77 billion by 2030, buoyed startups and young enterprises are already harnessing ISRO's ethos of cost-effective engineering, positioning India as an emerging force in the global space race. Former ISRO chief G. Madhavan Nair has says that the success of Chandrayaan-3 will boost India's international commercial contracts and that there will be acceptance of its technical competence and launch systems.
The14-day window enables the rover Pragyan to explore and collect invaluable data on the moon's atmosphere, soil composition, and other vital parameters, enhancing humanity's understanding of lunar dynamics
ISRO has a long list of missions after the Chandrayaan-3. Top of the table is the Aditya-L1 mission – India's first space-based indigenous observatory to study the Sun. Scheduled to be launched on September 2, 2023 from Sriharikota for providing crucial information about the Sun and its surface, it will cost around 378 crore. While Chandrayaan-3 travelled 3.84 lakh km to reach the moon, Aditya-L1 will be travelling approximately 15 lakh km in about 100 days.
Rover Pragyan captures Vikram in a Snap
Aditya-L1 shall be placed in a halo orbit around the Lagrange point 1 (L1) of the Sun-Earth system, which is about 1.5 million km from the Earth. A satellite placed in the halo orbit around the L1 point has the major advantage of continuously viewing the Sun without any occultation/eclipses. Lagrange points are locations in the Earth-Sun system where gravitational pull of the two precisely equals the centripetal force needed for a small object to move with them, allowing it to stay put. This will provide a greater advantage of observing the solar activities and its effect on space weather in real time. The spacecraft carries seven payloads to observe the photosphere, chromosphere and the outermost layers of the Sun (the corona) using electromagnetic and particle and magnetic field detectors; four payloads carrying out remote sensing of the Sun and three undertaking in-situ observation.
A network of both established and niche players contributed to the mission's success, showcasing the collaborative power of the Indian space enterprise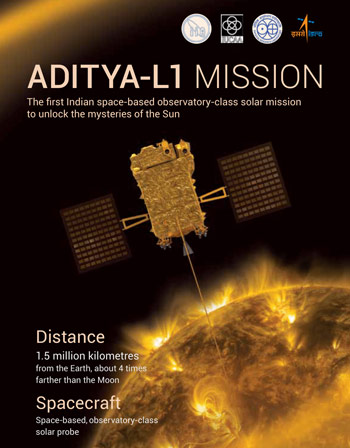 PSLV-C57 Aditya-L1 Mission: The launch of Aditya-L1, the first space-based Indian observatory to study the Sun, is scheduled for September 2, 2023, at 11:50 Hrs. IST from Sriharikota.
Next, ISRO will be testing a key aspect of India's first human spaceflight mission –'Gaganyaan'. The abort mission demonstration for Gaganyaan is expected around the last week of September or early October this year. The project envisages demonstration of human spaceflight capability by launching a crew of three members to an orbit of 400 km for a three-day mission and bringing them back safely to earth, by landing in Indian sea waters. In its mission document, ISRO has stated, "The project is accomplished through an optimal strategy by considering in-house expertise, experience of Indian industry, intellectual capabilities of Indian academia and research institutions along with cutting edge technologies available with international agencies."
The ISRO document further reads, "The prerequisites for Gaganyaan mission include development of many critical technologies including human rated launch vehicle for carrying crew safely to space, life support system to provide an earth like environment to crew in space, crew emergency escape provision and evolving crew management aspects for training, recovery and rehabilitation of crew."
Following the Chandrayaan-3 triumph, ISRO has a rich pipeline of missions. Notably, the 'Gaganyaan' human spaceflight mission, solidifying India's capabilities in crewed space missions.
Also on the cards is the NASA-ISRO SAR (NISAR) satellite - a Low Earth Orbit (LEO) observatory being jointly developed by NASA and ISRO. NISAR will map the entire globe in 12 days and provide spatially and temporally consistent data for understanding changes in Earth's ecosystems, ice mass, vegetation biomass, sea level rise, ground water and natural hazards including earthquakes, tsunamis, volcanoes and landslides. Carrying L and S dual band Synthetic Aperture Radar (SAR), it shall not only meet respective national needs, but also will feed the science community with data encouraging studies related to surface deformation measurements through repeat-pass InSAR technique. NISAR is likely to be launched in early 2024.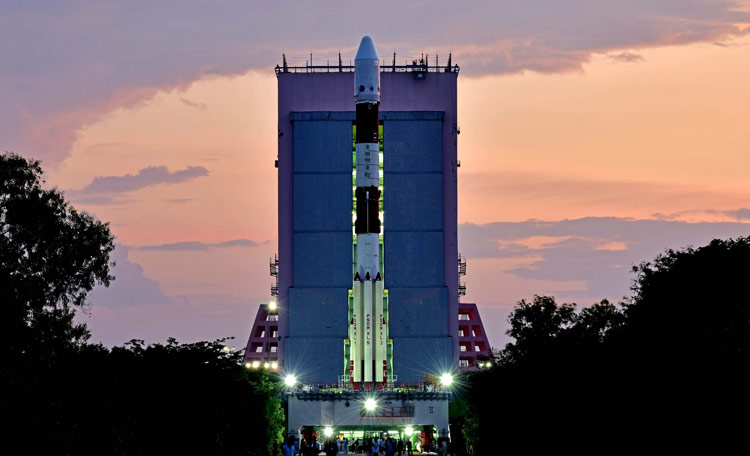 Aditya-L1
Apart from the above, ISRO is also working on a mission to enter the surface of Venus, which is the hottest planet in the solar system. The mission is likely to materialise in the next two-three years.