| | |
| --- | --- |
| | The Author is Former Director General of Information Systems and A Special Forces Veteran, Indian Army |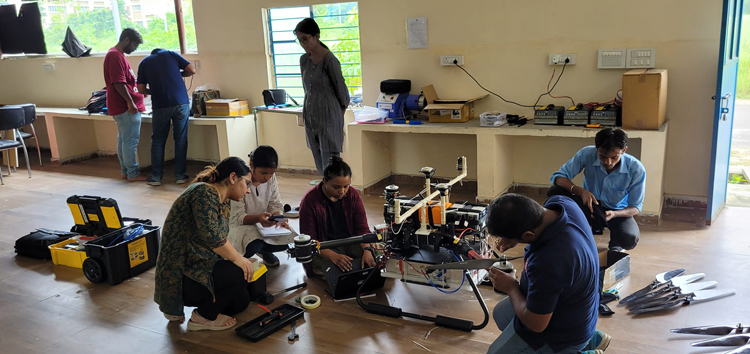 SISIR RADAR has demonstrated game-changing imaging technology with the indigenous development of ultra-high resolution, L-band Synthetic Aperture Radar on low altitude drone platform.
There has been a lot of talk in the media about opening up the defence sector to the private industry. Government officials have also been saying periodically that a level playing field between the government-owned and private sector is available. But ironically we have a very long way to go. In countries like the US, defence production has flourished with state-of-the-art technologies because defence production is wholly privatised. In India, private industries can usher self-reliance at a much faster pace but an open playing field is still not provided to them because of the nexus between the bureaucracy and the governmental-defence set up.
Self-reliance in defence production in India is currently estimated at below 35 per cent. Moreover, about 90 per cent of the domestic defence manufacturing is currently done in the public sector, leaving only 10 per cent to the private industry. Hopefully, the government will focus more on improving the private sector participation in defence manufacturing, considering their exceptional performance in contributing to India's defence and national security in whatever little opportunities are given to them.
SISIR Radar pioneer 'Made in India' SAR Technology on Drones
SISIR Radar or SISIR Radar Private Limited is an Ahmedabad-registered company established in September 2021. It is christened SISIR Radar after Professor Sisir K. Mitra, doyen of atmospheric physics research. Tapan Misra, founder of SISIR Radar, is a distinguished scientist who was earlier Director, Space Application Centre at Ahmedabad under the aegis of the Indian Space Research Organisation (ISRO). The company provides satellite-based imaging services. It uses a high-frequency imaging constellation of SAR satellites to provide timely imaging data and insights. It generates a microwave image map of the earth.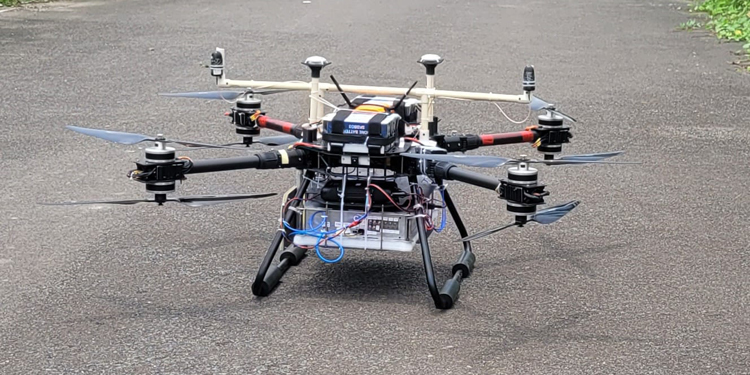 LOW ALTITUDE DRONE PLATFORM WITH L-BAND SYNTHETIC APERTURE RADAR FROM SISIR RADAR
SISIR Radar recently demonstrated a game-changing imaging technology with the indigenous development of ultra-high resolution, L-band Synthetic Aperture Radar (SAR) on a low altitude drone platform. This is the first time a private company in India gave such a demonstration of a 'Made in India' SAR mounted on a drone. Till now only ISRO possessed this technology. It is also the first SAR in India built with software-defined radar architecture.
The demonstration of the Drone-SAR was conducted at Haringhata in Nadia District of West Bengal. Speaking at the demonstration site, Tapan Misra said, "It is a sheer lucky coincidence that we are testing our L band drone-SAR in Haringhata, where Professor Sisir K. Mitra established an ionospheric research station in the late 1940s".
SISIR Radar achieves an unprecedented 0.75m resolution
SISIR Radar's SAR has resolution of 0.75m in along flight (also called Azimuth) and 1m along across flight (range direction). Usually the best possible resolution in SAR is around 10 times the wavelength. An X band SAR can give the best resolution around 30 cm for a wavelength of 3 cm. For an L band SAR, the industry standard is around 250 cm or 2.5 m for a wavelength of 25 cm. However, SISIR Radar's SAR achieved a resolution of 75 cm or 3 times the wavelength.
Tapan Misra said, "We present our first image over a forested area of 250m x 500 m in Haringhata in West Bengal. Keep watching us as we will bring out newer and newer features like polarimetry and interferometry. We had to invent a completely new algorithm for motion compensation and processing of SAR, flying like a toy in monsoon winds over the Bengal landscape. With this image, we offer a SAR, available at very very competitive price at any standard, to bring SAR imaging at an affordable price for numerous applications in India and globally.
According to Mishra, each SAR system, especially the ones with brand new innovations, has a personality which needs to be understood to bring out its best performances. Needless to mention, no personality can be understood without its surrounding environment. Similarly the drone SAR complexity is multiplied many times by dynamics of the drone platform, flying like a floating toy in the monsoon wind.
SISIR Radar's Drone SAR bridges the gap in Indian defence technology
Mishra further said, "We are proceeding with well designed tests, one after another, to bring out the best from our SAR and its signal processor. Presently we tested polarimetric performance at high incidence angles of 82+ degrees from an altitude of 50 metres. Initial level of performance is very satisfying. For the uninitiated, the vertical structures like tree stumps, vertical walls are identified in orange colour; flat surfaces like rooftops, sloping roofs, plain grounds with indigo colour; and vegetations, tree canopies, monsoon growth of wilderness as green colour. Image size is approximately 200 m along flight and 500 m across flight direction. We are learning many many new nuances of ultra high resolution L band SAR as nobody ever was exposed to such data. We are collectively being reminded that SAR is coquettish enough to throw up unexpected surprises at the drop of a hat, challenging our understanding of SAR technology, on a daily basis. Learning is a never ending exercise, if your passion is to solve the riddles of the SAR system and its signal processing".
The Drone SAR by SISIR Radar is indeed an excellent innovation, produced in less than a year of recruiting the first team member of the team by the company. It will have a whole range of applications both in the defence and civil fields.