| | |
| --- | --- |
| | The Author is Former Director General of Information Systems and A Special Forces Veteran, Indian Army |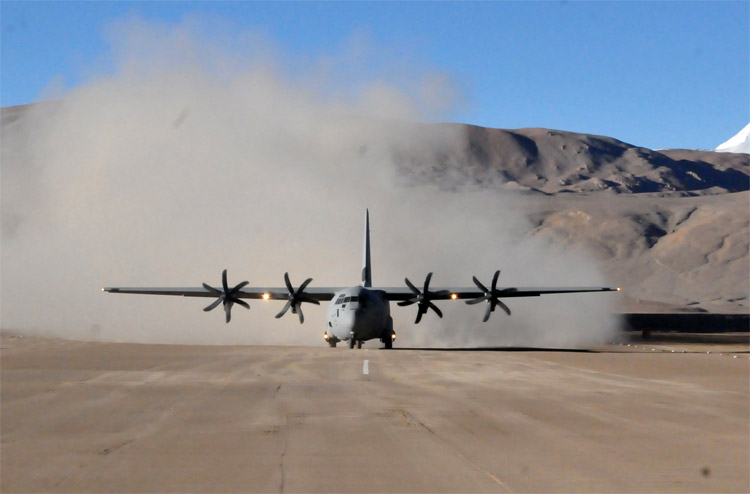 The landing of an IAF C-130J in August 2013 at Daulat Beg Oldi - the world's highest airstrip at an altitude of 16,614 feet located near the Karakoram Pass and close to the Line of Actual Control with China - demonstrated the versatility of this famed airlifter
Media reports of May 8, 2020 quoting official sources disclosed that the Ministry of Defence (MoD) has signed a 1,200 crore ($160 million) contract with Indian company Tata Power SED for the second phase of the military infrastructure modernisation programme to cover 37 of the IAF, Indian Navy and Coast Guard airfields. According to the MoD statement, the Modernisation of Air Field Infrastructure (MAFI) of the 37 airfields will be carried out under a turnkey project that includes installation and commissioning of modern airfield equipment. The MAFI Phase-II is follow-on of the programme based on MAFI Phase-I that included upgrades of 30 airfields of the IAF, which have been of immense benefit to both military and civil users.
In August 2010, reports emerged of IAF going in for massive upgrade of airfields, helipads from new Sukhoi-30MKI bases at Chabua (Assam), Halwara (Punjab) and Jodhpur (Rajasthan) to one for Tejas fighters in Sulur (Tamil Nadu), IAF is going in for a massive upgrade of its airfield and helipad infrastructure across the country. The aim was to not only bolster operational logistics and flexibility on both the eastern and western fronts with China and Pakistan, apart from plugging existing gaps over central and peninsular India, but also make IAF airbases more accessible to civilian aircraft.This plan was in tune with IAF's aim to have 42 fighter squadrons by 2022, up from the existing 32, with progressive induction of 270 Sukhois, 126 multi-role combat aircraft, 120 indigenous Tejas Light Combat Aircraft (LCA) and the first lot of the fifth-generation fighter aircraft to be developed with Russia. On hindsight now, these acquisitions did not go as per plan because of multiple factors. However, the MAFI programme was planned to be launched under which 30 of IAF's 51 operational airbases were to be upgraded in 42 months.
Commercial negotiations with the Tata Power-led consortium for MAFI Phase-I, at a cost of around 1,300 crore were in the final stages now and Bhatinda airbase was to be taken up as the pilot project. Under Phase-II, remaining IAF, Army, Navy and Coast Guard airfields were to be modernised. The upgrade included resurfacing, expansion and lighting of runways for night operations as well as installation of new tactical navigational (TACAN), instrument landing (Cat-2 ILS), air traffic management and air-to-ground radio communication (RCAG) systems. North-East was a major thrust area, with upgrade of airbases in Chabua, Dibrugarh, Jorhat, Mohanbari, Hasimara, Guwahati and Bagdogra, among others. The Tezpur airbase was already housing Sukhois after it underwent an upgrade in 2009. After reactivating western sector ALGs (advanced landing grounds) like Daulat Beg Oldi, Fukche and Nyama in eastern Ladakh, IAF was concentrating on upgrading eastern sector ALGs like Pasighat, Mechuka, Walong, Tuting, Ziro and Vijaynagar as well as several helipads in Arunachal. This was meant to strategically counter China's massive build-up of military infrastructure along the 4,057-km Line of Actual Control, which includes 14 airbases directed against India in Tibet. Focus on the western front remained as before. For example, the Phalodi airbase in Rajasthan 102 km from the Pakistan border began fighter operations in 2010. Aim was to make all bases capable of operating all kinds of aircraft including IL-78 mid-air refuellers to support fighters from virtually anywhere in the country. Subsequently, news reports of January 2, 2020, stated that modernisation of 30 airfields used by the IAF have been successfully completed, widening its operational footprint for all weather conditions all helped by secure communications, navigation aids, landing aids, direction finding instruments and automated air traffic management systems, under the $8.8 billion MAFI Phase-I project which was completed in December 2019. Tata Power SED was the lead Indian consortium which had foreign technology partners supporting as sub-contractors for the multi-disciplinary requirements of the project. The foreign suppliers include Raytheon of US; Northrop Grumman's Europe Arm called Park Air Systems, UK based Moog Fernau, Australian MTech Systems and Denmark–based Terma, among others. Tata Power (SED) has since then been merged with other companies of the TATA group to form the Tata Advanced Systems Limited (TASL). Reverting to the contract signed with Tata Power SED in May 2020 to upgrade 37 airfields, the MAFI Phase-II equipment upgrade includes Cat-II Instrument Landing System (ILS) and Cat II Air Field Lightning System (AFLS).
The modern equipment around the airfield will also be directly connected to Air Traffic Control (ATC), thereby providing excellent control of the airfield systems to the air traffic controllers. Upgrades in navigational aids and infrastructure under this project would enhance the operational capability by facilitating air operations of military and civil aircraft even in poor visibility and adverse weather condition, while enhancing aerospace safety. Completion of MAFI Phase-II will provide the IAF modernised airfields to deal more effectively with threats from both China and Pakistan.