| | |
| --- | --- |
| | The Author is Former Director General of Information Systems and A Special Forces Veteran, Indian Army |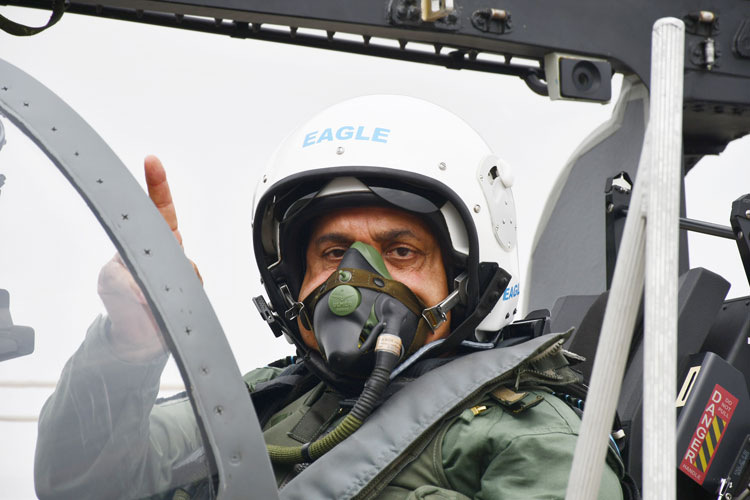 Chief of the Air Staff Air Chief Marshal R.K.S. Bhadauria preparing to fly a sortie in the Tejas Mk I fighter with 45 Sqn during the induction ceremony held at Air Force Station Sulur on May 27, 2020.
On May 27, 2020 the Indian Air Force (IAF) inducted the second squadron of LCA Tejas into IAF's 18 Squadron ('Flying Bullets') with Chief of Air Staff Air Chief Marshal R.K.S. Bhadauria giving the thumbs up to Tejas by flying a solo Tejas sortie at Sulur airfield in Tamil Nadu. Officials said ACM Bhadauria, who worked with the team that developed LCA Tejas, flew the aircraft which is part of IAF's 45 Squadron though he was in Sulur to operationalise IAF's 18 Squadron. IAF's statement read that the latest induction marks yet another important step towards enhancing the operational capability, adding, "This is also an important milestone in the country's indigenous fighter aircraft programme and a significant boost to the 'Make In India' initiative."
Tejas Mk1 is a fourth-generation single-engine, light-weight, highly agile, all-weather multi-role fighter aircraft capable of air-to-air refueling. India had first inducted a Tejas Mk1 aircraft in its Initial Operational Clearance (IOC) configuration in July 2016 into IAF's 45 Squadron ('Flying Daggers') at Bengaluru and shifted the squadron to operate from Sulur to defend the peninsular region. IAF has already placed an order for 40 Tejas and is likely to seal a contract soon with HAL for another 83 aircraft at a cost of around 39,000 crore ($5.25 billion). A naval version of the Tejas light combat aircraft is in the development stage. The IAF has been looking to procure 114 fighter jets for some time to replace its ageing fleet and bring up the fighter strength to authorised levels. On May 14, 2020 CDS General Bipin Rawat told Bloomberg, "The IAF is switching that (order for foreign fighters) to the LCA. The IAF is saying, I would rather take the indigenous fighter, it is good." However, on May 18, the IAF Chief said that the list of aircraft planned to be inducted by the IAF includes 36 Rafales, 114 multirole fighter aircraft, 100 advanced medium combat aircraft (AMCA) and over 200 LCAs in different variants. The IAF's current fighter squadron strength is 31 against a sanctioned 42 squadrons required for India to meet the twin challenge from Pakistan and China. The current combat fleet of the IAF comprises of the Su-30 MKI, MiG-29, Mirage 2000, Jaguars and LCA Tejas; with MiG-27 and MiG-21 being phased out.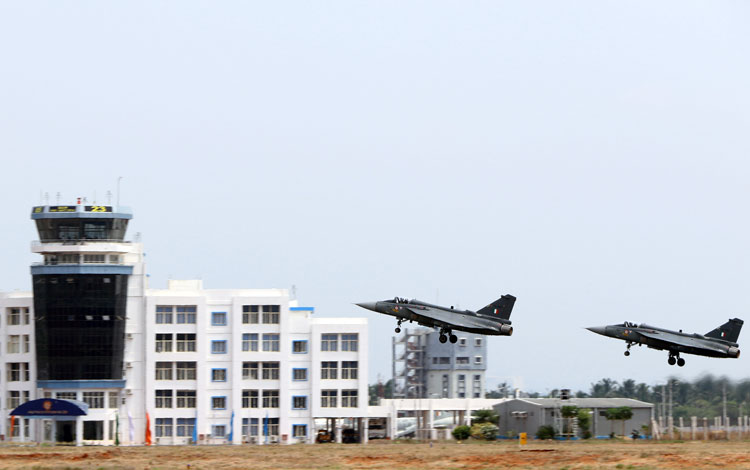 IAF Tejas aircraft at Air Force Station Sulur.
There is no way the 83 x LCA Tejas or more can make up the deficiencies of the IAF fighter strength. Besides, IAF cannot base its entire fleet on fourth-generation fighters. That is why the IAF Chief had stated in October 2019 that the IAF would be looking to indigenous platforms like the Tejas and the Advanced Medium Combat Aircraft (AMCA) to meet the requirements of its squadron numbers as well as modernise its inventory with fourth generation plus and fifth generation aircraft. The IAF has decided to invest more on the twin-engine AMCA fifth-generation fighter - inducting 100 x AMCA to form four squadrons. It is quite apparent that the Tejas procurement and the 114 fighter procurement will be pursued parallel to each other. Time schedule of their induction into the IAF will be critical. So the question is what is the threat evaluation and in what time frame? With the current India-China standoff in Eastern Ladakh, our media is focused on difficulty of Chinese fighter-bombers operating at those height despite China developing and modernising airfields in Tibet. But a senior IAF veteran says, "Already you are going to have serious problems utilising in Ladakh. Like the Pakistan Air Force in 1971, the IAF will need to go into preservation mode." Yes, the Rafale are coming but what about the depleting strength of IAF that reduces its efficacy as a "threat in being?" It would be naïve to think China will stop viewing India as enemy and US ally in the foreseeable future.
R Madhavan CMD HAL presenting the aircraft documents of the Tejas FOC version to the Chief of the Air Staff Air Chief Marshal R.K.S. Bhadauria during the induction ceremony.
No doubt 'Make in India' under strategic partnership is ideal but other than HAL, no private industry has experience in aircraft manufacture. The procurement of 114 x medium-weight multirole fighters with transfer of technology (ToT) will reportedly cost about $17 billion. Several Indian companies have expressed interest in participating in the programme. These include Tata Advanced Systems, Adani Defence, Reliance Defence, Mahindra Defence and Bharat Forge Limited. Reliance Defence has created a joint venture (JV) with Dassault Aviation of France, which currently manufactures components for Rafale fighters. Tata Advanced Systems has teamed with America's Lockheed Martin that produces the F-35 Joint Strike Fighter. Adani Defence has announced a joint arrangement Sweden's Saab AB, which makes Gripen fighter jets. Earlier companies that had responded to IAF's request for information (RFI) for the 114 fighters issued in June 2018 included Boeing, Lockheed Martin, Dassault Aviation, Saab AB, Airbus Defence and Space, Russian Aircraft Corporation, and Sukhoi Company. Since the IAF plans to induct all 114 multirole fighters within 12 years after the contract is awarded, it will have to be assessed whether all these can be produced indigenously in that time from or part inducted in ready form – depending on the threat evaluation. Take the current aggressive posture of China because of which the US has had to rush some MH-60 Romeo helicopters in service with US Navy to India as part of deal India made to buy 24 x MH-60R helicopters. Concurrently, it would be prudent to increase the number of production lines of LCA Tejas.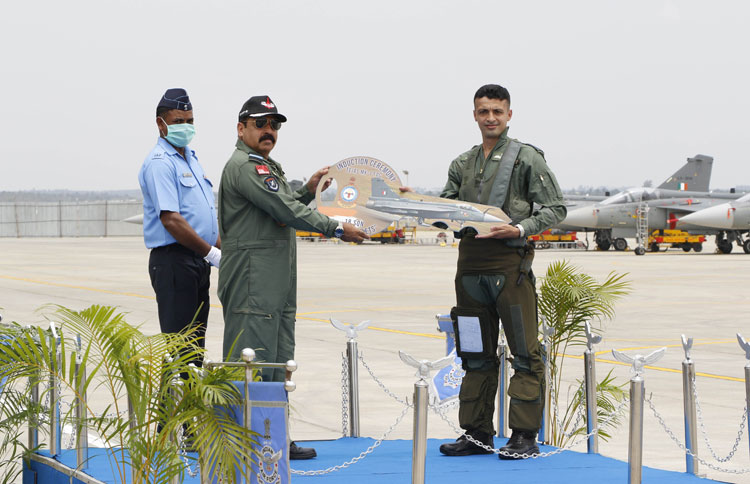 Chief of the Air Staff Air Chief Marshal R.K.S. Bhadauria handing over the ceremonial keys of the unit to the Commanding Officer of 18 Squadron Group Captain Manish Tolani, during the induction ceremony.