| | |
| --- | --- |
| | The Author is Former Director General of Information Systems and A Special Forces Veteran, Indian Army |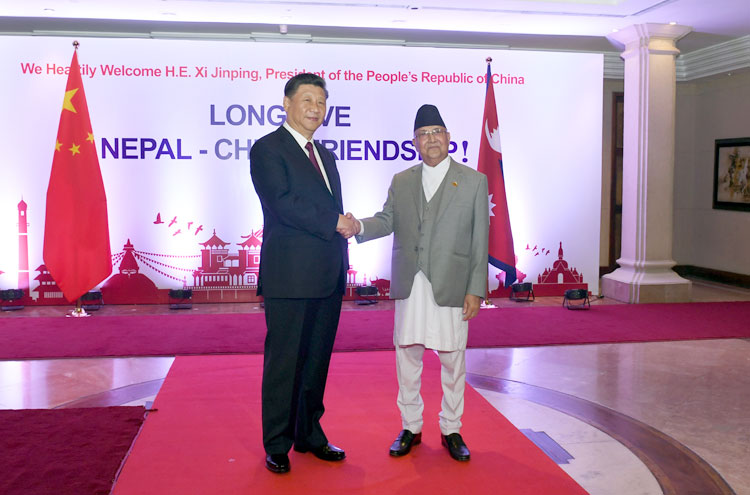 President of the Peopleís Republic of China His Excellency Xi Jinping Official Nepal Visit October 12th and 13th 2019
On June 13, Nepalís Parliament unanimously passed a new map that shows Lipulekh, Kalapani and Limpiyadhura areas (totaling about 370 sq km) in its territory. Prime Minister K.P. Sharma Oli took this arbitrary decision without discussing the boundary issue with India. By doing so, Oli foreclosed the options to discuss the issue with India in the near future and resolve the issue, which perhaps is by design. India rejected the Nepalese claim by saying, ďThis artificial enlargement of claims is not tenable since it is not based on historical facts or evidence and it is also violative of the current understanding to hold talks on outstanding boundary issues.Ē
Prior to the bill being introduced in Parliament, Nepalís Foreign Minister Pradeep Gyawali went about saying that Nepal had been requesting India for talks on the border issue but there was no response. But it has now emerged that Gyawali was lying. A top foreign ministry source in Kathmandu told media that a week before Gyawali made such claim India had made a clear-cut offer of a foreign secretary-level phone call; to be followed by a video conference between the two foreign secretaries and then, a visit of Nepalís foreign secretary to India to discuss the boundary issue. MEA sources in New Delhi too confirmed that this offer was available with Gyawali and Prime Minister Oli even before the constitution amendment bill was tabled. Nepalís foreign ministry sources confirm that Oli seemed disinterested in Indiaís offer. For reasons best known to him, he was neither ready to halt nor take a step back on the constitutional amendment despite knowing that the constitutional amendment is viewed by India as an irrevocable step which predetermines the outcome of any future negotiations. Lipulekh, Kalapani and Limpiyadhura are in Uttarakhand, under Indiaís control, over the past six decades. Persons in these areas are Indian citizens; they pay taxes in India and vote in Indian elections. India also has posts in Kalapani since 1962. As per the Treaty of Sugauli 1815, the boundary between the two countries runs along the Kali Nadhi, (also known as, ĎKali Gangaí) which originates from the Lipu Lekh Pass and is to the East of Kala Pani. Whereas Nepal takes the boundary to be aligned along the tributary of Kali Nadhi which starts from Linkia Bhura in Uttarakhand and passes through Kala Pani, which is on the route to the Lipu Lekh Pass. Along this route, India always had a border post at Kala Pani.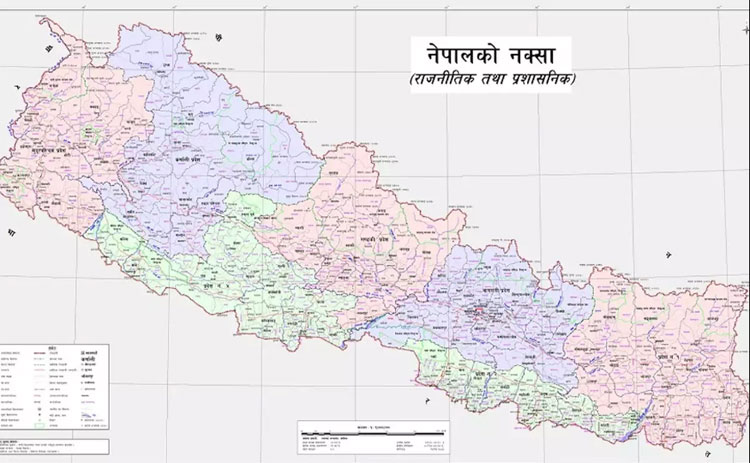 New Map of Nepal passed by their Parliament
Nepalís Prime Minister asserts that he will take this area back from India. Coinciding with the India-China standoff in Ladakh, Nepalís action has Chinese signatures though Nepal denies it. China has considerable influence over the two major communist parties in Nepal - Unified Marxist-Leninist and Communist Party of Nepal (Maoist Centre). Prime Minister K.P. Sharma Oli was under pressure because he had to withdraw two ordinances he wanted passed due to stiff opposition. But pushing through the new map supported by Nepali Congress, Oli is firmly back in command and is giving statements averse to India. Nepal has commenced deploying armed police in its posts along the border with India. The border being open, there is free movement to meet relatives on the other side. In a recent incident, Nepalese police opened fire on a group of Indians killing one and injuring two inside Nepal. The 39th battalion of Sashastra Seema Bal (SSB) that covers 62.9 km of the Indo-Nepal border has recently raised the issue of a number of missing pillars that demarcate the India-Nepal border and encroachment. Concurrent to Nepalís new map, leaders of Nepalís considerable Madhesis population have revived their demand seeking constitutional amendment for equal opportunity and representation in government. Nepal witnessed three Madhesi movements in 2007, 2008 and 2015. 2015-2016 saw considerable violence due to the strife between Kathmandu and the Terai region which hosts about half the Nepalese population. Nepal blamed India for blockading India-Nepal border that caused considerable hardships although Prime Minister Narendra Modi, first Indian PM visiting Nepal in 17 years in 2014 had stated that India would treat Nepal as an integrated whole of both mountain and plains parts. Whether Oli will agree to demands of Madhesis is questionable. But if not met, it can trigger another wave of Madhesi agitation, for which Oli will likely blame India. Instability in Terai region which borders India will have cross border impact also.
China has made all out efforts to draw Nepal into its strategic sphere and has caused anti-India feelings. Chinaís aggressive stance post release of the virus from Wuhan can influence Nepalís behavior towards India. Recently China has announced that it will pay for staff teaching Manadarin in Nepalese schools and Nepalese government has welcomed introduction of Manadarin in its schools. Naturally, China would provide the teachers who would be well versed to psych the children and infuse anti-India feelings in the upcoming generation.