| | |
| --- | --- |
| | The Author is Former Director General of Information Systems and A Special Forces Veteran, Indian Army |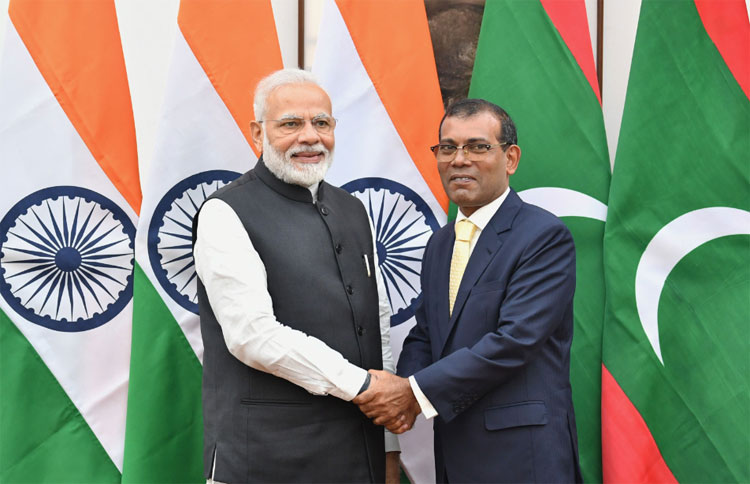 THE SPEAKER OF PEOPLE'S MAJLIS, THE PARLIAMENT OF MALDIVES MOHAMED NASHEED CALLING ON THE PRIME MINISTER NARENDRA MODI, IN NEW DELHI ON DECEMBER 13, 2019.
Located about 600 km off the southwest coast of India and 750 km southwest of Sri Lanka, Maldives consists of a double chain of 26 atolls spread over 90,000 sq km of territory. With a population of 3,40,000 people and 1,192 islands located on major East-West shipping lanes its geostrategic value lies in its location astride three of the most important Sea Lanes of Communication (SLOCs) through which most of India's trade and oil requirements pass, apart from its close proximity to India and Sri Lanka. Maldives has been facing the problem of radicalisation with many youth joining the Islamic State, presence of Al Qaeda, Lashkar-e-Taiba (LeT) in Maldives and youth going to Pakistan for terrorist training under tutelage of Pakistan's ISI and LeT.
During the regime of President Abdulla Yameen from 2013 to 2018, Maldives slipped into the clutches of China; Maldives borrowed billions of dollars from Beijing and hired Chinese firms for infrastructure projects. In 2019, Yameen was convicted of money laundering and sentenced to five years in prison after facing allegations of awarding contracts including four major bridges connecting Male to island of Hulhumale and extension of the international airport to Chinese companies on inflated prices. With installation of the new government under President Ibrahim Mohamed Solih in November 2019, Maldives took stock of how much Maldives had regressed in China's debt trap. India-Maldives relations have improved since then. Presently, Maldives too is battling the China Virus with the pandemic having infected 5,300 and has claimed 21 lives. Moreover, tourism has taken a battering which is the main industry of Maldives.
INDIAN FOREIGN MINISTER HAVING A WARM AND FRUITFUL DISCUSSION WITH FOREIGN MINISTER ABDULLA SHAHID OF MALDIVES.
India and Maldives held a bilateral dialogue at Foreign Ministers level on August 13 through video conferencing. India has pledged massive investments for development projects in Maldives including a $500 million Greater Male Connectivity Project (GMCP) billed as the largest ever infrastructure project in the country. Both foreign ministers confirmed the new investment (grant of $100 million and new line of credit of $400 million) was part of a financial package to build bridges and causeways linking the capital Male to three neighbouring islets. Maldives Foreign Minister Abdulla Shahid said in a statement that once completed, the project will be the single largest infrastructure in Maldives. In totality, the GMCP will be more than three times longer than the $200 million China-Maldives Friendship Bridge completed during the Abdulla Yameen regime which has since been renamed 'Sinamale Bridge'. Foreign Minister Shahid also said that during the talks, his counterpart pledged $250 million to meet urgent needs and support efforts to contain the spread of the pandemic. Media quoted an Indian diplomat saying after the bilateral talks via video conferencing, "There has been a reset in our relations. In the last one and a half years, President Solih and his government have acted on its 'India First' policy in real earnest. In line with its 'Neighbourhood First' policy, India has worked proactively to deepen its ties with the Maldives". External Affairs Minister S. Jaishankar tweeted, "Warm and fruitful discussion with FM@abdulla_shahid of Maldives. Agreed that COVID-19 pandemic has brought the two nations even closer. We will be reliable partners in meeting both aspirations and challenges".
China's debt-trap policy has attracted concerns from around the world including the West. China has been systematically saddling countries of Asia and beyond with unsustainable debts while expanding its sphere of influence by extracting repayments in financial as well as strategic terms. China is also using this strategy to beef up its 'string of pearls' around India in order to limit India strategically. Maldives remains in the crosshairs of China who wants to subsume it as a focal point in its Belt and Road Initiative (BRI). The Chinese dragon is therefore lurking in the shadows looking for more opportunities.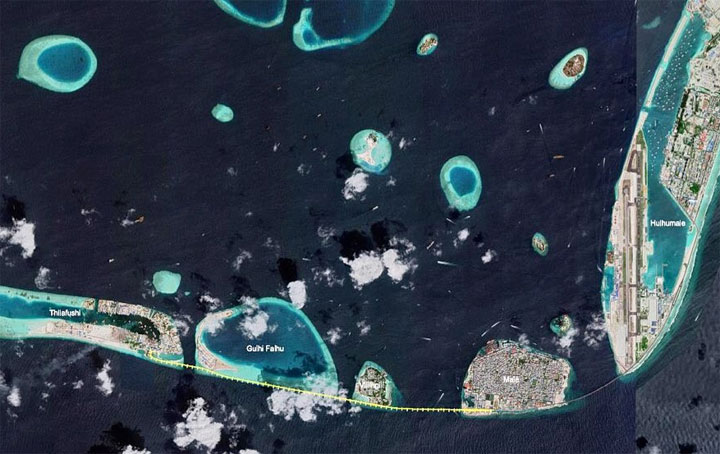 INDIA WILL FUND THIS 6.7 KM BRIDGE PROJECT CONNECTING MALE WITH GULHIFALHU PORT & THILAFUSHI INDUSTRIAL ZONE THAT WILL HELP REVITALISE AND TRANSFORM MALDIVIAN ECONOMY.
Visiting India in December 2019, Mohamed Nasheed, Speaker of the People's Majlis of Maldives disclosed that Maldives owed China a whopping $3.5 billion in loans; according to China, the loan was $1.5 billion but that was only the government-to-government loan. Once the private loans and sovereign guarantees are also factored in, the amount is $3.5 billion. Nasheed said GDP of Maldives is about $5 billion but in 2022, the country will have to pay China $700 million. He also added that the Free Trade Agreement (FTA) which the previous Yameen government had agreed to with China couldn't possible go ahead, saying, "We have no trade balance with China. How can an FTA be in our favour then?" He noted that unless South Asia was careful, China would become the new imperial power, saying, "Already, without firing a single shot, it (China) has grabbed more land than the East India Company did. South Asia should not go the way it did in the 18th century." Very aptly he said that the Chinese debt trap wasn't just an economic issue but also a human rights one; it is also an issue of sovereignty and freedom. The fact remains that the world has to collectively act against China's debt trap policy, which is not very different from expanding its reservoir of bonded labour.