| | |
| --- | --- |
| | The Author is Former Director General of Information Systems and A Special Forces Veteran, Indian Army |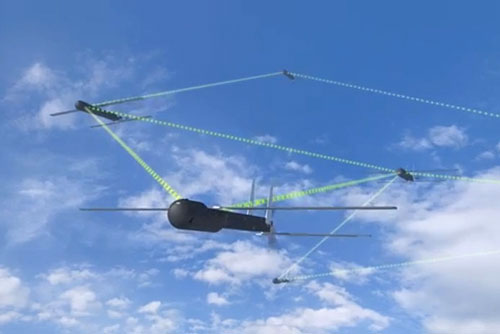 Raytheon Technologies' small, tube-launched Coyote UAS is equipped with special software that enables several to work together by flying as a swarm
It was reported in these columns that the Defence Research and Development Organisation (DRDO) has provided 'Bharat' surveillance drones' produces by the Chandigarh-based Terminal Ballistics Research Laboratory (TBRL) to the troops engaged in a standoff with China in Eastern Ladakh. The production capacity is not known but the requirement will be considerable since the entire length of Line of Actual Control has been activated. It was also reported that the Army wants the Israeli Heron UAVs to be armed with lasers, for which the Ministry of Defence (MoD) has set up a committee.
In terms of drones, the DRDO till now has to its credit the Pilotless Target Aircraft (PTA) 'Lakshya' and Multi-Mission Unmanned Aerial Vehicle (UAV) 'Nishant'. Though not introduced in service, Aerial Development Establishment (ADE) of the DRDO in conjunction National Aerospace Laboratories (NAL) under the Council of Scientific and Industrial Research (CSIR) has also reportedly developed Micro Aerial Vehicles (MAVs) and UAVs. These aerial vehicles have an endurance of 20 minutes to one hour. Three MAVs namely Black Kite, Golden Hawk and Pushpak have been designed and developed. These are fully autonomous air vehicles. Two variants of 2 Kg class FWMUAV have also been developed – 'Imperial Eagle' and 'Slybird'. A gimbaled payload provides ISR information and a video tracking system ensures continuous ISR information during the flight and a Ground Control Station controls the entire mission from launch to recovery. An image processing system provides the processed data in near real time for taking action on available ISR information. Imperial Eagle and Slybird are reportedly in the same class as the RQ-11 Raven UAV of the US.

(left to right): IMPERIAL EAGLE AND SLYBIRD DEVELOPED BY INDIAN DEFENCE ESTABLISHMENT.
China has been producing some 1000 drones on an average, on daily basis, and is years ahead of India, which too has been covered in these columns over past years. Ironically, we appear to have woken up because of the Chinese aggression in Eastern Ladakh. Not only does China's massive drone production capability and technological advancements have provided the Peoples Liberation Army (PLA) with variety of multipurpose drones, China has been competing for world record in swarm drones. In December 2017, China set its own record at Guangzhou; demonstrating 1,108 drones operating together and performing variety of tasks. This record was overtaken by the technical giant, Intel, by launching a swarm of 1200 drones during the Pyeongchang Winter Olympics 2018 held in South Korea during February 2018. But China overtook that record soon by flying a swarm of 1374 drones during Labour Day celebrations at Xian on May 1, 2018. China displayed a 'military' drone swarm of 119 drones in August 2017, breaking the US record of 103 drones in the same year. PLA envisages using drone swarms even against US fighter jets, naval vessels and even aircraft carriers. China also successfully carried out tests in 2017 for launching drones using electromagnetic pulse (EMP), wherein the drones reached speeds of 100 km/hr within few moments of launch and autonomously adjusted their trajectory and their altitudes as they streamed towards the target. This is something that both the Indian Army and the Indian Navy should be prepared for – Army in the current standoff itself. China can also pose such threat in conjunction with Pakistan. In December 2018, the Adani Group and Israel's Elbit Systems have opened a unit in Hyderabad to develop Hermes 900 and Hermes 480 medium altitude long-endurance UAVs for the Indian and global market but China and the world are moving at a much faster pace.
As per news of August 28, 2020, both China and the US are leading in developing super-swarm drones with destruction power equivalent to weapons of mass destruction. According to one expert at the US Naval Postgraduate School large-scale adversarial swarms are already an imminent threat and stopping a swarm is not simply a matter of driving enough missiles or bullets at it but the drone swam must be outsmarted. He defines a 'Super Swarm' with large numbers and multiple modes like air, surface, and subsurface threats. The US Navy has already performed offensive swarm operations with its LOCUST drone swarm developed by Raytheon. Another expert says, "A swarm with 10,000 or more drones must have extremely high levels of autonomy. No human being could handle the amount of information necessary to make decisions". According to Raytheon, LOCUST drone swarm imply dozens of small unmanned aircraft systems flying together, filling the sky with some collecting information, some identifying ground targets while others might attack the same targets. Importantly, if swarming algorithms are developed it would allow the drones to control itself and hence much larger number can be used increasing its lethality.
The US sees the biggest challenge comes from China who is developing swarming capability as a means of asymmetric warfare, to counterpoise the US advantage in aircraft carriers. Last year, satellite images posted on the Chinese internet displayed a lineup of several drones including the Sharp Sword stealth drone and the Wing Loong Reaper. There maybe calls for global norms and treaties to be established for swarm drones but China is a rogue that has no respect for global norms, treaties and conventions. David Hambling, author of 'Swarm Troopers: How small drones will conquer the world' writes that such a swarm can be defeated by taking advantage of its internal rules – if these can be figured out; for example, an entire swarm whose members all have a collision-avoidance rule can be 'herded' by a few outsider drones or may be fooled into running into each other. If the members of the swarm are all programmed to attack what they see as the highest-value target in range, then they can all be decoyed into attacking the same dummy. It is imperative for India to take note of such developments and prepare swarm drone and counter swarm drone capabilities.