| | |
| --- | --- |
| | The Author is Former Director General of Information Systems and A Special Forces Veteran, Indian Army |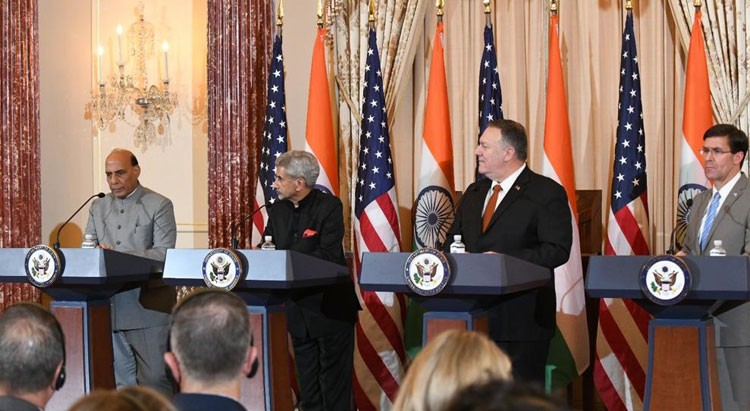 (FROM LEFT TO RIGHT) INDIAN DEFENCE MINISTER RAJNATH SINGH ADDRESSING THE JOINT PRESS CONFERENCE AFTER THE CONCLUSION OF INDIA-US 2+2 DIALOGUE, IN WASHINGTON ON DECEMBER 18, 2019. EXTERNAL AFFAIRS MINISTER S. JAISHANKAR, US SECRETARY OF STATE MICHAEL POMPEO AND US SECRETARY OF DEFENSE MARK ESPER ARE ALSO SEEN.
The 2020 India-US 2+2 formal dialogue between foreign and defence ministries is likely to take place later this month after External Affairs Minister S. Jaishankar is back from Russia after attending the SCO foreign ministers meet on September 10. This round of the 2+2 talks will be led by External Affairs Minister S. Jaishankar and Defence Minister Rajnath Singh from the Indian side, while the US will be represented by Secretary of State Mike Pompeo and Defence Secretary Mark Esper. During this round which will be held through video conferencing, both sides are likely to ink or at least 'finalise' the Basic Exchange and Cooperation Agreement (BECA) which is last of the foundational pacts that US wanted India to sign. BECA will enable India to avail US expertise on geospatial intelligence and sharpen the accuracy of weapons and automated hardware systems used for military purposes.
The draft BECA agreement was reportedly readied in Washington in March this year and the 2+2 dialogue has been in the making since July but has got delayed due to the onslaught of China Virus that both nations are battling. India and the US have already signed the key US foundational pacts of General Security Of Military Information Agreement (GSOMIA) in 2002, Logistics Exchange Memorandum Agreement (LEMOA) in 2016 and Communications Compatibility and Security Arrangement (COMCASA) in 2018. During the last 2+2 meeting, which was held in Washington DC during December 2019, both sides signed the Industrial Security Annex (ISA) to the India-US General Security of Military Information Agreement (GSOMIA) that eased transfer of high-level technology from the US to India and safeguarding of classified military information. The ISA also seeks to ease participation of American defence firms in 'Make in India' projects via the India-US Defence Technology and Trade Initiative (DTTI) that was established in 2012. The 2020 India-US 2+2 Dialogue holds special significance amidst the ongoing standoff between India and China in Eastern Ladakh and Chinese mobilisation along the entire Line of Actual Control (LAC). In addition is the aggressive Chinese moves in East China Sea (ESC) and South China Sea (SCS), massive naval maneuvers, aggressive posture against Taiwan and ruthless actions in Hong Kong aside from continuing genocide in Xinjiang and Tibet and economic intimidation and exploitation of multiple nations battling China Virus that Beijing apparently released by design rather than default.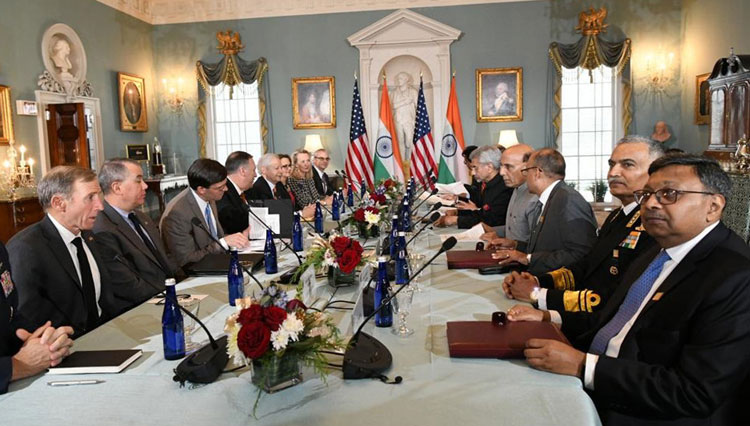 INDIAN DEFENCE RAJNATH SINGH AND EXTERNAL AFFAIRS MINISTER S. JAISHANKAR LEADING THE INDIAN DELEGATION WITH US SECRETARY OF DEFENSE MARK ESPER AND US SECRETARY OF STATE MICHAEL POMPEO HEADING THE US DELEGATION AT THE 2+2 DIALOGUE, IN WASHINGTON ON DECEMBER 18, 2019.
An important agenda for the upcoming 2+2 Dialogue will be the future course of the 'Quad' in face of the Chinese threat in the Indian Ocean which is enlarging at great speed. The Trump administration has called out China several times for the LAC incident in support of India. Pompeo recently said at a State Department briefing, "We're hoping for a peaceful resolution to the situation on the China-India border... The Chinese Communist Party is engaged in a clear and intensifying pattern of bullying its neighbors". He also expressed concern about China's call to "Sinicize" Tibetan Buddhism calling on Beijing to enter dialogue with the Dalai Lama. A just released Pentagon report says China has been using "coercive" tactics in pursuit of territorial and maritime claims in the South and East China Seas, as well as along its border with India and Bhutan, according to a Pentagon report. China has been fast expanding military and economic influence in the Indo-Pacific region, triggering concern in various countries of the region and beyond. But despite what the Trump administration and Pentagon say, there is little chance of China correcting its rogue behavior. Speaking to media recently Pompeo said that the entire world is now united against China's belligerence and its unfair practices, adding that nations like India, Australia, Japan, and South Korea are pushing back against China's expansionist policies and aggressive behaviour in the Indo-Pacific region, and that all the nations that China encompasses as political and military targets with its expansionist policies and border skirmishes, as in the case of India, have united with the US. But how well the response to China is coordinated and in what time frame will be crucial.
The 2+2 Dialogue is also being held at a time when the US presidential elections are fast approaching but the US policy against China will perforce have to be resolute in its own national interests. According to Mukesh Aghi, President and CEO of US-India Strategic Partnership Forum, "Because of China's aggression globally, including the LAC incident with India, there is now a sense of urgency between both sides (India and the US) to coordinate and bring in momentum in the defence partnership, by way of more procurement. And this momentum has to be built now. This will be the focus even for the new administration that comes in. The US now wants to align with India, and the LAC incident just accelerated that." India has procured from the US, Apache, Chinook and MH-60 Romeo Seahawk helicopters, M777 Howitzer guns, and Super Hercules C-130J military transport planes among other weapons and weapon platforms. Several other procurement are also in the pipeline, with India now keen to purchase the Medium-Altitude Long-Endurance (MALE) armed Predator-B drone and other high-tech weapons. Aside from trade deal (s), defence cooperation discussions during the 2+2 Dialogue will likely include intelligence sharing, technology transfer, 'Make in India' in defence and joint exercises. Wonder if India would propose joint exercises in Ladakh and Arunachal Pradesh – that would set Beijing's tail afire.