| | |
| --- | --- |
| | The Author is Former Director General of Information Systems and A Special Forces Veteran, Indian Army |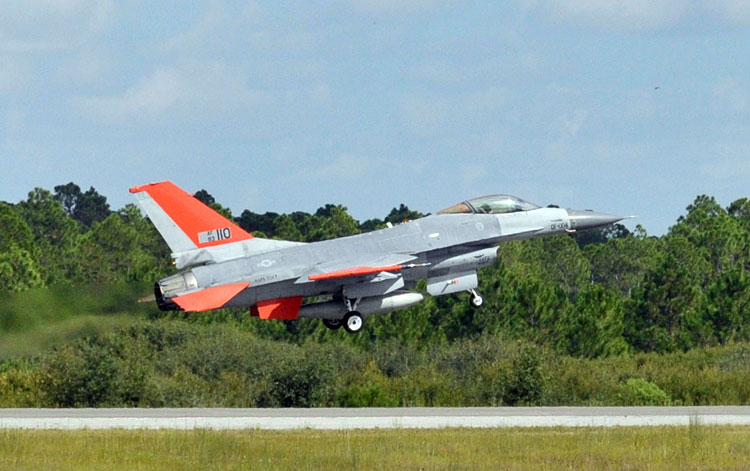 First unmanned QF-16 flight takes place
The US Air Force (USAF) is converting obsolete F-16 Fighting Falcons into drones. This is a longstanding practice in the US; to make drones out of older planes as they age out and go obsolete. The F-16 turned drones are to be uses for target practice to test new weapons including the F-35 Joint Strike Fighter. USAF was earlier using obsolete F-4 Phantoms converted into drones (QF-4) but that supply is getting dried up. Assistance has been sought from Boeing to help convert older F-16s into drones. The F-16 converted to drone is called QF-16. Boeing is to deliver 97 x QF-16s to the USAF. Each QF-16 costs about $1.32 million including the necessary research and development to develop the drone equipment. The process involves ripping out unnecessary components and replacing with 3000 wires, a flight control computer, and a new autopilot. QF-16 will also be available for export through America's Foreign Military Sales (FMS) programme as these would represent a more realistic air-to-air threat in the modern battlefield compared to the QF-4.
China's SF Express company has converted the Soviet AN-2 aircraft to a drone. The small, single-engine Antonov-2 (AN-2) biplane began its service career in 1947 and has become a civilian workhorse in many countries of the former Soviet bloc because of its reliability, virtually no requirements for ground infrastructure and accessibility. In Russia, it is best known as a maize, or "corn harvester" because of its use in agriculture. The Indian Military team participating in the Tenth International Free Fall Competition of Friendly Countries in Tula (USSR) during 1976 witnessed the AN-2s being extensively used for parachute and free fall by the Soviet population both military and non-military. Chinese manufacturers have been making copies of this aircraft since 1957, and one of them, the Shifei Y-5B, has been upgraded by the China Academy of Aerospace Electronics to enable unmanned flight. It's conversion to a drone was undertaken in 2017 and began to bear the name Feihong-98 (FH-98). Media reports in October 2018 stated that China had successfully tested the world's largest transport drone, perhaps better described as an unmanned airplane. The Feihong-98 large commercial drone is actually a piston-driven autonomous biplane. It was developed by the China Academy of Aerospace Electronics Technology and SF Express Co. Ltd. and took its first successful public flight on October 16, 2018.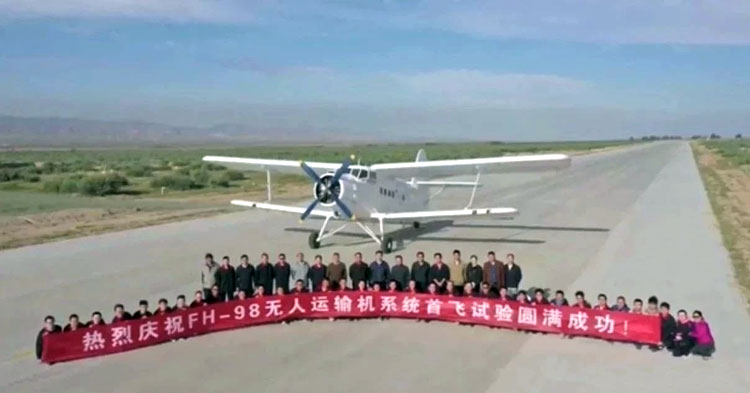 FH-98 unmanned transport aircraft
According to the report, the Feihong-98 is converted from a Y-5B, China's first home grown transport aircraft that itself is based on the Russian AN-2. According to Liu Meixuan, President of the China Academy of Aerospace Electronics Technology, the FH-98 features simple takeoff and landing, simple operation, advanced technology, and affordable cost. The FH-98 has a maximum takeoff weight of 5.25 tonnes, a maximum capacity of 1.5 tonnes and 15 cubic meters, a flight height of 4,500 meters, a cruising speed of 180 kilometers per hour, and a maximum range of 1,200 kilometers. With a takeoff and landing distance of 150-meters, FH-98 only needs a simple runway to complete takeoffs and landings. It is the world's largest transport drone. With a longer voyage capability and a larger cargo load, the drone can effectively meet the needs of logistics transportation in remote areas and complex terrain conditions. This wasn't the first flight for the Feihong-98, which reportedly had been tested earlier in August 2018 also. The Feihong-98 was built with the intent of making deliveries, since SF Express is a Chinese delivery company not dissimilar to Federal Express. But the drone/aircraft's technology could have wider applications than shipping cargo. In the future, the Feihong-98 also can be used in the transportation of emergency and disaster relief materials under complicated conditions, as well as long-distance material delivery. Although it's unlikely that the skies will be filled with Feihong-98 transport drones anytime soon, if the technology is taken further, aircraft pilots could potentially be replaced at some point in the next 20 to 30 years. For now, SF Express is planning to deploy the Feihong-98 to better accommodate not only major, but other minor aerial delivery courses and to strengthen its advantage of having an enhanced integration between its land and ground delivery coverage, and information web.
The Feihong-98 unmanned biplane is representative of China's advancing technology and its challenge to the US. Through its 'Made in China 2025' programme, China seeks to rapidly expand the high-tech sectors and develop its advanced manufacturing base irrespective of whether it causes trade issues with the US and other countries or not. According to the 'Chinese Drone Market Report 2019-2024' the global drone market will grow from $14 billion in 2018 to over $43 billion in 2024. China is currently the second largest drone market in the world, and will close the gap with US until 2024. China is home to world's biggest drone manufacturer, DJI, which holds about 70 per cent of the global drone market share. India is still struggling with the vital need of indigenous drone development with DRDO having recently commenced supplying the Army with 'Bharat' drones for surveillance for troops deployed in the India-China standoff in Eastern Ladakh. Concurrently, there is a need for examining conversion of obsolete aircraft into drones, the process and finances involved and how best these can be optimised taking into consideration the large number of aircraft that will become obsolete in coming years.