| | |
| --- | --- |
| | The Author is Former Director General of Information Systems and A Special Forces Veteran, Indian Army |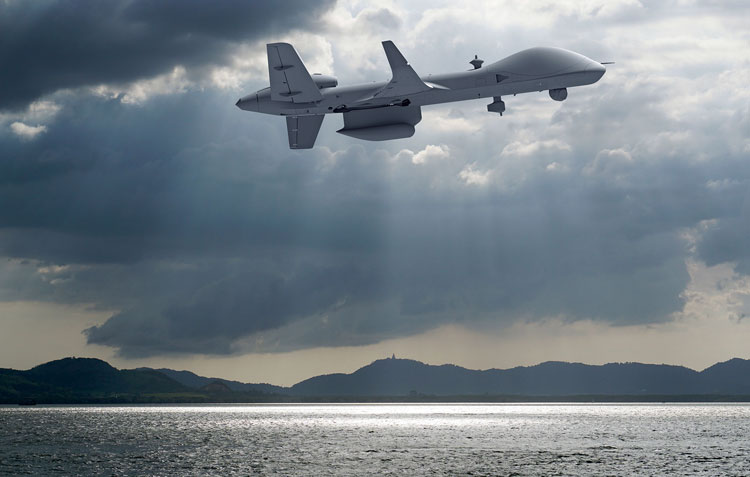 MQ-9B Sea Guardian
As China remains hostile with its state media saying China does not recognise the Union Territory of Ladakh, established "illegally" by India, India is going in for boosting its combat drones capabilities. The Army, Navy and Air Force have collectively come to the conclusion that India should opt for a weaponised drone rather than the 22 x reconnaissance and surveillance Sea Guardian drones approved in 2017 by the US administration for supply to India. India had first expressed its interest in these General Atomics armed drones in 2015, and the procurement had been in the works since then. First, it was being processed as the purchase of 22 Sea Guardians for the Indian Navy till 2017 and was later converted into an acquisition for all three services, since the requirement was the same. Since then, the United States had approved the sale of these armed drones to India. With the India-China standoff, the Services now want the MQ-9B Sea Guardian, manufactured by General Atomics, USA, which has 40-hour endurance with a maximum altitude of 40,000 feet and payload or weapon carrying capacity of over 2.5 tonnes including air-to-surface missiles and laser-guided bombs.
Going by media reports, the plan is to procuring 30 x reconnaissance and attack unmanned aerial vehicles (UAV) MQ-9B Sky Guardian. The price reportedly is $100 million per UAV but the same is under discussion. If the price remains at $100 million per UAV then the contract for 30 UAVs would come to $3 billion. The Ministry of Defence (MoD) reportedly plans to implement the contract in two stages. The first batch of 6 x MQ-9 Sky Guardian are to be purchased in the coming months, two each for operation by the Army, Navy and Air Force. The remaining 24 x MQ-9 Sky Guardian will be procured over the next three years - eight each for the three Services. Media has quoted an official from South Block (read MoD) stating on conditions of anonymity, "We are in negotiations with the Trump administration, which is willing to provide India with the latest armed drone technology. In this, it is the prohibitive cost of the system that is a hurdle, not the Trump administration." Incidentally, Indian-American Vivek Lal is the Chief Executive of General Atomics Global Corporation since January 2020.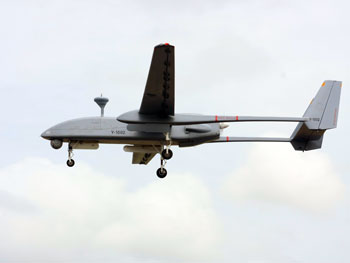 Heron UAV
Aside from the move to procure the MQ-9B Sea Guardian armed UAVs from the US, the Ministry of Defence had approved in August 2020 an upgrade programme for the Israeli Heron UAVs held by our military. India has already asked Israel to upgrade its existing Heron medium-altitude, long-endurance surveillance drone by upgrading its communication links. Presently, two Heron UAVs need to be flown in tandem with a time gap because they are not fitted with a satellite package. Without this package, information has to be relayed back to base through the second drone in case of long-range surveillance. Obviously when we acquired the Heron UAVs from Israel, the thinking was primarily for deployment against counter-terrorists and counter-infiltration operations. The type of long-range surveillance requirements that have come up with the Chinese aggression were not visualised because the requirements for offensive operations were not the focus. The upgrade sought from Israel now involves fitting the Heron drone with a satellite package so that the UAV links with the satellite above and information is sent on a real-time basis. The upgrade will allow the Heron to conduct long-range surveillance without the fear of losing contact with the base or go into no contact zone. With this upgrade in reconnaissance capabilities, the forces on the ground would also be able to get pin-point intelligence about hideouts in areas where men have to be involved in operations and enable the Armed forces' ground station handlers to operate these aircraft from far-off distances and control them through the satellite communication system. This would boost the capability to monitor enemy movement, keeping an eye on enemy locations and stations for taking action against them as and when required.
How much time it will take to upgrade the Heron UAVs held by our military is not known but presumably it will be on war footing considering the China threat.
News reports of August 2020 had also reported that amid border tension with China, the armed forces are pushing a case for arming their Heron UAVs with laser-guided bombs, precision-guided munitions and anti-tank missiles for taking out enemy positions and armoured units. The proposal, Project Cheetah, has been revived by the armed forces after being pending for a long time. Media quoted government sources stated, "Under this project, around 90 Heron drones of the three services would be upgraded to be armed with laser-guided bombs, air to ground and air-launched anti-tank guided missiles." These requirements projected by the Armed Forces were to be examined by a committee led by the Defence Secretary. Hopefully an early decision will be taken in this regard.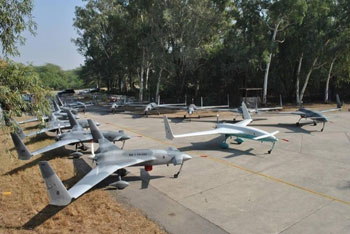 Burraq Drone
China has formidable capability of all type of drones and has also been practicing use of swarm drones in recent years while India is lagging far behind in this regard. China is exporting drones to Pakistan and is helping Pakistan develop indigenous drones like the 'Burraq' unarmed combat aerial vehicle (UCAV) developed by the National Engineering and Scientific Commission (NESCOM) in conjunction Pakistani air force. Satellite imagery has been picking up Chinese UCAVs parked in Pakistani airfields. In case of a two-front war, the combat drone threat from Pakistan could even include Chinese drones operated by Chinese ground controllers given the evil nexus between the two countries and presence of PLA in Pakistan and Pakistan occupied Kashmir (POK). India has to be prepared against such threats. The Defence Research and Development Organisation (DRDO) so far has provided the 'Bharat' surveillance drones to the Army for border surveillance, which presently may be barely meeting the operational requirements in Eastern Ladakh. Understandably, other drone programmes in DRDO are ongoing but these need to be speeded up. Considering the Chinese concept of swarm drones, we also require requisite number of anti-drone capability. Finally, considering the length of our borders with China and Pakistan, enemy capabilities and little hope of peace as indicated by China's behaviour, we must aim for indigenous development under 'Make in India' to meet our combat drones requirements.