| | |
| --- | --- |
| | The Author is Former Director General of Information Systems and A Special Forces Veteran, Indian Army |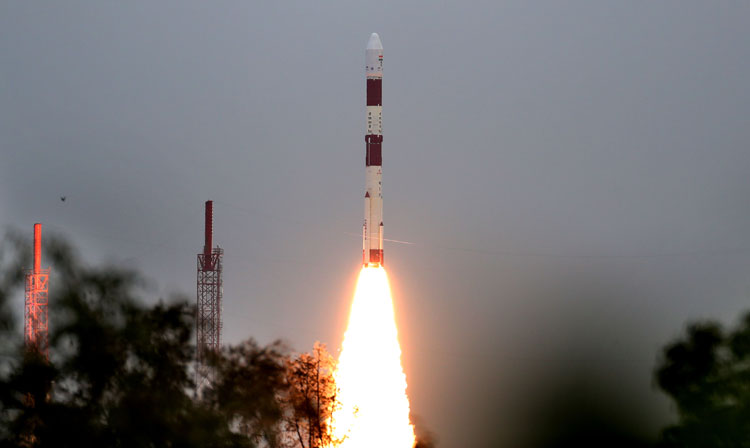 PSLV successfully launches EOS-01 and nine customer satellites from Sriharikota
On November 7, 2020, military satellite EOS-01 was launched into space from Satish Dhawan Space Centre (SDSC) SHAR, Sriharikota along with nine international customer satellites. These satellites were carried on board India's Polar Satellite Launch Vehicle (PSLV) in its fifty first flight - PSLV-C49. For PSLV-C49 it was the second flight in 'DL' configuration with two solid strap-on motors. EOS-01 is an earth observation satellite. The nine customer satellites included one from Lithuania add four each from Luxembourg and USA launched under a commercial arrangement with NewSpace India Limited (NSIL).
NSIL is a Central Public Sector Enterprise of Government of India and the commercial arm of ISRO. It was established on March 6, 2019 under the administrative control of Department of Space and the Company Act 2013. Objectives of NSIL include: transfer of small satellite technology to industry - NSIL will obtain license from Department of Space (DOS)/ISRO and sub-license the same to Industry; manufacture of Small Satellite Launch Vehicle (SSLV) in collaboration with private sector; production of PSLV through Indian Industry; production and marketing of space-based products and services, including launch and application; transfer of technology (ToT) developed by ISRO Centres and constituent units of DOS, and; marketing of spin-off technologies and products/services, both in India and abroad.
PSLV-C49 lifted-off at 15.11 hours (IST) on November 7 and after 15 minutes and 20 seconds, EOS-01 was successfully injected into its orbit. Subsequently, nine commercial satellites were injected into their intended orbits. After separation, the two solar arrays of EOS-01 were deployed automatically and the ISRO Telemetry Tracking and Command Network at Bengaluru assumed control of the satellite, which in coming days would bring EOS-01 to its final operational configuration.
India was late in acknowledging the need for military satellites though the Technology Experimental Satellite (TES) launched in October, 2001 had onboard panchromatic camera capable of producing images of one meter resolution – the type of lower resolution required by the military. On June 10, 2008, the then Defence Minister announced the formation of an Integrated Space Cell under the aegis of Headquarters Integrated Defence Staff (IDS) to facilitate integration among the Armed Forces, DOS and ISRO. It was to be operated jointly by the military, DRDO and ISRO. In the absence of a Space Command and Space Force, India was generally focused on use of space technology for dual-use, not military requirements per se.
PSLV successfully launches EOS-01 and nine customer satellites from Sriharikota
Over the years, few satellites partially catered to military needs though images of old Radar Imaging Satellite (RISAT) satellites were used to plan the 'surgical strikes' in retaliation to the Pakistan-sponsored terrorist strike at the Army camp at Uri and the air strike at the Jaish-e-Mohammad camp in Balakot, Pakistan in response to the Pakistan-sponsored car bombing of a CRPF convoy at Pulwama. RISAT-2 having synthetic aperture radar (SAR) purchased from Israel Aerospace Industries (IAI) had day-night, all-weather monitoring capability and resolution of one meter. It has come to end of its service life while RISAT-1 was destroyed by space debris in 2017. The focus mainly remained on covering the border with Pakistan to check infiltration and Chinese naval activity in the India Ocean.
ISRO has launched 118 satellites since 1975. In February 2017, a new record was created by launching 104 satellites in one go albeit only three of these were Indian satellites. As for satellites with better military applications, in early 2019 ISRO launched two surveillance satellites for DRDO, one of which was used as a target for India's anti-satellite (ASAT) test. Thereafter, four new series RISAT satellites and an advanced CARTOSAT-3 satellite were launched. ISRO Chairman K. Sivan had told media, "We are targeting to launch 33 missions… this year. In middle of May, PSLV-C47 rocket will launch RISAT-2B….in June, PSLV-C47 will launch CARTOSAT-3. CARTOSAT-3 is advanced version with capability to zoom up to resolution of 0.2 meter (20 cm), which is considered the best in the world. RISAT-2BR1 will be launched in July, RISAT-2BR2 in October and RISAT-1A in November". RISAT-2B series is a lighter version of spy satellites with X-band synthetic aperture radar that can penetrate clouds and zoom up to a resolution of one meter.
On November 27, 2019, the PSLV placed 13 Nano-satellites from the US plus an Indian Earth Observation Satellite 'CARTOSAT-3' in orbit. CARTOSAT-3 aimed at earth observation to assist with infrastructure and coastal development. However, its 25cm resolution was also of use to Armed Forces. Presently, India has about 15 operational satellites dedicated to remote sensing, making the Indian Remote Sensing (IRS) series the largest civilian remote sensing constellation in orbit. IRS satellites provide data in a variety of spatial, spectral and temporal resolutions, some having a spatial resolution of one meter or below which has military applications. The new RISAT series can operate in different modes including Very High-Resolution RADAR imaging modes of 1m × 0.5m resolution and 0.5m × 0.3m resolution gathering images during day-night and all weather conditions.
CARTOSAT satellites are advanced earth observation satellites which will replace the IRS series. CARTOSAT-3 has a panchromatic resolution of 0.25 meters making it the imaging satellite with highest resolution in the world and Mx of one meter with a high quality resolution which is a major improvement from the previous payloads in the CARTOSAT series. With a planned mission life of five years, CARTOSAT-3 is lighter than CAEROSAT-2 by 60 per cent. Its features include the use of adaptive optics, acousto-optical devices, in-orbit focusing using MEMs and large area-light weight mirrors and advanced sense with a high quality resolution. In addition to weather mapping and cartography, it has great military and strategic applications.
The surprise achieved by PLA during the recent Chinese aggression in Ladakh indicates that we need to focus much more on the China-Pakistan threat, not mere infiltration of Pakistani terrorists through the Line of Control (LoC). The threat of surprise Chinese intrusions and drones has been added to that of enemy missiles. Dedicated early warning satellites to alert the military is need of the hour.