Cirrus Aircraft is a global leader in personal aviation creating the best-selling single engine piston range of aircraft and the world's first single engine personal jet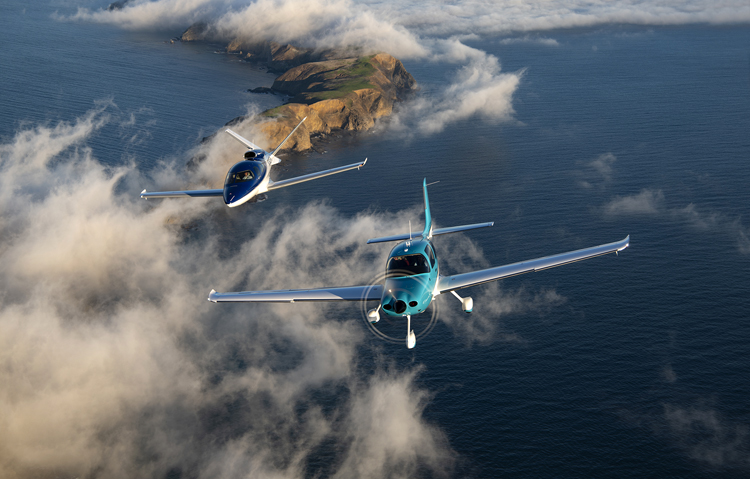 SR22T (Front) and Vision Jet (Back)
Since 1984, Cirrus Aircraft's mission has been to deliver an aviation experience that is the pinnacle of innovation, quality, and safety for customers. Cirrus Aircraft is a global leader in personal aviation creating the best-selling single engine piston range of aircraft and the world's first single engine personal jet, the Vision Jet, with each aircraft having the amazing feature of a whole aircraft parachute safety system.
The SR Series single engine piston aircraft, now in its sixth generation with over 8,000 aircraft delivered, is the best-selling, high-performance piston aircraft for 19 years in a row and provides seamless luxury, connectivity, and unparalleled safety features and workload reduction.
The SR Series single engine piston aircraft, in its sixth generation, has over 8,000 aircraft delivered
Comfortable Cabin with Lifestyle Features: The cabin seamlessly integrates luxury, style, technology and comfort with automobile-inspired ergonomics, performance seats and lifestyle conveniences throughout.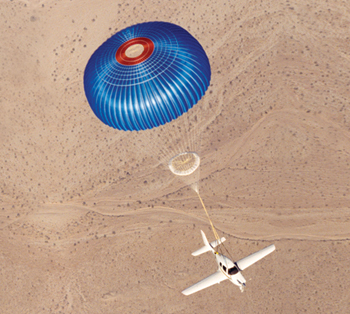 Cirrus Airframe Parachute System (CAPS)
Unparalleled Safety: Innovative systems, including Electronic Stability & Protection (ESP) and the Cirrus Airframe Parachute System® (CAPS®), provide a wide array of protective layers for passengers and pilot.
Technology and Automation: Every aircraft features integrated safety systems that are constantly working passively in the background to assist and alert the pilot without distracting or degrading the flight experience.
Intelligent Flight Deck: Cirrus Perspective+™ by Garmin® offers pilots an intuitive flight deck which integrates all aircraft system information and external data into a user-friendly interface for maximum situational awareness and pilot workload reduction.
Personalization: Cirrus owners possess an unparalleled appreciation for quality and performance. Our exclusive Xi Design Studio takes you one step further, giving you direct access to our design team to tailor your aircraft all the way down to the stitch in the seats.
The Vision Jet is the world's first single-engine personal jet
Premium Packages: Upgrade to our essential list of premium features, conveniently offered in a single package that includes: Digital 4-in-1 Standby Instrument, Dual 12-inch Display Screens, Active Traffic, Remote Keyless Entry, Ambient Convenience Lighting and Premium Design Suites with a host of bold interior and exterior design options.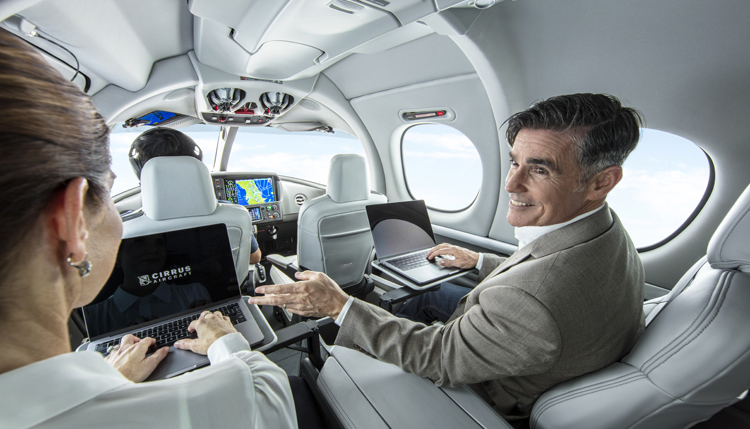 Vision Jet Interior
The SR Series range consists of the SR20, SR22 and SR22T,and are the perfect platform to gain flying experience in preparation for the next step, the Vision Jet.
The Vision Jet is the world's first single-engine personal jet, excelling in performance, while being simple to fly and easy to own and operate. The Vision Jet makes jet speed, jet comfort and jet convenience accessible.
When you join the Cirrus Aircraft family, you are choosing a whole new lifestyle, be it to accelerate your business or enjoy spontaneous adventures.
Discover how personal aviation can transform your life. Whether you're new to flying, a seasoned pilot or hiring a pilot, begin your Cirrus Aircraft journey now!