We're reaching out to the Indian high-tech sector and have announced partnership with Indian companies
By Dr. Vivek Lall,
Chief Executive, General Atomics Global Corporation
Aero India is a great time to assess where we are as an aerospace industry. General Atomics (GA), the world's leading supplier of advanced remotely piloted aircraft, is pleased to become an integral part of the emerging and vital Indian aerospace sector.
For more than two years, GA has worked directly with India's air defence by providing our MQ-9A Remotely Piloted Aircraft (RPA) on lease to India's Navy. We recently announced the completion of 10,000 flight hours in support of National Security missions for India.
The 10,000-flight hour mark was achieved by two MQ-9As operated by the Indian Navy over the two-year period, with the maiden flight of MQ-9A taking place on November 21, 2020.
The Indian Armed Forces have been impressed by the MQ-9A's over-the-horizon Intelligence, Surveillance Reconnaissance (ISR) support for surface units and Indian warships, as well as the exceptional endurance and operational availability of the platform. The MQ-9As have helped the Indian Navy cover over 14 million square miles of operating area.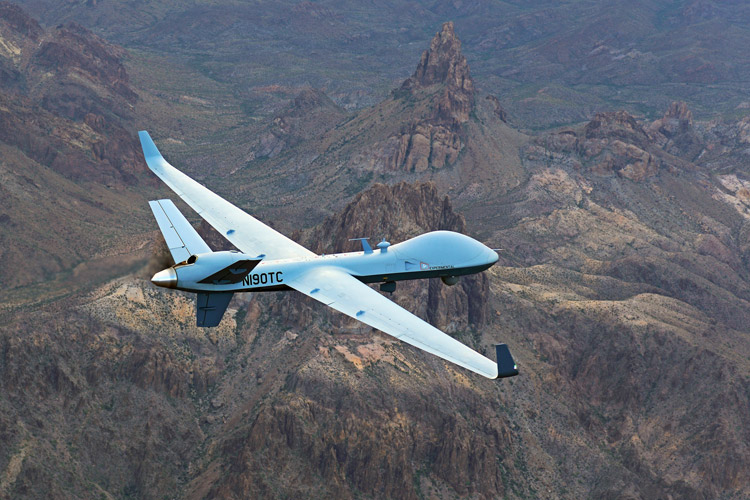 MQ-9B SkyGuardian
The MQ-9As are supplied to India by GA as part of a Company-Owned, Company-Operated (COCO) lease agreement.
But as we know, India's security needs require a much broader solution, so we continue to work with India defence on the procurement of GA's enhanced RPA, the MQ-9B. MQ-9B SkyGuardian and SeaGuardian models deliver even greater performance than MQ-9A.
That is partly because the aircraft itself is different. It's larger, able to fly for longer duration, over longer distances, and it's equipped with next generation systems. General Atomics Aeronautical Systems is boosting the platform further with some of the most advanced support software and systems available today. This is what differentiates our team and our aircraft.
GA doesn't only build the finest multi-mission, long endurance unmanned aircraft in the world. It also develops everything that is needed to maximise the use of the platform for our customers.
As we continue to build our support network within India, we're also reaching out to the Indian high-tech sector. In the last six months alone, we have announced partnership with Indian companies like Bharat Forge Aerospace, 114ai and 3rdiTech.
Not only do these partnerships enhance our aircraft, but they also support India's Atmanirbhar initiative, which will continue to drive India's aerospace industry to new heights.
Which is all to say: the state of our aerospace industry is strong, and I can't wait to see what the future will bring.