The recent visit of Defence Minister Rajnath Singh to France has elevated Indo-French defence relations to the next level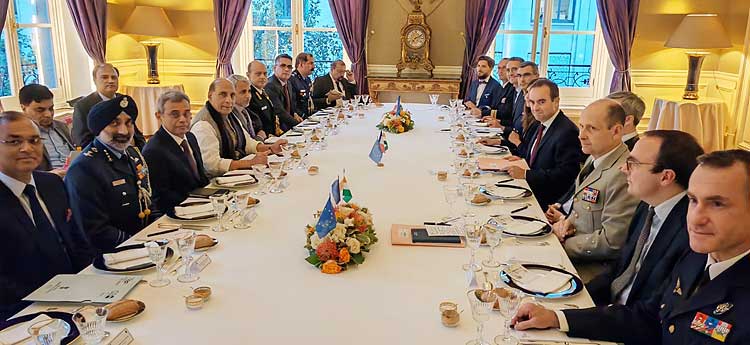 Defence Minister Rajnath Singh and the French Minister of Armed Forces, Sebastien Lecornu co-chaired the 5th Annual Defence Dialogue meeting at Paris, in France on October 11, 2023.
In the backdrop of Indian Defence Acquisition Council (DAC) approving the proposal of 26 French Maritime Rafales and 3 more Scorpene submarines, on the eve of mid-July visit of Prime Minister Narendra Modi to Paris on the special invitation of French President Emannuel Macron, Defence Minister Rajnath Singh undertook a significant visit to France on October 10-11, 2023.
Significantly after the Indian Defence Minister's Paris visit, the India-France Military Subcommittee meeting of senior officials of Air Forces was held in New Delhi on October 16-17, 2023. According to a senior defence ministry official, the meeting was co-chaired from Indian side by Air Vice Marshal Ashish Vohra, Assistant Chief of Air staff, Military Cooperation at Headquarters Integrated Defence Staff and Major General Eric Peltier, General Officer, International Military Relations of the Joint Staff from the French side. India-France MSC is a forum established to progress defence cooperation between both nations through regular talks at strategic and operational levels between HQ, Integrated Defence Staff and the Joint Staff HQ of French Armed Forces.
Defence Minister Rajnath Singh's significant visit to France further solidified the burgeoning Indo-French defence partnership, following the Indian Defence Acquisition Council's approval of 26 Maritime Rafales and 3 Scorpene submarines
According to a senior defence official, the meeting was conducted in a friendly, warm and cordial atmosphere. The discussions focussed on new initiatives under the ambit of existing bilateral defence cooperation mechanism and strengthening ongoing defence engagements. It is understood that the meeting carried forward the ongoing high-level dialogue on 26 Rafale-Marines and 3 Scorpene submarines.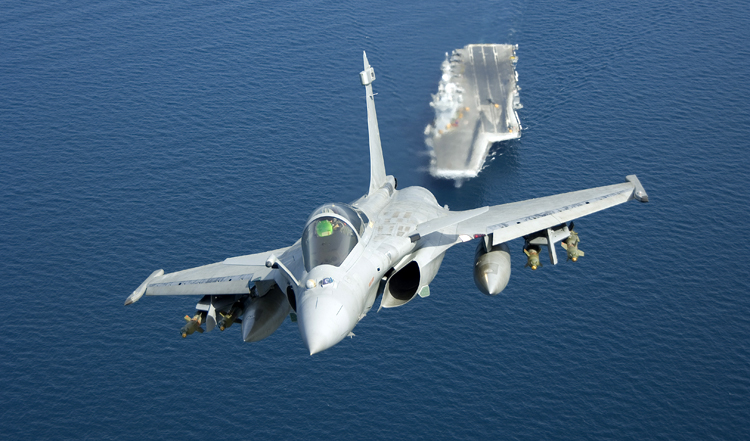 Rafale-M
Though the Indian or French defence ministries maintain silence on the reported talks between French and Indian Defence Ministers on these significant decisions by India, and how the two Defence Ministers took forward the negotiations in the two mega deals. French defence sources said that negotiations regarding two big-ticket defence platforms have progressed well during Rajnath Singh's meeting with French Minister of Armed Forces Sebastien Lecornu during India-France annual defence dialogue. Both the deals are reported to be in the range of Euro 9 billion and negotiators from both the countries are engaged in quickly finalising the deal.
Even as Rajnath Singh was in Paris, the Chairman and CEO of Dassault Aviation Eric Trappier visited New Delhi, a day before, along with senior officials for taking forward the negotiations on Rafale Marine. It is reported that 22 single seat Rafale-M and four two-seater trainer aircraft are being negotiated. This will be a Government-to-Government contract similar to 2016 order for 36 Air force Rafales fighters, worth 60,000 crores. According to sources, Indian defence establishment decided in favour of Rafale -Marine in view of commonality of various systems and subsystems, which will help in easier maintenance of both air-force and naval versions.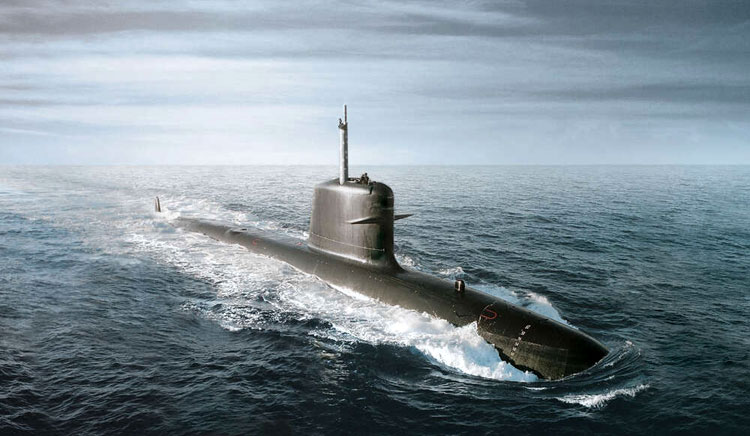 Scorpene Submarine
Since the Rafale-M are meant to be deployed on the two aircraft carriers, Vikramaditya and Vikrant and there is urgent requirement to enhance the depleting submarine fleet, the DAC Chaired by Defence minister Rajnath Singh had also cleared the Acceptance of Necessity (AoN) for three additional Scorpene class diesel electric submarines to be made in India. India's Mazagaon Dockyard (MDL) has already finished manufacture of six Scorpene submarines in India. According to defence sources contemporary submarine technology are to be incorporated in the three additional submarines cleared by India.
During the India-France Military Subcommittee meeting, discussions centered around fortifying bilateral defence cooperation through strategic and operational dialogues
After, the clearance of AoN, the defence ministry had then said that proposal for 26 Rafale-Marine aircraft includes associated ancillary equipment, weapons, simulators,spares, documentation, crew training, and logistic support for the Indian Navy. The proposal was sent to French defence ministry and an inter-governmental agreement ((IGA) will be signed. According to the ministry, "the price and other terms of purchase will be negotiated with the French government after taking into account all relevant aspects, including comparative procurement price of similar aircraft of other countries. The Indian and French Defence Ministers are reported to have discussed the inter-governmental agreement on Rafales-M fighter and Scorpene submarines.
The defence ministry had also said, "Further, integration of Indian designed equipment and establishment of Maintenance, Repair and Operations (MRO) hub for various systems will be incorporated into the contract documents after due negotiations."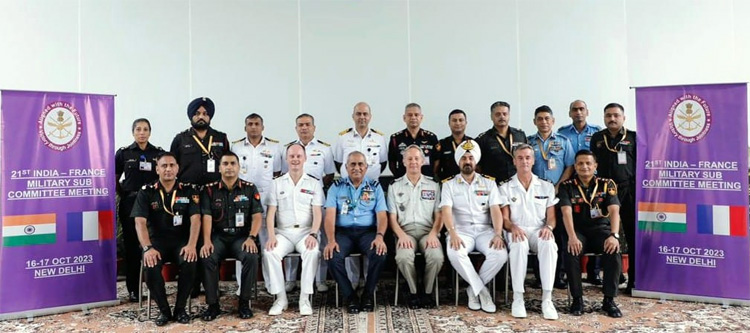 21st India-France Military Sub-Committee meeting held in New Delhi.
Regarding AoN for three additional submarines, the ministry had then stated these will be acquired under Buy(Indian) category which will be made by Mazagaon Dock (MDL). According to the statement, "The procurement of additional submarines, with higher indigenous content, will not only help in maintaining required force level and operational readiness of the Indian Navy, but also create significant employment opportunities in the domestic sector."
According to a senior defence ministry official, in Paris the two Ministers discussed a wide range of topics from the assessment of regional situation to the ongoing military-to-military engagements, with a focus on enhancing defence industrial cooperation. The Ministers reviewed the ongoing defence projects and discussed ways to deepen the collaboration between the defence industries of both the countries. The level of confidence both have reposed on each other was such that they also discussed potential collaboration in niche domains such as Space, Cyber and Artificial Intelligence. Both the countries are engaged in regular high-level dialogues and the fifth defence dialogue held during Rajnath Singh visit to Paris was indicative of this. In fact, in strategic arena, senior officials from Strategic Advisors office had engaged in 36th dialogue in the beginning of the year.
India's Ministry of Defence remains tight-lipped on the talks between Defence Ministers, Rajnath Singh and Sebastien Lecornu, regarding the acquisition of 26 Rafale-Marines and 3 Scorpene submarines.
During his meeting with top defence barons in France, Rajnath Singh highlighted the advantages of co-development and co-production in India, including the possibilities of exports to third countries. He underlined the inherent advantages of Indian market such as a large, skilled HR base, world class infrastructure and a strong legal architecture. Among the top defence industry CEOs Rajnath Singh met with were, Eric Trappier, CEO Dassault; Pierre Eric Pommellet, CEO Naval Group; Guillaume Faury, CEO Airbus; and Olivier Andries, CEO Safran Group.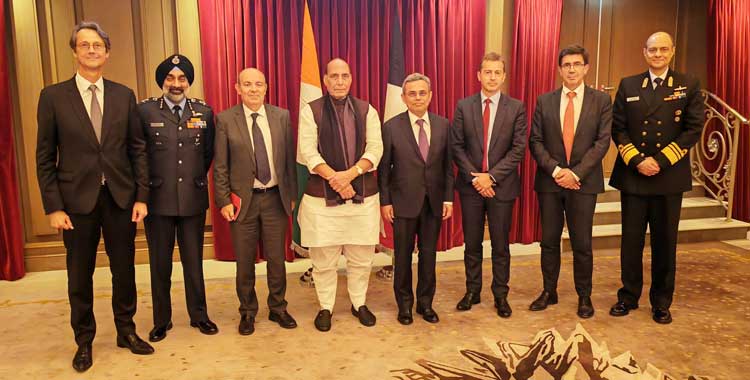 Defence Minister Rajnath Singh in a group photograph with the CEOs of top French defence companies at Paris, in France on October 11, 2023.
Rajnath Singh also visited Safran Engine division's Research and Development center at Gennevlliers. Visit of Safran's engine division was significant in view of India's ambitions to develop indigenous fifth generation fighters with an engine made in India. India wants to acquire the engine technology with heavier thrust.
With the deepening level of defence relations, India has placed too much confidence on the strategic partnership with France and has awarded big defence contracts to France. France must reciprocate this level of trust India and should show full commitment towards the interest of India's preferences and India's strategic requirements.