Enhancing Regional Connectivity in India, this Northeast India-based airline aims to revolutionise regional travel and economic opportunities under the UDAN scheme with the use of Embraer Aircraft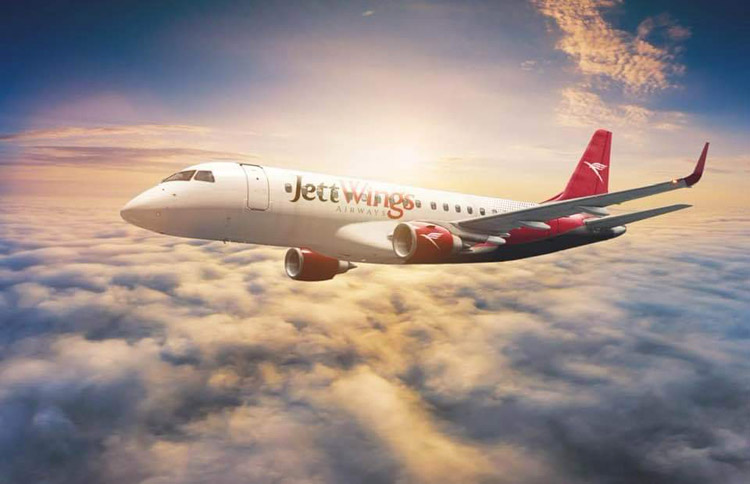 Jettwings Airways aims to start operations in October this year
The new Guwahati-based Jettwings Airways has received the Centre's NOC (no objection certificate) to operate scheduled commuter air transport services. The airline now awaits other regulatory approvals and an AOC (Air Operator Certificate) from the DGCA. The airline, focused on regional connectivity, plans to leverage the government's UDAN scheme to bring enhanced air travel options to the Northeast and eastern regions. Notably, Jettwings Airways will be the first company from the Northeast to venture into the airline operations sector in the country.
Sanjive Narain, Chairman of Jettwings Airways, announced the company's plan to start flying operations as soon as it receives its first two aircraft in October. The airline has earmarked an initial capital expenditure of approximately Rs 100 crore for the project and intends to lease at least five planes within a year. Jettwings Airways is working closely with the Directorate General of Civil Aviation (DGCA) to complete all necessary formalities and readiness for scheduled commuter airline operations. "We will be working closely with DGCA to complete our readiness and formalities for Scheduled Commuter Airlines operations. Once we are granted the AOC, we strongly believe and commit to becoming a reliable and sustainable airline with its roots deeply entrenched in Northeast India, connecting unique yet important destinations. An airline born in the Northeast with the sense of doing business in India was much needed and Jettwings Airways shall strive to achieve the same in the next few months of our preparations as we near take off," said Sanjay Aditya Singh, Co-founder and CEO of Jettwings Airways.
Fleet Optimisation for Regional Connectivity
The airline plans to change the dynamics of regional travel by introducing a fleet of modern aircraft, including turbofan and turbo-propelled ones, to offer premium economy services. The airline has chosen to deploy the renowned Embraer E-175 aircraft, renowned for its operational efficiency and versatility. The E175 aircraft has a longer range than turboprops such as ATR-72 and flies fewer passengers than narrowbody planes such as Airbus A320 or Boeing 737s. This helps airlines on long routes with thin demand or tap newer markets such as those in the North East states.
With a dual-class configuration offering both business class and premium economy options, these aircraft are well-suited for regional flights and provide an optimal balance between capacity and range. Jettwings Airways believes that leveraging Embraer aircraft will ensure an enhanced travel experience for passengers.
Enhancing Connectivity in the Northeast
According to the civil aviation ministry, sixteen airports and 64 routes in North East have been made operational under the government's Ude Desh ka Aam Nagrik (UDAN)- Regional Connectivity Scheme. As per the ministry data, aircraft movements in Northeast increased from 852 per week in the year 2014 to 1817 per week in 2022.
Recognising the importance of reliable, quick, and high-quality regional connectivity in the Northeast and to meet passengers' expectations, the airline has assembled a team of experienced aviation professionals. In addition, Jettwings Airways plans to implement a loyalty program to reward frequent flyers, further enhancing the travel experience. The airline aims to become a reliable and sustainable airline rooted in Northeast India, connecting unique yet important destinations in the region.
While Jettwings Airways is gearing up for a promising launch, industry experts highlight potential challenges, including obtaining all necessary approvals and assembling an efficient workforce by October. Additionally, weather conditions and restricted operating hours at some Northeast airports pose further obstacles. However, the airline remains determined to overcome these challenges and fulfill its vision of transforming regional connectivity and economic prospects in Northeast India.
Regional Connectivity Scheme
Jettwings Airways aims to tap into the potential of the UDAN scheme, which aims to boost regional connectivity across India. The government's commitment to improving air travel infrastructure and connecting regional airports has led to significant trade growth and economic development, particularly in the tourism sector. With its base in Guwahati, Jettwings Airways aims to leverage this scheme to create new economic opportunities and improve connectivity in the Northeast region.
Jettwings Airways is poised to reshape regional air travel in India, leveraging the UDAN scheme and deploying Embraer aircraft to provide optimal operational efficiency. With its commitment to superior service and convenience for passengers, the airline aims to unlock the untapped potential of the Northeast region while fostering economic growth and tourism development.