Boeing Commercial's team, comprising of their Managing Director - Marketing, David Schulte and the Product Head was in the capital recently. Buoyant with the aviation sector recovery, they were upbeat about the Indian aviation sector. They shared the extensive range of the Boeing Commercial Airplanes (BCA) portfolio and detailed how their aircraft can support growth and minimise the carbon footprint with their innovative solutions, providing just the right plane for the right market.
With domestic traffic near 2019 levels and international traffic above 2019 levels, the Indian aviation sector is showing robust recovery and strong growth momentum
With domestic traffic near 2019 levels and international traffic above 2019 levels, the Indian aviation sector is showing robust recovery and strong growth momentum. The next decade will witness India's passenger market growing to become the world's third largest, surpassed only by the US and China. "India will be among the fastest-growing aviation markets with its air traffic projected to grow at 7 per cent annually through 2040", said David Schulte, Boeing's Managing Director- Marketing during the press meet.
Opportunities


Airlines in India are a major market for Boeing aircraft
India's economy is leading globally and accounts for 90 per cent of South Asia's total economic output. This strong economic growth has been a vital element of the robust passenger growth seen in the region. India's economy is projected to grow at a 5.6 per cent compound annual growth rate over the next two decades. Air prospects remain strong given the demographic factors, with strong growth enablers being the middle class and tourism. With the rise of the middle-class bracket, the aviation sector is vying the train passenger traffic and is confident that with an even 1 per cent shift, aviation will take a huge leap, doubling the aviation traffic. Daily train traffic is 23,000,000 passengers and daily aviation traffic is 360,000 passengers. In a recent event, Civil Aviation Minister Jyotiraditya Scindia stated that in the last eight years, India's Civil Aviation industry has been completely transformed. "Under the UDAN scheme, we have 425 routes aiming to go up to 1000 routes, 68 new airports aiming to touch 100 airports. In the next 4 years, we are expecting 40 crore travellers through Civil Aviation in India. That day is not far when along with rail transport and road transport, Civil Aviation will become the bulwark of the transportation in India", he asserted.
The aviation sector is vying the train passenger traffic, just a 1 per cent shift will double the aviation market
Boeing is expecting some good orders from the Tata-owned, Air India, which is planning to expand its fleet. Akasa Air, received its first aircraft, 737 MAX in August, they have placed an order of 72 aircraft with Boeing. SpiceJet is one of Boeing's biggest customers in India with a total of 58 Boeing aircraft, they are looking at adding more of Boeing's 737 MAX. Today, Boeing customers include Air India, Air India Express, SpiceJet, Vistara, Akasa and cargo operator Blue Dart, operating a range of the Next-Generation 737, 737 MAX, 747, 757, 777 and 787 Dreamliner offering a superior flying experience to Indian passengers. The Indian Ministry of Defence operates four 737-200s and three 737 Boeing Business Jets. Two specially modified Air India 777-300ER are used as Head of State aircraft.
Wide-body planes
Post-pandemic, Industry experts opine that a large number of passengers may prefer to fly directly to long-haul destinations in Europe, North America and others, without the stopovers at hubs in the Middle East, or elsewhere. India has a considerable wide-body potential as the carriers are gearing up to offer point-to-point long-haul routes to cater to passenger demands. Acknowledging these diverse market needs, airlines have increasingly focused on versatility in their wide-body fleets. "There will be opportunities for wide-body planes as we recover from the pandemic," said Salil Gupte, President, of Boeing India, echoing the thoughts of the Union Minister for Civil Aviation, Jyotiraditya Scindia, who had stated on various occasions, that, "the country should be developed as an aviation hub and the government is working on meeting the requirements that could put India on the global aviation map", he acknowledged that, "to convert India into an aviation hub there must be anchor airlines at particular airports. Besides, airlines must have wide-body aircraft to transport passengers internationally".
Indian airlines recover seats and continue massive growth
Air Cargo
India's Cargo Market has tremendous growth potential and is on its path to growing exponentially over the next 10 years. The growing trade with the SAARC & ASEAN trade partners has expanded the cargo routes to Vietnam, China, UAE, Thailand & Philippines. With the Atmanirbharta push and India coming up as the manufacturing market, demand for wide-body aircraft is foreseen.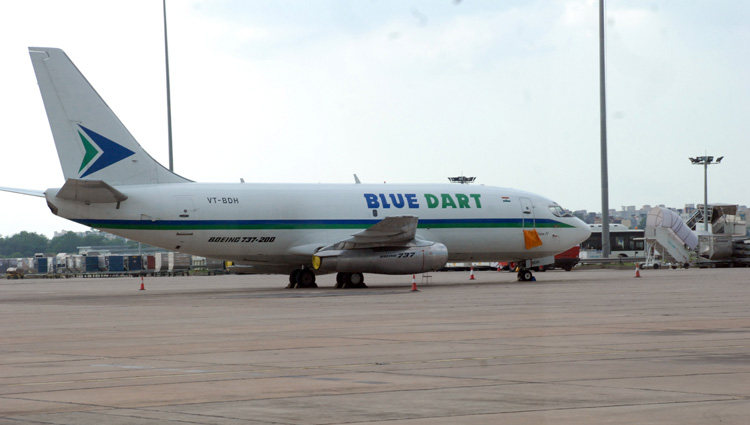 Blue Dart 737-200 freighter
Boeing offers a seamless cargo market coverage with its range of freighters catering to most geographical markets from Vietnam to London and catering to cargos ranging from 22 tonnes to up to 118 tonnes.
Challenges
India is a unique market, where aviation fuel prices are the highest in the world and the fares lowest across the world. Aviation Turbine Fuel (ATF) makes up for about 40 per cent of the operating cost of an airline and the ATF prices are at a record high, in sync with global prices. As India is dependent on exports for its fuel requirement, the only way to ease out is to rationalise the taxes. Ministry of Civil aviation (MoCA) has been making a case with the states for lowering the high taxes. To add to the challenges, the operation costs are also priced in foreign currency.
Boeing proposes new generation aircraft help to manage the challenges faced by airlines in India. "Approximately half of passenger jet deliveries will replace today's models, improving the global fleet's fuel efficiency and sustainability", stated Boeing's officials.
Putting wings to Innovations
With more than $3 billion invested annually in research and development, for Boeing innovation is a serious business. Recent examples of innovation include the first flights of the 737 MAX 9, 787-10, and T-X, among other milestones such as the launch of Boeing AnalytX (using data analytics for empowered decision-making) and Boeing HorizonX (venture capital arm). Boeing's network continues to transform and innovate to improve the performance of the products, and operations keeping the environment into consideration.

(Left)- Boeing 737 MAX Advanced Technology winglet; (Right)- 777X's folding wingtips - first for commercial aviation
Boeing's largest aircraft, the new generation wide-body jet 777, 777X is the new dawn in the large wide-body aircraft, it is unique because its carbon fibre-reinforced polymer (CFRP) wingspan is 235 feet (71.75 m) when extended, and 212 feet (64.82 m) on the ground. Making it 27 per cent more efficient. The challenge was that of Code E compatibility, the aircraft was too large and too wide for most airport gates. To manage this issue, Boeing created a folding mechanism that reduces the wingspan by 11 feet (3.5 m) at the tips to allow the plane to fit into both taxiways and gates at airports. The 777X's folding wingtips are a first for commercial aviation. The aeroplane is also said to be the most sustainable twin-engine aircraft the world has ever seen. On the Wing's space, the 737 MAX AT winglet is the also most efficient ever designed for a production aeroplane, using the ingenious manipulation of aerodynamics, making the distinctive design efficient.
Sustainability
Aviation constitutes 2 per cent of the global emissions and the target is to achieve a net zero by 2050 by the industry. Boeing proposes that with the fleet renewal, the environment will be benefitted in a big way. There are around 3000 aircrafts ready for the replacement in next 5-10 years. The COVID pandemic accelerated airline operational and business innovation, airlines are now pursuing opportunities to improve flexibility, introduce new service offerings, and diversify revenue opportunities as recovery progresses.
Product portfolio
737 MAX
The 737 MAX delivers enhanced efficiency, improved environmental performance and increased passenger comfort to the single-aisle market. Incorporating advanced technology winglets and efficient engines, the 737 MAX offers excellent economics, reducing fuel use and emissions by 20 per cent while producing a 50 per cent smaller noise footprint than the aeroplane it replaces. Additionally, 737 MAX offers up to 14 per cent lower airframe maintenance costs than the competition. Passenger comforts include, the Boeing Sky Interior, highlighted by modern sculpted sidewalls and window reveals, LED lighting that enhances the sense of spaciousness and larger pivoting overhead storage bins.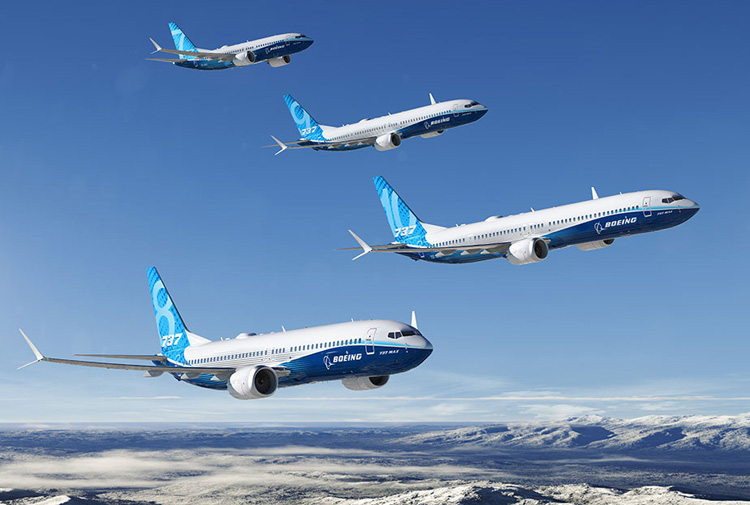 Boeing 737 MAX Family
737-7 MAX with 172 seat capacity is ideal for the new markets (Leh, Tirupati, Dibrugarh) opened by the UDAAN, suiting best for the high altitudes, with its range of 3,850nm (7,130 km).
737-8 is the most versatile and high on flexibility with 210 seats and ranging 3,550nm (6,570 km) it caters to most markets.
737-9 is pegged to provide profitable growth, reaching larger and growing markets, seating 220 passengers and scaling Delhi-Goa kind of distance.
737-10 offers the most profit and has the highest capacity with 230 passenger seats, doing a Delhi-Mumbai distance.
MAX also draws advantage from the power of commonality, same Pilot pool, Engine type and maintenance plan, with spares commonality of 98 per cent across the family.
MAX is more environmentally friendly and meets the next-generation noise and emission standards. It has 21 per cent fewer carbon emissions and 50 per cent less noise footprint.
787 Dreamliner
The industry-leading technology of the 787 Dreamliner offers unparalleled fuel efficiency and range flexibility, it enables carriers to profitably open new routes as well as optimise fleet and network performance. 787 offers a comfortable cabin and reduces travel fatigue. As Boeing calls it the 'Dreamliner effect'.
With the 787-8 pitched as the market opener, offering the lowest trip cost. With its 250 seats, it can cover 7,305 nm (13,530 km), Chennai to Tokyo traffic.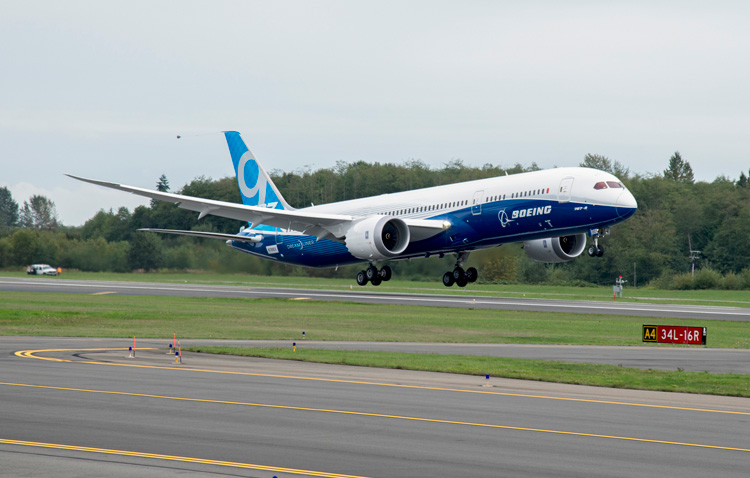 Boeing 787 Dreamliner
787-9 offers market fragmentation and optimum balance with low risk and long-range, seating 315 passengers covering 7,565 nm (14,010 km), Delhi to Seattle.
787-10 is targeted towards the Dense Markets, offering maximum profitability, ranging from 6,330 nm (11,730 km), it covers Mumbai to London kind of distance.
777
The Boeing 777 offers a combination of superior range, outstanding fuel efficiency and passenger-preferred comfort, making it a more profitable fleet with more satisfied passengers.
777X
The new Boeing 777X will be the world's largest (72m wing span, folding wing tip) and most efficient twin-engine jet. With breakthroughs in aerodynamics and engines (powered by the most powerful commercial Aircraft Jet Engine, GE9X with 134,300 lbs thrust) the 777X will deliver 10 per cent lower fuel use and emissions and 10 per cent lower operating costs than the competition. 777X offers low-risk, profitable growth, industry-leading reliability and seamless integration with the 777 and 787 Dreamliner families. The cabin is spacious, 16 in. wider than the competition with customizable architecture. 777X seats 426 passengers and can fly 7,285 nm (13,500 km).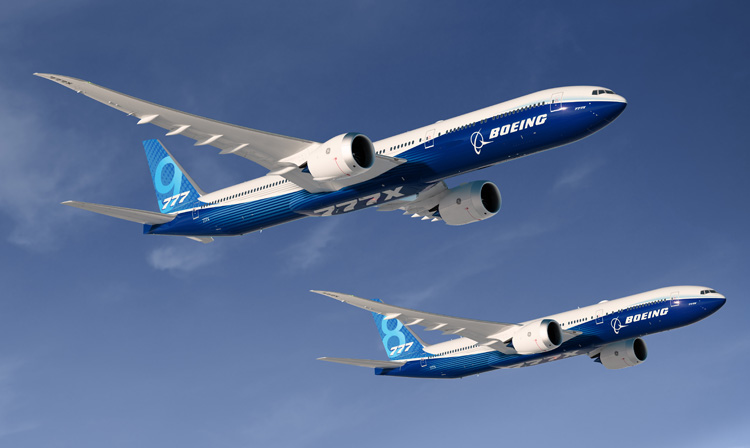 Boeing 777X is the world's largest and most efficient twin-engine jet
Jayant Baranwal, Editor-in-Chief, SP's interacts with
David Schulte – Managing Director, Marketing, Boeing;
Salil Gupte – President of Boeing India;
John Dyson – Product Marketing Specialist, BCA Marketing

(left)- David Schulte – Managing Director, Marketing, Boeing; (Middle)- Salil Gupte – President of Boeing India; (Right)- John Dyson – Product Marketing Specialist, BCA Marketing
Jayant Baranwal: What has Boeing done in terms of better hygiene and passenger comfort, considering the pandemic?
David Schulte: Boeing's Clean Airplane Program, provides a clean travel environment. For commercial aircraft cabin surfaces, Boeing uses the disinfection technologies intended to combat SARS-CoV-2 disinfection technologies including disinfectant wiping, antimicrobial coatings, ultraviolet light, and electrostatic sprayers.
Jayant Baranwal: What are the enablers of lowering the costs, is it operational or?
David Schulte: It is focused on lower operating costs, lower maintenance and fuel efficiency, the new generation fleet reduces fuel and emissions by 21 per cent compared to previous generation aircraft. Our 737-10 with 9 per cent lower seat costs enables a strong aviation market with sustainable low fares.
Jayant Baranwal: You speak about railways. How do you view the highways, competing with the Aviation sector?
Salil Gupte: There is a tradeoff between driving and flying, and a very fine example is Southwest airlines in the US, which operates the 737 family. When they were in their highest growth period, they were competing with the market of people taking a bus. They did it with the lowest prices which is a brand advantage accessible to them via their low operating cost strategy. Even with those shorter distances, there is a tremendous opportunity to compete very effectively.
Jayant Baranwal: For the Urban Air Mobility, would Boeing be providing the infrastructure support?
Salil Gupte: There are different elements of the infrastructure, for example, there is the hard infrastructure, which is handled by the government or the appointed companies. There is another very important part which is above the airspace infrastructure. We are heavily involved in that space. Just a few years ago, we were working with Airports Authority of India on an optimised airspace road map. We had engagements with them on how to integrate the unmanned into airspace. We have been working for many years and our experience in aviation comes not just from our subsidiary Jepessen, but also from some of the startups that we have invested in our portfolio of innovation. They work on Artificial Intelligence and Machine learning integration in autonomous aviation. All of these aircraft, eVtol and others, can fly safely in an integrated environment with manned aircraft.
Jayant Baranwal: What does sustainable aviation fuel (SAF) constitute?
John Dyson: Sustainable aviation fuel can be made from used edible oil, biomass like corn, oilseeds, sugar water and municipal solid wastes.