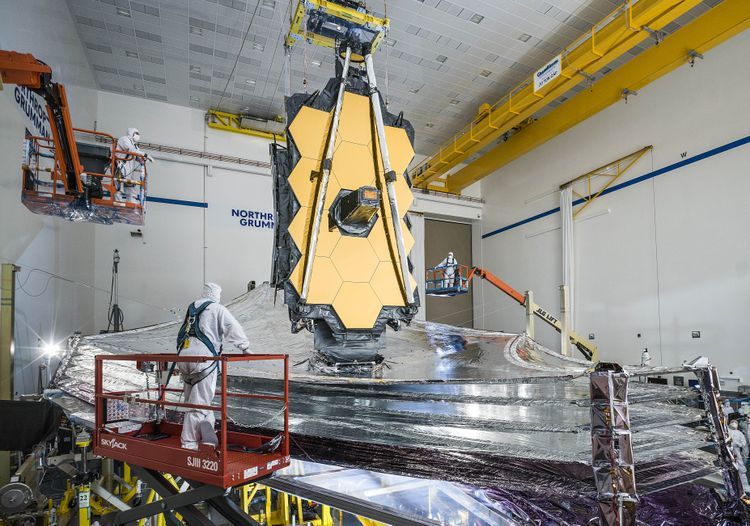 For the last time on Earth, the James Webb Space Telescope's sunshield was deployed and tensioned by testing teams at Northrop Grumman in Redondo Beach, California where final deployment tests were completed.
The James Webb Space Telescope industry team, led by Northrop Grumman Corporation, has won the prestigious National Aeronautic Association (NAA) Robert J. Collier Trophy for revolutionizing the field of astrophysics with the team's pioneering design and exceptional performance of NASA's James Webb Space Telescope.
Northrop Grumman led the design, build, total system integration and prepared the observatory for launch
The Collier Trophy is the highest achievement in aerospace and astronautics in America
Webb is the world's first space deployable telescope and includes 10 new technologies
Experts:
Kathy Warden, chair, chief executive officer and president, Northrop Grumman: "The James Webb Space Telescope is one of the greatest achievements in aerospace history. In a matter of months, Webb has changed our understanding of the universe, and many more discoveries lie ahead. We dedicate the Collier Trophy to the Northrop Grumman employees and our industry partners who delivered humanity an extraordinary observatory to explore the universe and inspire future generations."
Tom Wilson, corporate vice president and president, Space Systems Sector, Northrop Grumman: "Our team's unmatched ability to innovate enables us to push the boundaries of possible every day. This distinct honor reflects the impact of our work and the pioneering spirit, dedication and passion of our entire Northrop Grumman team."
Details:
Since 1911, the Collier Trophy recognizes a team or individual who has made the greatest achievement in aeronautics or astronautics during the previous year. Past recipients of the trophy include: Orville Wright (1911), Howard Hughes (1938), Neil Armstrong (1969), the B-2 (1991), Global Hawk (2000), SpaceShipOne (2004) and the X-47B (2013).
The Collier Trophy will be presented at the NAA Gala in Washington, D.C. on June 15.
The Collier Trophy recognizes the Webb team for activities in 2022, where over the course of two weeks after its historic launch, Webb flawlessly unfolded its sunshield and mirrors during a series of complex deployments and maneuvers, the first of its kind ever attempted in space. After achieving its final configuration, the team made a series of adjustments to bring the telescope's optical train into precise alignment. The team then tested Webb's state-of-the-art scientific instruments and brought them to operational temperature, all necessary to begin Webb's science mission.
To enable the observatory's ambitious scientific mission, Webb incorporates innovative design, advanced technology, and groundbreaking engineering. Ten technological inventions were created to build the advanced telescope including revolutionary optics, detectors, thermal control systems, a deployable sunshield, cryocooler technologies and the manufacturing of a lightweight composite backplane to carry the weight of Webb's mirror, telescope optics and scientific instruments.
Key suppliers for the Webb team include Ball Aerospace, L3Harris, NeXolve and Raytheon.