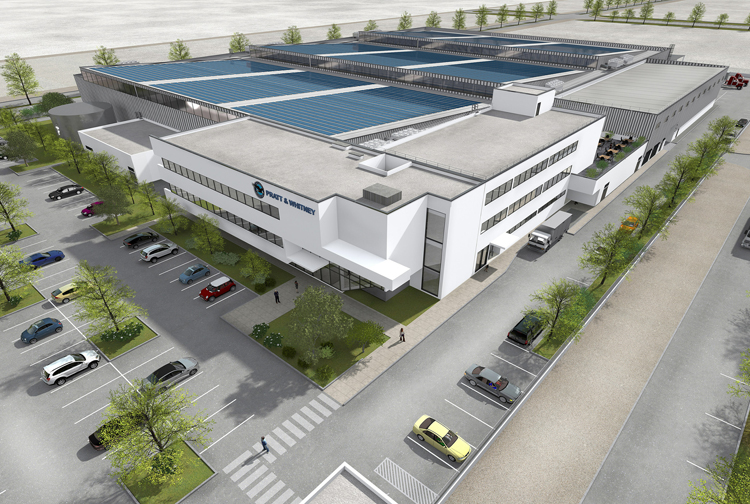 The Future Pratt & Whitney Maroc (PWM) facility in Casablanca.
PARIS AIR SHOW -- Pratt & Whitney, an RTX business, announced today that it will launch an affiliate, Pratt & Whitney Maroc (PWM), in Casablanca, to manufacture detailed static and structural machined parts for various engine models.
This investment is key to Pratt & Whitney's strategy to develop cost-effective sourcing capabilities for competitiveness and to optimize operations footprint and asset utilization. Morocco was selected after a global benchmarking exercise due to its growing hub of aerospace companies, cost of business and trained, available talent.
"Morocco offers many benefits for aerospace manufacturing," said Maria Della Posta, president, Pratt & Whitney Canada. "The growing aerospace community in Casablanca ensures a highly valuable talent pool, a positive economic environment, and the support from Morocco's government. Pratt & Whitney Maroc, as an independent affiliate, will create 200 jobs by 2030, and we look forward to joining the business community in Casablanca's MidParc Free Zone."
"P&W investment in Morocco will strengthen our aerospace ecosystem by fostering innovation, research, and the development of new technologies," said the representative of the Moroccan Ministry of Investment, Convergence and Evaluation of Public Policies (MICEPP). "It will create job opportunities for our talented youth, foster knowledge transfer, and promote collaboration between local and international stakeholders".
This 130,000-square-foot new greenfield facility will be built with lean principles and CORE methodology to drive efficiency and quality and reduce costs. This investment is a vital part of the company's ability to produce engines to meet strong demand and brings Pratt & Whitney closer to its African customer base and partners, which allows it to further support the aerospace growth in this region. Facility construction will begin Q4 2023 to ensure a successful launch in 2025.