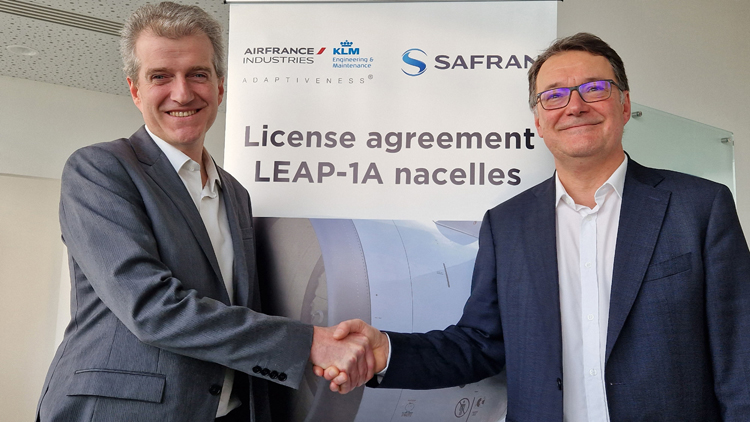 Safran Nacelles and AFI KLM E&M have today signed a license agreement for the Maintenance, Repair and Overhaul (MRO) of the Airbus A320neo's LEAP-1A nacelles. Over 2,500 nacelles produced by Safran Nacelles are currently in service on Airbus A320neo aircraft that are powered by CFM International's LEAP-1A engines*.
Through this agreement, Safran Nacelles ensures that the growing fleets of A320neo can benefit from the best standards in nacelle repair, guaranteed by the OEM**. In addition, with the support of the Safran Nacelles' and AFI KLM E&M's global network of MRO stations, A320neo operators are assured to find a station nearby so that repair time can be shortened and the cost of logistics reduced.
By acquiring a license from Safran Nacelles, the OEM of the A320neo's LEAP-1A nacelles, AFI KLM E&M is expanding its industrial capabilities. The company will access to the OEM tooling and rotable asset pool, in addition to its own resources and assets.
Alain Berger, Safran Nacelles' Executive Vice President – Customer Support & Services, stated: "We are delighted to welcome AFI KLM E&M in our licensed MRO network for A320neo's LEAP-1A nacelles support. We're familiar with the quality and reliability of the support solutions offered by the AFI KLM E&M, which is, and shall remain, a valuable partner for Safran Nacelles in the after-sales market."
Benjamin Moreau, SVP Strategy & Business Development at AFI KLM E&M, said: "Following the signature of the CFM Branded Service Agreement (CBSA), the LEAP-1A nacelles License contributes to AFI KLM E&M's strategy to develop a full capability on the LEAP engine based on its dual expertise of an airline-MRO. We are extremely proud to increase our range of services for next-generation nacelles based on our ability to design and deliver adapted and high-performance services. Via this license, we will be able to further strengthen our capabilities to the benefit of our customers around the world."

(*) CFM International is a 50/50 joint venture between Safran Aircraft Engines and GE.
(**) OEM: Safran Nacelles Original Equipment Manufacturer for the Airbus A320neo's LEAP-1A nacelles.