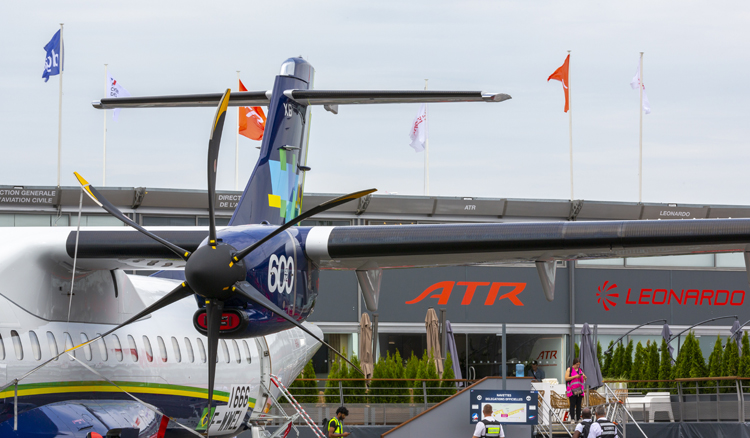 On the occasion of the International Paris Air Show, world's number one regional aircraft manufacturer ATR reported a clear upward trend and solid market appeal for both models of its family of low-emission, comfortable and versatile turboprops with unbeatable economics.
During a media briefing held today, Nathalie Tarnaud Laude, ATR's Chief Executive Officer, announced firm orders for 22 new aircraft, plus 2 options:
3 ATR 72-600 from Azul, plus options for 2 additional aircraft
8 ATR 72-600 from 3 undisclosed customers
3 ATR 42-600 from 2 undisclosed customers.
She commented: "These new aircraft orders demonstrate clear recovery signs from South-East Asia, traditionally one of ATR's largest markets. We are confident that, in due time, the efficiency of our product offering, the lack of second-hand aircraft available and traffic exceeding pre-covid levels in certain areas of the globe will induce a need for low-emission and versatile aircraft to support regional operators' plans of both fleet replacement and growth."
In addition, despite continued tensions on the supply chain, the manufacturer is on track to achieve its 40+ delivery objective for 2023.
Nathalie Tarnaud Laude added: "ATR's purpose is to connect communities and businesses affordably and responsibly in the most complex operational environments. Already today, our aircraft emit 45% less CO2 than similar-size regional jets, and with our EVO concept, we want to cut emissions further down. Thanks also to government support, we are investing in technologies which will be used on our next generation aircraft, and we will get more results from the feasibility study by year-end."
To continue to support its production ramp up and plans for the future, including the ongoing development of its Short Take-Off and Landing variant, the manufacturer is looking for more forward-thinking talents, targeting a 12% employee increase this year.