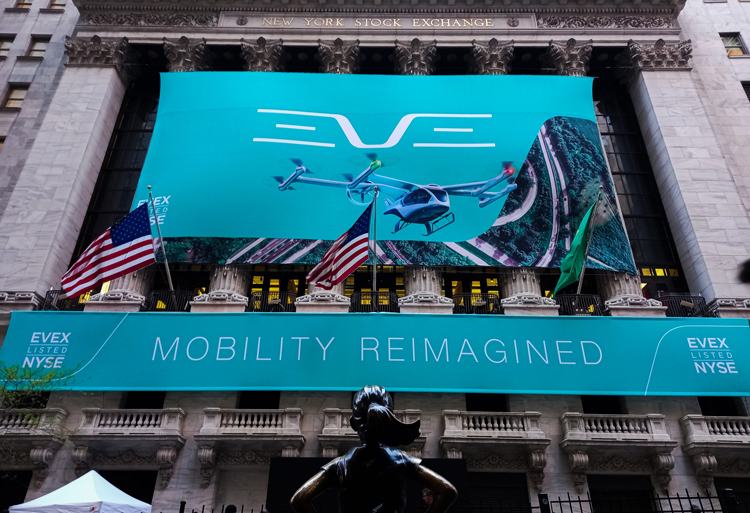 Eve Holding, Inc. ("Eve" or the "Company") announced today that its common stock and warrants will begin trading on the New York Stock Exchange ("NYSE") today under the ticker symbols "EVEX" and "EVEXW", respectively.
Management will participate in an opening bell ceremony at the NYSE today in celebration of the public listing, which follows the completion on May 9, 2022, of a business combination between Zanite and EVE UAM, LLC, a leader in the development of next-generation Urban Air Mobility ("UAM") solutions and a subsidiary of Embraer S.A. ("Embraer").
"Today, we celebrate a historic milestone in a journey that we began nearly five years ago in EmbraerX, the market accelerator of Embraer, a leader in the global aviation industry," said André Stein, Co-CEO of Eve. "This transaction is a key enabler of our mission to become a leading player in a potential $760 billion UAM addressable market, and we thank the entire team at Eve and Embraer for all of their hard work, and our partners at Zanite as well as our other investors for their support," he said.
Eve has created a comprehensive, practical and capital-efficient UAM solution spanning electric vertical take-off and landing (eVTOL) vehicle design and production, service and support, fleet operations and urban air traffic management (UATM).
"We believe Eve is uniquely positioned to develop, certify and commercialize our UAM solutions on a global scale," said Jerry DeMuro, Co-CEO of Eve. "Our pipeline of launch orders for 1,825 vehicles secured via non-binding letters of intent from 19 customers consists of industry leaders who also invested in Eve, including Azorra Aviation, Falko Regional Aircraft, Republic Airways and SkyWest, and provides powerful validation of our business strategy and vision."
"We believe in the great potential of the global UAM market and Eve is well positioned to be a global leader by delivering an effective and sustainable new mode of urban transportation", said Francisco Gomes Neto, President and CEO of Embraer. "We are fully committed to Eve, which plays a key role in our growth strategy driven by innovation and enterprise efficiency."
Eve's strategic partnership with Embraer is a key competitive advantage. The partnership includes a royalty-free license to Embraer's background IP to be used within the UAM market as well as access to thousands of skilled Embraer employees on a flexible, first priority basis and use of Embraer's global infrastructure, pursuant to the terms of certain services agreements between Embraer and Eve. The strategic alignment with Embraer also provides Eve with important cost and execution advantages as it seeks to scale its UAM solution globally.
"The Zanite team is excited to be part of Eve's impressive journey," said Kenn Ricci, a director of Eve and Principal of Directional Aviation Capital, a former member of Zanite's sponsor. "We look forward to our continued partnership with Eve, where we will continue to leverage our extensive experience in the aviation sector to support Eve as it continues to expand its footprint in global eVTOL market."