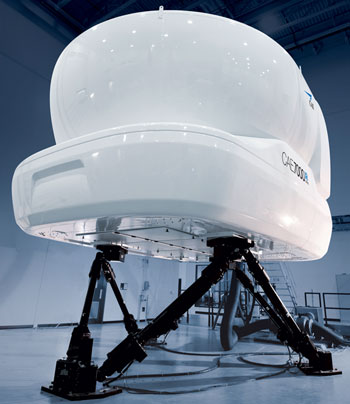 The new CAE 7000XR Series Full-Flight Simulator is fully equipped with advance features and is ideally suited to meet specific requirements of operators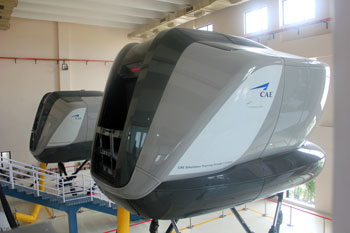 The CSTPL facility was inaugurated in 2013 with CAE 5000 series simulators
CAE Simulation Training Private Limited (CSTPL) an InterGlobe Enterprises and CAE 50:50 joint venture inaugurated their new A320 Full Flight Simulator #4 – CAE 7000XR today. CSTPL is located in Greater Noida, which is in Delhi NCR. The training centre, built to CAE's global standard of excellence, became operational in June 2013 with six simulator bays and the possibility for further expansion. The center currently offers training for A-320 aircraft.
The event commenced with plating of saplings and lighting of the tradition lamp. The focus of the new Delhi training centre will be to provide 'wet' and 'dry' type-rating, recurrent, conversion and jet indoctrination training for commercial aircraft pilots. Programmes will also be offered for maintenance technicians.
Speaking at the ceremony Marc Parent, President and Chief Executive Officer, CAE, said, "We inaugurated this facility in 2013 with our 5000 series and the panache that we see in India to inaugurate a new enterprise excites me! India's aviation market holds a great potential and is growing exponentially. I have high expectation from the market and we will do much more in India to fulfill the capacity."
Appreciating Indigo he mentioned, "I appreciate the positive comments and the support that Indigo bestows in us. Our relationship with Indigo is really the epitome of vision being the global training partner of choice and I thank Indigo for the confidence that Indigo places in us. When I first came here and in my discussion with Rahul Bhatia, Managing Director of Inter Globe Enterprises, I remember saying let us built the sixth simulator soon. Today I am very happy to inaugurate the number four and announcing the number five for April 2017."
"We strive to be the partner of choice for the airline and with our latest offering, we achieve the highest level of quality training for our customer Indigo Airlines. It reflects with the fact that that they are shortly ordering the number 5 simulator," added Nick Leontidis, Group President, Civil Aviation Training Solutions, CAE.
Captain Sanjiv Bhalla, Chief Pilot, Training, Indigo Airlines, responded, 'We have a very strong and long association with CAE, not just in NCR and Bengaluru, but world over. CSTPL is becoming an international centre of repute'.
CSTPL is growing as the centre of excellence and adding on the simulator capacity. The CAE 7000XR full-flight simulator is equipped with the innovative CAE Tropos 6000XR visual system. "With its six simulator bays, the center will have the capacity to train over 5,000 aviation professionals in a year and will be the largest such facility in India," said Ashwani Acharya, Business Head of CSTPL.
CSTPL's head of training, Captain S. Navaneethan in his closing remarks added: "We teach how to fly safe. We learn our lessons from the birds to fly together and never collide! Anybody thinking of training should think of CSTPL."
Neetu Dhulia of SP Guide Publications speaks to Ashwani Acharya, Business Head of CSTPL on the sidelines of the event.
Neetu Dhulia (Neetu): Has CSTPL obtained certification from Indian and foreign regulatory agencies?
Ashwani Acharya (Ashwani): We are currently in the process of getting the requisite certifications.
Neetu: What benefits do the CAE 7000XR FFS offer?
Ashwani: The new CAE 7000XR Series Full-Flight Simulator provides a number of compelling benefits. It has a common design architecture that enables cost-effective solutions for all cockpit platforms and reduced lifecycle costs. The simulator offers maximise safety in flight operations through use of new embedded training capabilities equipped with new technology.
Neetu: Does CAE 7000XR comply with the CAT III B training?
Ashwani: CAE 7000XR series full-flight simulator is fully equipped with advance features and is ideally suited to meet specific requirements of operators and surpass Level D regulatory requirements.
Neetu: Is the facility open to training for other airlines apart from Indigo?
Ashwani: The training centre is open for all and we have a training agreement with GoAir already and now we have AirAsia.
Neetu: Are you looking at other countries beyond India for potential business?
Ashwani: Yes we welcome international airlines and pilots to use our world-class training facilities.