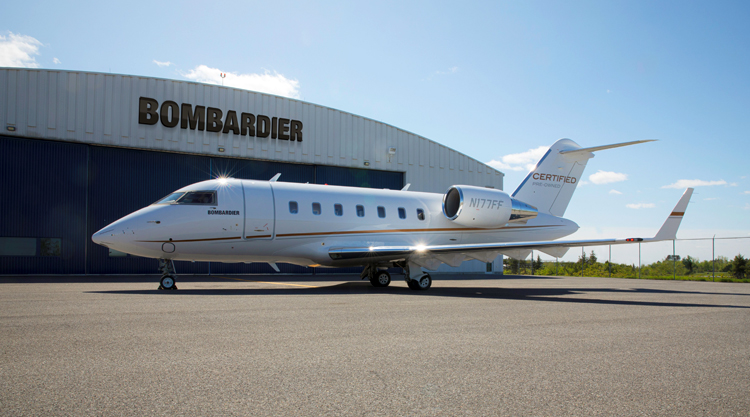 Bombardier's Certified Pre-Owned Challenger 605 aircraft on display at EBACE
Bombardier today presented for the first time its turn-key Certified Pre-Owned aircraft program (CPO) by showcasing a pristine Challenger 605 aircraft at the European Business Aviation Convention & Exhibition (EBACE). Launched in mid-2021, Bombardier is the first OEM to introduce a refurbishment and upgrade offering for business jets – a premium class of pre-owned Learjet, Challenger and Global aircraft, that are selected, inspected and updated featuring refurbished interiors, fresh paint, upgraded avionics and connectivity systems, all specifically adhering to Bombardier's highest quality and safety standards.
The stunning Challenger 605 jet featured at EBACE aptly illustrates the attributes of the CPO program, with its immaculate new interior and paint; brand-new Collins Pro Line 21 advanced avionics in the cockpit; industry-defining cost-per-flight-hour Smart Parts Preferred and Smart Link Plus connected aircraft programs enrolled ready; and Ka-Band cabin connectivity. Customer interest in Bombardier's CPO program is gaining momentum – and with an annual average of 460 used Bombardier aircraft transacting over the past five years, there's a healthy pool of aircraft to bring into the program.
"Bombardier customers wanted a certified option beyond the traditional pre-owned aircraft offering and our new CPO program certainly delivers on this premise," said Paul Sislian, Executive Vice President, Bombardier Aftermarket Services and Strategy. "As the OEM, we are uniquely positioned to provide them with a best-in-class, turn-key certified aircraft solution – a new and exciting category in the industry."
Bombardier's Certified Pre-Owned aircraft are fully mission-capable upon delivery: they have airframe, engine and APU program coverage, an exclusive one-year OEM warranty*, and all applicable maintenance completed. All CPO products come with a Level 3 pre-buy inspection and are completed at Bombardier facilities around the world. And under Bombardier's Smart Services coverage programs, customers receive turnkey solutions consistent with the program available for new aircraft buyers. Smart Services coverage programs are offered for Learjet, Challenger and Global aircraft.**
To ensure interested CPO customers have the latest pre-owned information at their fingertips, Bombardier has also created a dedicated pre-owned inventory web page with well-documented spec sheets describing in detail all the modifications, upgrades and maintenance completed on its CPO aircraft. It also produces a comprehensive Bombardier Pre-owned Market Report, highlighting the latest transaction trends, pre-owned inventory saturation levels and market commentaries for all pre-owned Bombardier aircraft.
Confirming Bombardier's Certified Pre-Owned aircraft program is gaining traction, it is now fully recognized by appraisal authorities such as Aircraft Bluebook, Vref, and AircraftPost, who now report CPO aircraft in a distinct category from other pre-owned aircraft.
*One-year warranty on the airframe. Certain conditions apply.
** May not apply to all aircraft; certain conditions apply.