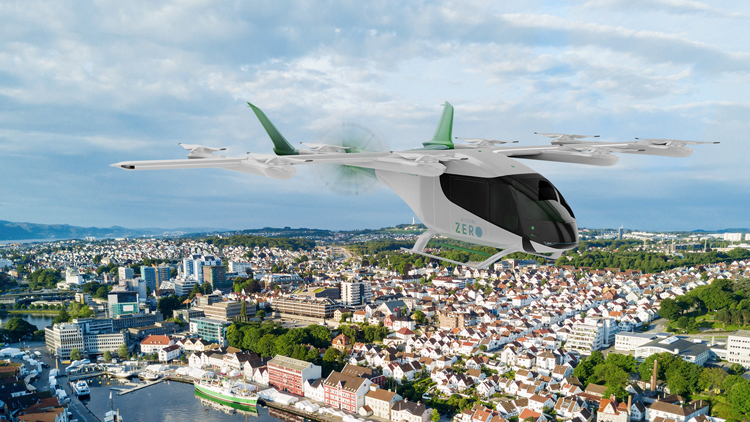 Eve Air Mobility ("Eve") today announced the extension of its partnership with Widerøe Zero, an innovative initiative by Widerøe focused on sustainable aviation with the mission to revolutionize the industry and create a greener future for air travel. The partnership, solidified through a Letter of Intent (LOI), marks a significant step forward in both companies' commitment to addressing the environmental impact of aviation and ushering in a new era of sustainable air travel. The agreement involves up to 50 eVTOLs, a service and operation solutions package, as well as the implementation of Eve's Urban Air Traffic Management (Urban ATM) software solution.
"This new partnership builds upon a previous MoU (Memorandum of Understanding) signed between Eve and Widerøe Zero in 2021 at the UN Climate Conference (COP26), which aimed to develop eVTOL operations in Scandinavia," said Andre Stein, Co-CEO of Eve. "This additional LOI reinforces our commitment to introducing sustainable, safe and affordable urban air travel to the region. Together, we will drive this transformation and pave the way for a more accessible transportation ecosystem for Scandinavian communities."
"We are looking forward to an even closer collaboration with Eve in the years to come. From designing optimal customer journeys in our Mobility Labs to defining the future Concept of Operation, and in 2027 to put the first Eve vehicles into revenue service," said Andreas Aks, CEO at Widerøe Zero AS.
Eve will provide comprehensive services to meet Widerøe Zero's needs and specifications. These include eVTOL maintenance, repair and overhaul (MRO), component repair management, spare parts management programs, battery lifecycle management, and data integration solutions, alongside operations solutions, such as training services, consultancy services, and on-site support for fleet Entry Into Service (EIS).
Additionally, the LOI involves implementing Eve's Urban ATM software to optimize the efficiency of Widerøe Zero's UAM flight operations by integrating its eVTOLs with other airspace users in low-level airspace, ensuring optimized performance and safety. Eve's Urban ATM solution offers tailored solutions, including integration with vertiport automation systems, vertiport resource availability management, flight planning and coordination services, and more.
Another key highlight of the extended partnership is the collaboration on the Air Mobility Labs project across Norway. The project will drive the development of future air mobility concepts tailored to regional needs, allowing for a deep understanding of the prospective customer journey and new air mobility solutions. Together, Eve and Widerøe Zero will spearhead the transformation of air travel by embracing sustainable practices and innovative technologies. The companies will also collaborate on developing potential solutions to address icing conditions in eVTOL operations. Widerøe's extensive experience operating in Norway, where icing conditions are prevalent, will provide valuable insights and expertise.
Eve's eVTOLs will connect people residing in sparsely populated regions with challenging geography. The eVTOL operations in Norway will enhance regional connectivity and contribute to reducing carbon emissions, aligning with Widerøe Zero's commitment to environmental sustainability. Widerøe Zero's vision of all domestic short-haul flights being electric complements Norway's goal of achieving carbon-neutral aviation by 2040. By joining forces with Eve, Widerøe Zero will have access to cutting-edge electric vertical take-off and landing (eVTOL) technology, enabling them to accelerate their ambitious goal of electrifying a substantial portion of their fleet by 2030.