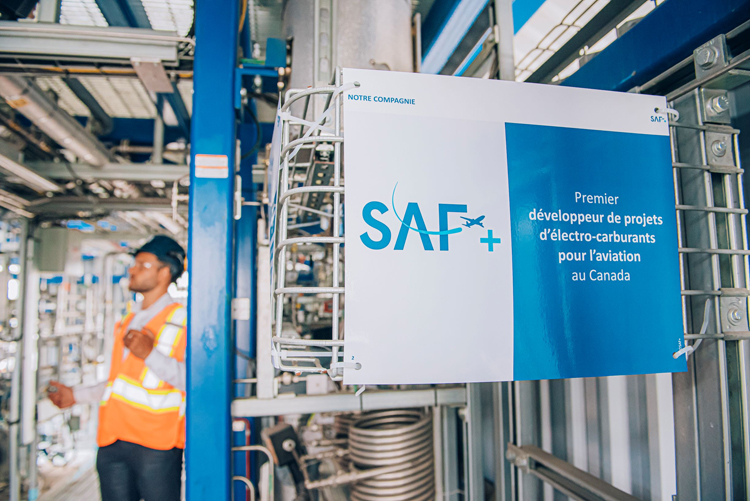 Airbus Canada, Pratt & Whitney Canada, and SAF+ Consortium will collaborate on next generation sustainable aviation fuel (SAF), supported by the Government of Quebec. Image courtesy of SAF+ Consortium.
Airbus Canada, Pratt & Whitney Canada, a business unit of Pratt & Whitney, and SAF+ Consortium today announced a new initiative to collaborate on next-generation sustainable aviation fuel (SAF), supported by the Government of Quebec. Known as CADAQ-100, the project will contribute to the industry-wide effort to achieve net-zero CO2 emissions for aviation by 2050, as outlined by Air Transport Action Group (ATAG) and International Air Transport Association (IATA) in their decarbonization roadmaps.
Key areas of collaboration include SAF research and testing, including flight testing blends of up to 100% SAF on an Airbus A220 aircraft powered by Pratt & Whitney GTF™ engines. The project will also comprise feasibility studies for establishing local production facilities for power-to-liquid e-SAF in Quebec.
"Airbus, alongside many of its customers, is fully committed to expanding the use of SAF, an essential pillar to support the aviation industry's decarbonization journey," said Benoît Schultz, President and CEO of Airbus Canada. "Building this new Canadian ecosystem alongside the SAF+ Consortium is a key milestone and example of how Airbus is actively shaping decarbonization discussions in Québec and Canada while demonstrating our commitment to making SAF an economically viable solution available to our customers and partners globally. While the A220 already offers the smallest carbon footprint for any single-aisle aircraft flying today, achieving readiness to operate with 100% SAF will help ensure the A220's sustainability and competitiveness well into the future."
The parties will provide a total financial contribution of more than CA $17 million, supported by the Government of Québec as part of the collaborative and mobilizing projects on the development of new technologies related to the aircraft of tomorrow.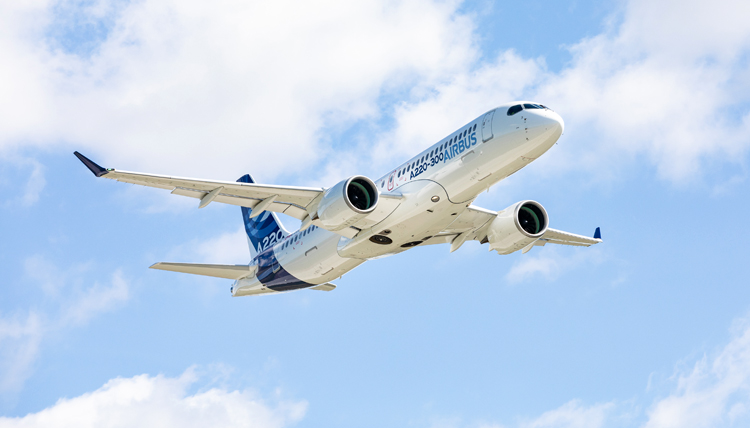 The Airbus A220 aircraft powered by Pratt & Whitney GTF™ engines. Image courtesy of Airbus.
"Quebec's aerospace industry stands out for its ability to innovate, particularly in the area of sustainable mobility. Through these mobilizing projects, we are taking a step further toward making the aircraft of tomorrow a reality and thus reducing GHG emissions in Québec and internationally," said Pierre Fitzgibbon, Minister of the Economy, Innovation and Energy, Minister responsible for Regional Economic Development and Minister responsible for the Metropolis and the Montréal Region.
"This collaboration will help accelerate our vision to transform Montreal into a North American sustainable aviation hub, something which we have always known could only be achieved as a cross-industry effort," said Jean Paquin, President and CEO of SAF+ Consortium. "With multiple purchase commitments from Canadian airlines in place, alongside our ambition to achieve net-zero emissions, investment in SAF production infrastructure is urgently needed."
The collaboration will assess the feasibility of developing a commercial e-SAF plant in Quebec, targeting an annual output of up to 100 million liters of e-SAF by 2028. e-SAF would be produced using power-to-liquid technology, using renewable energy to synthesize captured CO2 emissions with green hydrogen, producing a clean aviation fuel with a potential reduction in lifecycle CO2 emissions by up to 90% compared to conventional kerosene.
"SAF represents a key drop-in solution for reducing the environmental impact of thousands of aircraft flying today and in the coming decades, and thereby enables the goal of net-zero emissions by 2050," said Edward Hoskin, vice president of Engineering, Pratt & Whitney Canada. "Collaboration between public and private sectors is critical to achieving our goals, so we welcome this opportunity and the continued support of the Government of Quebec to help expand SAF research and production capabilities in the region."
Typical feedstocks used to make SAF include used cooking oil, animal waste fat, solid waste from homes and businesses, and forestry waste. Today, all Airbus aircraft and all modern Pratt & Whitney engines are compatible with SAF blended up to 50% with conventional Jet Fuel-A, and work is underway to validate compatibility up to 100% SAF. Airbus Canada draws on the expertise of Airbus that aims to have all its commercial and military aircraft and helicopters be capable of operating with 100% SAF by 2030.