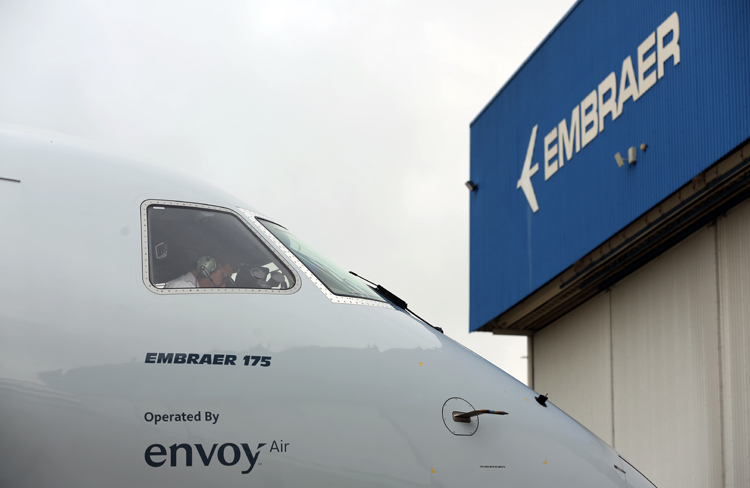 American Airlines has signed a firm order with Embraer for seven new E175s. The aircraft will be operated by American's wholly owned subsidiary, Envoy Air. With deliveries to begin Q4 2023, Envoy's fleet of E-Jets will grow to over 141 aircraft by the end of 2024. The contract value is US$403.4 million at list price and will be included in Embraer's 2023 Q2 backlog.
"Our journey with Embraer began 25 years ago with the ERJ145, and our partnership continues to grow today as we take these additional aircraft and grow our all-Ejet fleet. Not only are our customers happy with the aircraft, but the jet's outstanding performance and reliability has allowed us to continue to provide excellent service to American Airlines and the thousands of customers we serve every day", said Pedro Fábregas, President & CEO of Envoy.
This new order further demonstrates the importance of the E175 to connectivity across the United States, despite the constraints currently affecting the US regional sector.
"We thank American Airlines and Envoy for their long partnership with Embraer" said Arjan Meijer, CEO and President, Embraer Commercial Aviation, said, "It's hard to exaggerate the impact this hardworking aircraft has every day, delivering essential, dependable service, and an economic lifeline to communities across the North American market. The E175 is the backbone of the US regional network, with over 620 aircraft sold, and 86% market share since 2013".
The E175 entered service in North America in 2005, and has since come to dominate the sector due to its comfort, high performance, and efficiency. Customers like Embraer's trademark two-by-two seating, meaning no one must endure a middle seat. To date, the worldwide E170/E175 fleet has accumulated over 18 million flight hours with Envoy having flown 1.1 million of these hours.