Launched in 2019, the Single Roof project has passed a key milestone with its official opening.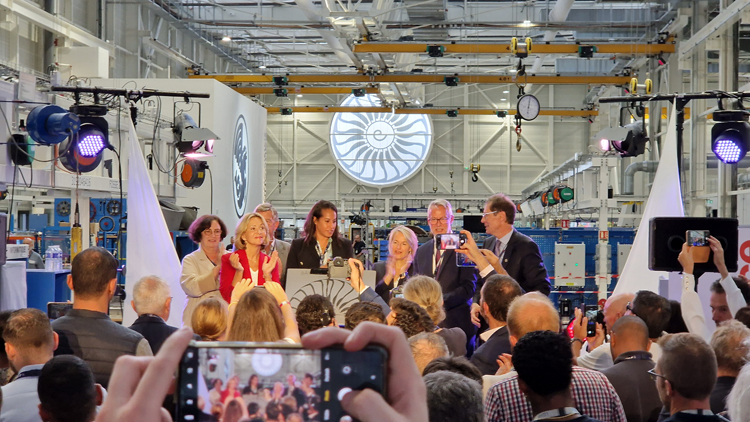 AFI KLM E&M Single Roof Opening Ceremony
Today sees the inauguration of AFI KLM E&M's new Engine shop at the Orly platform. The facility is the centerpiece of the Single Roof project, whose ambition is to confirm AFI KLM E&M at the forefront of industry standards in Engine Maintenance and to support its positioning on new-generation products such as LEAP (A320neo & 737MAX), Trent XWB (A350) and PW1500G (A220). This event marks a major step toward the completion of a project launched in 2019, with the first brick laid in 2021. The full project "Single Roof" will be finalized in early 2024, upon completion of the reorganized Building 34 (Henri Farman), which has now been adjoined to the new building.
An investment in the future
As a reminder, Single Roof is a major project for the future of AFI KLM E&M's Engine maintenance product, and its goals are both industrial and organizational in nature. In conjunction with the construction of the new building – which forms a bridge between the Constellation and Henri Farman workshops, bringing them all under one roof – the project includes a full overhaul of operational processes in order to boost efficiency in engine maintenance turnaround time. Using a co-construction mindset, almost 250 staff were involved in defining new processes and work spaces over the course of the project.
With the creation of this ultra-modern, 4,200m² building, equipped with cutting-edge industrial resources, and the implementation of the new organizational structure, engine processing times will be reduced by 15%.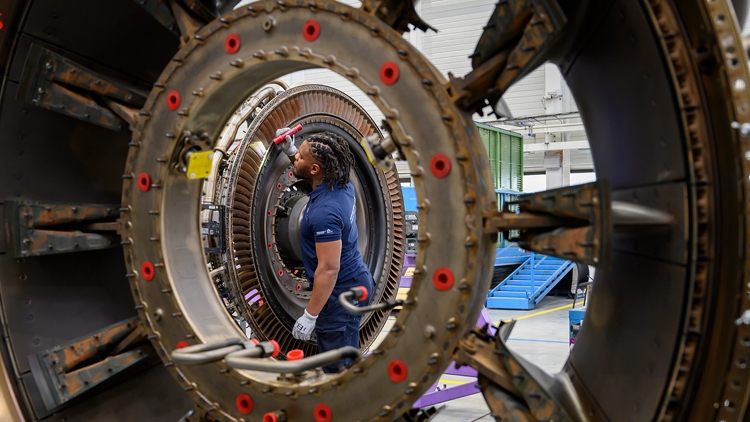 AFI KLM E&M Single Roof
As well as enabling the maintenance of new-generation engines that contribute to the Air France-KLM Group's decarbonization trajectory, the design of the building itself will significantly reduce AFI KLM E&M's carbon footprint.
This additional investment strengthens AFI KLM E&M's state-of-the-art maintenance infrastructure, combined with the recognized performance of the Amsterdam and CDG engine workshops, including the test stand for very large engines.
A commitment to employment and career access
By equipping itself with a brand-new industrial facility at Orly and positioning itself as a leader in new-generation engine services, AFI KLM E&M is manifesting its confidence in the future and the long-term outlook for its operations in the Ile-de-France region. The development of this enduring infrastructure is accompanied by a meaningful commitment to employment and career access pathways for young people in the local area. More broadly, Single Roof will be a major vector for employment and the integration of young apprentices into AFI KLM E&M's local activities.
Géry Mortreux, EVP Air France Industries, stated: "Single Roof is more than just an industrial development project. It speaks to AFI KLM E&M's desire to project its Engine Maintenance operations into the future, at a time when the industry is turning a corner toward new-generation platforms. It also constitutes a promise of efficiency and comfort for our teams, thanks to optimized working spaces designed with their users in mind. It also manifests AFI KLM E&M's long-term involvement in the local area, combined with the desire to boost employment and develop the talents of the future."