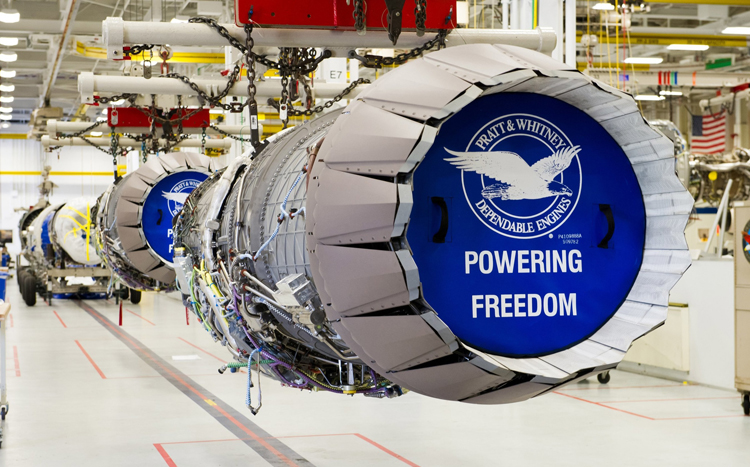 Pratt & Whitney - F135 engines
Pratt & Whitney, a Raytheon Technologies business, announced today that it has been awarded a $5.2 billion contract to support production of the 15th and 16th lots of F135 engines, with an option to award a 17th Lot, powering all three variants of the F-35 Lightning II fighter aircraft.
"This marks a major milestone for the program," said Jen Latka, Pratt & Whitney's vice president for the F135 program.
The Lots 15-17 production contract funds production of 278 F135 engines with an option to order up to a total of 518 engines. The contract also includes program management, engineering support, production support and tooling. The total contract value for lots 15-17, with exercised options, is approximately $8 billion and will fund over 418 F135 engines with options for the U.S. as well as international customers.
"This marks a major milestone for the program," said Jen Latka, Pratt & Whitney's vice president for the F135 program. "This contract award enables us to continue delivering critical 5th Generation propulsion capability to the warfighter at a fair and reasonable cost for the taxpayer."
Since program inception, Pratt & Whitney's "war on cost" efforts have reduced the average unit cost of an F135 by more than 50 percent, contributing to an estimated $8.1 billion in cumulative engine savings over the life of the program.
Pratt & Whitney worked aggressively to drive production efficiencies, optimize its supply base as well as invest in strategic initiatives -- such as the new turbine airfoil facility in Asheville, North Carolina -- to reduce cost wherever possible.
Evolved from the F119 engine powering the F-22 Raptor, the F135 is the most powerful and most advanced fighter engine in the world, delivering a step change in capability over the previous generation of engines. This includes a substantial increase in thermal management capacity enabling the full spectrum of F-35 weapons and sensor capabilities; a precise and responsive integrated engine control system allowing the pilot to focus squarely on the mission; and an unmatched low observable signature enabling the F-35 to conduct operations in modern Anti-Access/Area Denial (A2AD) environments.
The F135 program is a major driver of economic growth around the country, supporting more than 53,000 jobs across 36 states.
As of December 2022, Pratt & Whitney has delivered more than 1,000 F135 production engines.