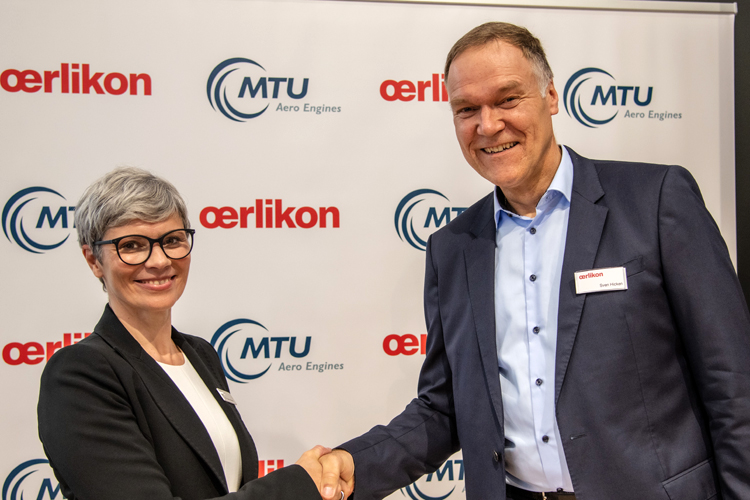 Sealing the cooperation (from left): Dr. Silke Maurer, COO MTU Aero Engines, and Dr. Sven Hicken, CTO Oerlikon Surface Solutions.
Oerlikon and MTU Aero Engines intend to collaborate on the further development of engine parts, materials, and surface technologies for aero engines. Today at the Paris Air Show, the two companies – represented by Dr. Sven Hicken (CTO of Oerlikon Surface Solutions) and Dr. Silke Maurer (COO at MTU Aero Engines) – signed a five-year agreement to this effect. Both partners will contribute their unique technological know-how and industry expertise to further optimize the efficiency and sustainability of engine parts.
The collaboration will focus on the development of future coatings and materials and will cover various aspects, including automation, digitization, and the associated industrialization for both series applications (OEM business) and the maintenance sector (MRO – Maintenance, Repair and Overhaul).
On behalf of MTU Aero Engines, COO Dr. Silke Maurer explained, "Coatings are becoming increasingly important in engine manufacturing. They are a key success factor because they enable engines to be designed even more efficiently and in a more environmentally friendly manner." She continued, "This partnership brings together two experts who are working together to develop innovative surface solutions for technologically sophisticated engine parts."
This partnership further strengthens Oerlikon's position in the field of advanced materials and surface technologies for the aerospace industry. "This long-term agreement is a sign of the trust MTU has in our surface technologies. With our expertise in high-end surface solutions, materials and advanced manufacturing technologies, we can deliver a vertically integrated approach that improves engine fuel efficiency and thus contributes to the sustainability of the entire industry," says Dr. Sven Hicken, CTO of Oerlikon Surface Solutions.